BNZ economists say the risk of NZ falling into recession is increasing by the day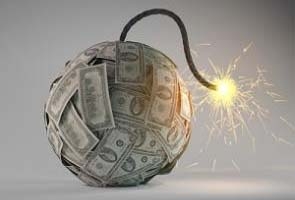 BNZ economists have come out questioning whether we're "borrowing our way to recession", saying the likelihood of New Zealand falling into recession is increasing every day.
The statement follows ANZ's Business Opinion Survey, revealing business confidence hit a six-year low in August, and the latest Reserve Bank sector credit figures. They show New Zealand households borrowing at their fastest rate in seven and a half years.
ANZ says, "A net 29% of businesses are pessimistic about the general economy, the fifth consecutive monthly decline.
"For the second consecutive month, general business sentiment was in negative territory across all five sub-sectors. Agriculture was by far the most pessimistic, whilst construction and services are the least downbeat."
BNZ's head of research Stephen Toplis says, "The really worrying perspective, however, is that if the general tenor of the [ANZ] survey deteriorates any further, which seems entirely plausible, then our expectations will start to look decidedly optimistic.
"The majority of indicators in the August survey reverted to levels last seen as the New Zealand economy climbed out of its post Global Financial Crisis recession in mid-2009.
"Not surprisingly, the agriculture sector (read dairy) is in a state of depression but every other sector surveyed now also has below-average expectations for activity growth.
"The only sector within cooey of optimism was services which is likely to largely reflect the booming state of the housing market and those who can benefit from such."
Toplis' comments come after he said in early July it wasn't hard to envisage a scenario where recession became imminent.
GDP growth expected to fall to 1.7%
BNZ's gloomy comments also come a week after the bank lowered its annual gross domestic product (GDP) forecast to 1.7%, "to cater for an expected drop in export volumes associated with lower dairy production". GDP growth is currently at 3%.
BNZ appears as downbeat on the economy as Westpac, which is expecting GDP growth to slump to similar levels.
Meanwhile ASB is expecting GDP growth of 2% for the 2015 calendar year, dropping to a low point of 1.9% in March, but rising to 2.9% throughout 2016.
The New Zealand Institute of Economic Research is also expecting GDP growth to dip close to 2% by the end of the year, before rebounding over 2016.
Toplis expects the unemployment rate to climb to 6.5% by mid next year. It's currently at 5.9%. He believes labour force growth spurred by strong migration, won't be met by the same level of job growth.
The Reserve Bank has taken an opposing view towards unemployment, which Toplis maintains will cause it some major headaches.
Two more OCR cuts on horizon 
BNZ is sticking firm to its view the Official Cash Rate will be cut at least two more times from where it is at now at 3.0%. It also sees the dollar heading lower.
Toplis says pricing intentions haven't risen as he had thought, with the NZ dollar pushing up import prices.
"The net number of businesses expecting to raise prices fell to 16.3 from 22.0 last month and inflation expectations dropped to 1.68% from 1.70%.
"The level of these indicators will not have us scurrying to lower our own short term inflation forecasts, which are already very low, but they do indicate just how weak pricing pressure is at the moment."
For more from Toplis on dairy, construction and housing, see BNZ's full Market Update.