Omicron fears and likely death of US spending bill drag global equity markets much lower. US 10-year rate down a touch, below 1.40%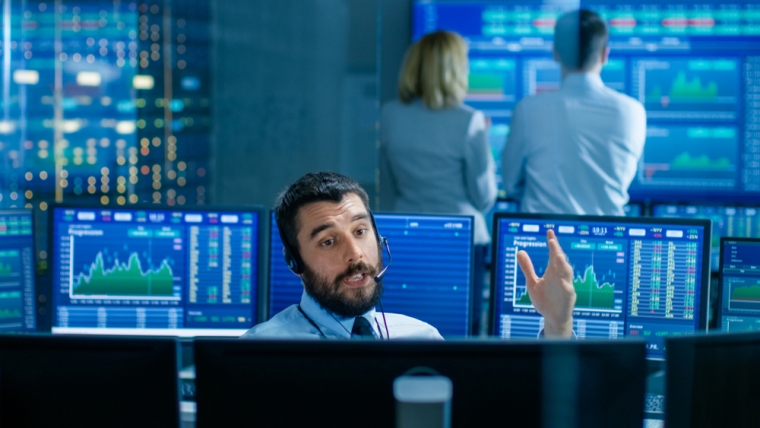 Risk sentiment has soured as the new week has begun, driving 1½-2% falls in global equity markets, a 4-5% plunge in oil prices and making US Treasuries well supported. The NZD has underperformed, falling to just above 0.67, and is down on all the key crosses.
Market liquidity has dried up as Christmas Day approaches, possibly exacerbating some of the market moves seen overnight, as well as some equity investors looking to lock in the strong gains for the year seen across the US and European markets. S&P futures opened on a weak note and have trended lower, responding to the negative news over the weekend, notably the likely death of Biden's spending bill and increasing lockdown restrictions, and fears thereof, given the rapid spread of Omicron around the world. The S&P500 is currently down 1.7%, while the Euro Stoxx 600 index closed down 1.4%.
As we reported yesterday, Senator Manchin rejected Biden's signature $1.75 trillion "Build Back Better" spending bill on Sunday, leaving the Democrats short of the 50 votes needed in the Senate to pass, without Republican support. This has already led to Goldman Sachs trimming its US growth projections next year.
Investors have been focused on the rapid spread of Omicron and don't like what they see. Following the Netherlands introducing new strict lockdown measures ahead of Xmas, a range of other European countries are adding various restrictions and are considering whether to go harder to contain the spread of Omicron. The Times reported that UK PM Johnson is unlikely to impose further lockdown restrictions before Christmas.
On a more positive note, Moderna released lab results on Omicron, showing a third shot of the vaccine significantly raises antibody levels to fight the virus, adding to the recently positive results published by Pfizer. Meanwhile Novavax's protein-based vaccine, which works differently from others so far released, got cleared for use in Europe after months of delays, although its efficacy against Omicron is still untested.
Surging European gas prices ahead of a cold snap and fears of power shortages haven't helped market sentiment. Russia has capped gas supplies, forcing Europe to rely on already depleted inventories, which sit at a record low for this time of year. UK gas is up 8% overnight, taking its gain this month to 55% and with prices now well above the previous record high set early October. The key Dutch gas futures price is up over 10% for the day and 60% for the month.
Meanwhile, oil prices have plunged on fears of reduced demand as countries impose travel restrictions and consumers likely look to cancel holiday plans in any case. WTI crude is down 5% to USD67 per barrel, while Brent crude is down over 4% to USD70.
In China, the 1-year prime loan rate dropped for the first time in 20 months, by a token 5bps to 3.8%, a move that will see slightly lower borrowing costs for businesses. It was a more symbolic move than economically meaningful, a signal that Chinese monetary policy has an easing bias, against the global trend.
US Treasuries have been well supported, with a slight steepening bias, with the 2-year rate down 2bps and the 10-year rate barely lower. The latter is currently just below 1.40%, after trading as low as 1.35% last night.
In currency markets, the NZD has been the worst performer of the majors, down 0.5% since Friday's close to 0.6715, with the overnight low of 0.6702 matching last week's post-FOMC trough, its lowest level this year. Plunging oil prices have also weighed on the CAD, while the AUD is down only 0.1% to 0.7115, after a brief look below 0.71. NZD/AUD has slipped below its 200-day moving average of 0.9440.
At the other end of the leaderboard, EUR has done surprisingly well, given the backdrop of lockdown restrictions and surging gas prices, up 0.4% to 1.1280. NZD/EUR is down 0.7% to 0.5950, near a three-month low.
NZ economic data remained on the soft side, with consumer confidence falling further below average and NZ's trade deficit widening further, now over $6b for the past year. The domestic rates market remained in holiday mode, with rates across the NZGB and swaps curves marked lower due to global forces, in the order of 3-5bps.
The economic calendar remains light over the rest of the year. The next key NZ and Australian economic releases are not until mid-January. After the PCE deflators are out of the way at the end of this week, the next key US releases are payrolls and the CPI on the 8th and 13th of January respectively, NZ time. Market trading conditions over the next couple of weeks will be light but possibly volatile, as the market remains focused on the Omicron variant.
This is the last BNZ Markets Today for the year. Regular publication will resume 17-January. We thank you for your readership over the year and hope you have a good break during the festive season.