Oil falls extend. Credit worries deepen. Risk-off broadens, but the Kiwi currency shines through, somewhat unexpectedly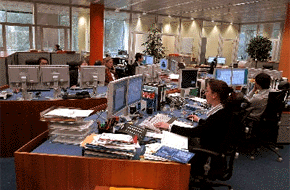 Content supplied by BNZ Markets
Another day, another fall in equity and oil prices, although as I write, market sentiment is improving.
The NZD continued to surprise on the upside.
Risk appetite continued to evaporate and after Friday night's pummelling, equity prices continued to fall, with European bourses down a shade under 2% and the S&P500 falling 0.7% below the 2000 mark as I began write. However, US equities have now recovered to trade flat for the day (note to self: set alarm clock later).
Familiar drivers were at play, with oil's nightmare run continuing – WTI dropped below $35 a barrel before finding some support and rising a couple of dollars over the last few hours, to be up 1.9% from the last close (a factor behind the late rally in US equities). Investor angst ahead of the Fed's like tightening of monetary on Thursday added to market nervousness. And credit concerns remained front-of-mind, with another US high yield bond fund suspending redemptions in a market which continues to sell off.
One might have expected the NZD to fall in under these "risk-off" conditions, but NZD/USD has been one of the best performers over the last 24 hours, up around 1% to 0.6780 this morning. BNZ's Services PMI rose to its highest level in 8 years, but there was little market reaction at the time of release. The only logical conclusion is that portfolio flows are currently driving the currency, with short positions being unwound.
GBP was particularly weak, coming under pressure as oil prices fell – the MPC mentioned last week the impact of oil prices holding down inflation. Furthermore, Deputy Governor Shafik, who has been on the hawkish side of the fence, said that she would "proceed with caution" when considering voting for a rate hike. NZD/GBP is up 1.5% to 0.4480.
The EUR and JPY remain well supported in this risk-off environment and as investors take off long USD positions ahead of the FOMC meeting.  EUR/USD broke up through the 1.10 market again while USDJPY broke down through 120.50 this morning. The unstoppable NZD still managed 0.6% gains against EUR and JPY.
CNY declined to a 4-year low, following the move by the PBoC to publish a new Yuan index and encouraging the market to focus on its value on that basket than against the USD. 
The global data calendar over the next 24 hours is fairly light. US CPI data are unlikely to change views about the Fed tightening on Thursday. The next GDT global dairy auction takes place tonight. WMP futures have been slightly higher since the last auction and we expect a moderate increase in average prices.
---
Get our daily currency email by signing up here:
---
Kymberly Martin is on the BNZ Research team. All its research is available here.