Fed's Powell says case for continued gradual increases in the federal funds rate is strong; USD DXY index up marginally on day; UST 10 yr yields pushed higher; NZD sits at the bottom of the G10 currency leaderboard; local rates were marginally higher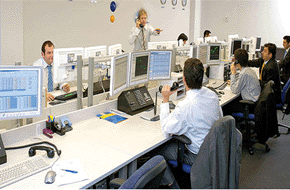 A generally quiet session overnight with a somewhat better mood prevailing in markets. Brushing off central bank concerns around trade tensions, stock markets are marginally higher, interest rates up a touch, while currency movements have been generally limited. Oil prices were mixed ahead of OPEC's key meeting on Friday. The NZD has been a clear underperformer.
The high-powered panel of Fed Chair Powell, ECB President Draghi, BoJ Governor Kuroda, and RBA Governor Lowe at the ECB's central banking forum in Sintra overnight covered a wide range of topics, but ultimately didn't produce much new on the policy front. Concern around current trade tensions between the US and the rest of the world were expressed by all central bank chiefs with Powell noting 'changes in trade policy could cause us to have to question the outlook'. Lowe called the trade issues 'incredibly worrying, while Draghi said 'There have been lessons one can learn from the past. They are all negative.' Kuroda said 'this is a matter of great concern.' All agreed the trade tensions pose a threat to their respective economies.
The market seemed to take all this in its stride. Perhaps buoyed by Powell's comments on the US economy itself, when he noted 'with unemployment low and expected to decline further, inflation close to our objective, and the risks to the outlook roughly balanced, the case for continued gradual increases in the federal funds rate is strong'. So trade risks noted, the Fed remains on track. US 10 year Treasury yields pushed higher following these comments up towards 2.93% having previously oscillated around 2.90% for much of the session beforehand.
This provided some support to the US dollar, with the DXY dollar index up marginally on day. Powell's comments and a retreat in risk aversion saw USD/JPY make some gains in a generally lacklustre session. USD/JPY opens this morning around 110.40, up about 0.3%.
The EU triggered the first phase of retaliation against the US over its previous metal-import tariffs. The European Commission gave final approval for a 25% duty on 2.8 billion Euros of EU imports from the US. But the EUR took more notice, at least temporarily, by headlines of 'ECB's Nowotny sees Euro deprecating against the dollar'. This saw EUR/USD dip below 1.1540 yesterday evening, only to recover quickly when it was clear the comment was referring to the recent fall not a prediction. Upon recovery, EUR/USD traded a relatively tight range overnight to be little changed on this time yesterday at around 1.1580.
In other news, Theresa May won a key Brexit vote overnight, albeit narrowly, keeping the Brexiteers happy that the government's hands will not be tied in EU negotiations. There is less chance of a challenge to May's leadership now. A key Customs Union vote is due next month. GBP found support following the vote, GBP/USD pushing above 1.3210 before easing back to currently sit around 1.3180.
The NZD sits at the bottom of the G10 currency leaderboard, ahead to today's Q1 GDP report. There was no reaction to yesterday's benign balance of payments data although its details warned of downside growth risks and combined with yesterday's mild dip in consumer confidence adds to near term growth concerns stemming from already weak business confidence.
Overnight, NZD/USD ground steadily lower, despite the mild improvement in risk sentiment, opening this morning at its lows just above 0.6860. Southward progress has been slow, but persistent, as 0.68-0.69 has proved a key support zone over the past 18 months. NZD/AUD has unwound recent gains to sit around 0.9310. NZD/GBP is down 0.7%, toward 0.5200.
Today's focus will be on Q1 NZ GDP data due at 10.45 this morning. Market estimates for quarterly growth are tightly bunched around 0.4%-0.6%. We think 0.5%, but sense more downside risk than upside. Even if there are identifiable one-off negatives in the quarter, headlines of a soggy economy won't help the NZD.
Local rates were marginally higher yesterday, with swap yields up between 1bp and 2bps across the curve. The short end remains anchored by expectations of on-hold monetary policy. NZ 2-year swap yields rose nearly 2bps to close just under 2.25%, about the middle of the less than 4bp range we have seen in the month to date.
Overnight tonight, the Bank of England is not expected to lift interest rates at its meeting, but markets will be looking for clues about the timing of the next rate hike. This could come as early as August, but we think more likely in November. In any case, there is potential for market movement tonight, with current pricing near a 50% chance of a hike in August. Elsewhere, there is limited data.
---
Get our daily currency email by signing up here:
---
BNZ Markets research is available here.