Against a backdrop of a broadly stronger USD, the NZD has underperformed, while rates markets have barely moved; higher oil prices seem to have offered some support to CAD and AUD; US 10-year rate in a tight range and steady at 2.88%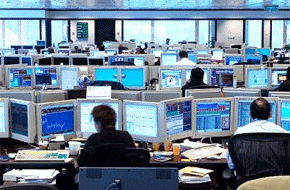 US equities are modestly higher after yesterday's chunky sell-off, led by the energy sector on higher oil prices.  Against a backdrop of a broadly stronger USD, the NZD has underperformed, while rates markets have barely moved.
Equity markets are on a better footing after a bad start to the week on a day with limited newsflow.  Trade war headlines are still in focus but the market isn't in a mood to keep on pricing in bad news at this stage. Trump railed against Harley Davidson's plans to move production overseas in response to the EU's retaliatory tariffs, falsely claiming that the company was using the tariffs as an excuse. Trump clearly isn't afraid to shoot down an iconic US manufacturer to deflect attention from his policies.  He also tweeted that a study of tariffs on cars from the EU was finishing, suggesting that a decision on fresh auto tariffs might be forthcoming soon.
Canada is said to prepare steel quotas and tariffs on imports as the US steel tariffs open the door to a potential flood of cheap imports.  This illustrates how easily a US-centred trade policy can have global ramifications and develop into a more generalised global trade war.  The Fed's Bostic and Kaplan have both given speeches this morning.  Bostic says that the Fed's job is a lot harder amid trade uncertainty and that disruption from the trade war is going to be "painful".  Kaplan seemed on board with fighting against the threat of China but not fighting battles with five allies at the same time.
On a slightly better tone, Trump said he favours using a committee that scrutinises foreign acquisitions of US companies to limit Chinese investments in sensitive American technologies. This would be a more understandable course of action than the nuclear option of simply imposing unilateral measures directed against China. 
Oil prices are higher (WTI +3½%, Brent +2%), as the US pushes allies to end imports of all crude from Iran by November.  This could amount to a potential loss of 1.5 million barrels a day of supply hitting the market just ahead of the US winter, raising fears of a tighter oil market ahead.
In the FX market, higher oil prices seem to have offered some support to CAD and AUD, which have seen only modest losses against a backdrop of a stronger USD.  AUD is down 0.3% to just below 0.74.  The NZD has underperformed, and is down 0.7% to 0.6850, the middle of the 0.68-0.69 key support zone.  The NZD weakened a touch yesterday morning after publication of the RBNZ's annual statement of intent.  Buried on page 17 was a flippant comment that the NZD "remains at an elevated level".  This is, of course, complete nonsense, with NZ's real exchange rate in line with its average of the past 15 years and below its average of the past 5 years but old habits seem hard to break.  The RBNZ has a habit of speaking out of tune about the NZD.  Governor Orr rightly omitted any focus on the NZD in the last MPS but somehow this comment slipped through the cracks.
We can't be sure that that comment was the cause of further modest downward pressure on the NZD in overnight trading but it can't have helped.  Global agricultural commodity prices have been slammed recently, even by more than industrials.  While NZ isn't exposed to the likes of weak soybeans, corn and wheat, it can impact the currency by association, even if more relevant NZ commodity prices are relatively better.
The NZD is weaker on all the crosses, although falls have been modest.  The second worse performing major was GBP, down 0.4% to 1.3225.  Incoming BoE member member Haskel proved to be on the dovish side of the ledger in his testimony to Parliament.  While he agreed with the BoE's broad direction on interest rates, he spoke about the risks of raising interest rates too fast.  He replaces the more hawkish McCafferty in September.
Once again, there is little to say about the rates market, with the US 10-year rate in a tight range and steady at 2.88%.  US consumer confidence data were a little softer, but coming off a very high base. Yesterday, NZ rates were down slightly, a reflection of global forces over the prior session.
In the day ahead, the ANZ survey will be watched, with increasing focus on the "winter of discontent" amongst businesses as they remain grumpy with the direction of government policy.  The global economic calendar remains light, with US durable goods orders and the advanced goods trade balance of some mild interest.
---
Get our daily currency email by signing up here:
---
BNZ Markets research is available here.