USD has been the worst performing of the majors for no particular reason; NZD has outperformed its commodity currency counterparts; US 10-year Treasuries nudge up 2bps to currently 2.975%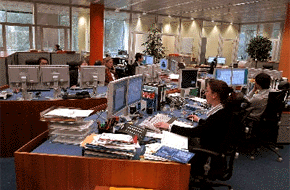 The USD is weaker across the board as the new week begins, supporting a lift in the NZD towards the top of its recent range.  Global rates are higher, with some nervousness ahead of today's widely anticipated BoJ meeting.
It has been a quiet start to an action-packed week.  Newsflow has been limited, but the flow of data and announcements will pick up from today.   US equities are weaker, led by further declines in the tech sector, as investors rotate out of this sector following some high-profile earnings misses.  The NYSE FANG index is now down over 9% through the past three trading sessions.  The S&P500 is currently down 0.5% and on track for a third consecutive daily fall.
US Commerce Secretary Ross indicated that trade negotiations with Mexico under its new President were proceeding rapidly and were close to completion. This follows US Trade Rep Lighthizer's comments last week indicating some hope that NAFTA talks are in the "finishing stages".  It remains to be seen whether a bilateral deal with Mexico will be agreed before negotiating separately with Canada.
In economic data overnight, the early Germany CPI estimate was in line with expectations, while Sweden's Q2 GDP of 1.0% q/q smashed expectations of a 0.5% increase.  This sees SEK at the top of the leaderboard, up over 1% to 8.75.
The USD has been the worst performing of the majors for no particular reason, with a steady grind lower since the European open.  This sees NZD climb up to as high as 0.6835 in the early hours this morning, near to the top of the July trading range, with resistance near the 0.6860 mark.  This afternoon sees the release of the ANZ business outlook survey, for which we expect to see continued levels of depressed business confidence, something the market should brush off unless there is another big lurch down.
The NZD has outperformed its commodity currency counterparts, with a more modest rise in AUD to 0.7410 seeing NZD/AUD up through 0.92 and reaching its highest level for July in the process.  CAD barely responded to the positive US-Mexico trade news, reflecting lingering doubt about a speedy resolution to the Canadian leg of NAFTA negotiations.
Against a soft USD, the yen has made little progress and USD/JPY sits close to 111, with some nervousness ahead of this afternoon's BoJ policy announcement.  The last week or so has seen reports that the BoJ may either review its yield curve control policy or tweak its operation, with the idea to improve the longevity of the stimulus programme and reduce the harm it causes to the profitability of commercial banks.   It seems that the BoJ would be happier to see long term rates increase but it doesn't want to see a concurrent appreciation of the yen.  It's a difficult balancing act and the central bank will need to get its messaging right.  
Fears of higher JGB yields means fears of weaker Japanese demand for foreign bonds and this has seen global rates increase recently.  Those moves extended overnight, with UK's 10-year rate up 6bps to 1.34% and Germany's 10 year rate up 4bps to 0.44%.  That backdrop has seen US 10-year Treasuries nudge up 2bps to currently 2.975%, after reaching a fresh July high of 2.99% overnight.  A slightly steeper curve is evident, with the 2-year rate flat.
Apart from NZ's business survey and the BoJ meeting, the other notable event today will be the release of China PMI data. And it's a full economic calendar tonight, with the key releases being euro area CPI data and the US employment cost index.
---
Get our daily currency email by signing up here:
---
BNZ Markets research is available here.