NZD has tracked sideways overnight after drifting lower during the Wellington public holiday; IMF downgraded its growth forecasts for 2019 to 3.5%; GBP has been the strongest major overnight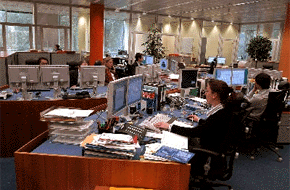 Markets are quiet with the US celebrating the Martin Luther King Jr. public holiday.  The NZD has tracked sideways overnight after drifting lower during the Wellington public holiday.
The IMF downgraded its growth forecasts for 2019 to 3.5% (previously 3.7%), driven by a weaker Europe and warned that risks are rising. US and China forecasts were unchanged.  The forecasts also show a slight pick-up in growth next year to 3.6%, so are more optimistic than market forecasts, being far from the recession-like conditions that some are predicting.  The risks to the outlook are seen to be more trade tariffs, a renewed tightening of financial conditions, a "no deal" Brexit and a deeper-than-anticipated slowdown in China.
Yesterday, China reported that GDP growth had receded to its slowest pace since the GFC, with annual GDP growth of 6.4%, but the figures were in line with expectations, and on a more positive note the key monthly figures on industrial production and retail sales were above expectations.  The latter gave some hope that stimulatory policy measures are beginning to work.  Chinese authorities have been well aware of the slower growth path and have stepped up easing measures over recent months.
The Chinese data had little market reaction, but markets are trading with a slightly cautious tone, not helped by Bloomberg reporting yesterday that the US and China have so far made little progress on the issue of alleged theft of US intellectual property by Chinese companies. The next round of talks is scheduled for the end of January when President Xi's top economic advisor Liu He visits Washington. The negative vibe here stands in contrast to the positive reports in late trading Friday that China had offered to increase goods imports from the US by a combined value of more than $1tn over the next six years in order to bring the trade surplus to the US down to zero by 2024. The offer was made early in January and it was met with scepticism by US negotiators, but the report also suggested US officials asked to go further and clear the surplus in two years.
So after the strong rally in US equities at end of last week that helped take the S&P500 return for the year-to-date up to 6.5%, US equity market futures are currently down 0.3-0.5%, while European equities fell slightly overnight. US Treasury futures are little changed, with the implied 10-year rate down a basis point to 2.77%, consolidating the Treasuries selloff towards the end of last week.
Currency movements have been modest.  The NZD tracked a little lower during the local trading session yesterday and has consolidated overnight to currently trade around 0.6730.  The currency has been drifting lower over the past week for no obvious reason other than unwinding some of the prior week's gains.  There might be some nervousness ahead of tomorrow's key Q4 CPI report, where a soft headline result is expected although we'd note core and non-tradeables inflation measures are expected to hold up.
In the overnight session, NZD/AUD has reversed yesterday's losses, to trade back above the 0.94 mark, after yesterday making a year-to-date low of 0.9372.
GBP has been the strongest major overnight, seeing GBP up 0.3% to 1.29. In Brexit news, UK PM May has given up on her plan to build cross-party support for her EU Withdrawal Bill and instead is looking to renegotiate the backstop arrangements to avoid a hard border within Ireland. Such a plan has been rebuffed by the EU's Chief negotiator Barnier.  May is currently updating Parliament and progress remains pedestrian.  The lift in GBP could be explained by the market taking the view of a soft Brexit or delays to the negotiations as opposed to the chaotic no-deal exit option.
The day ahead looks fairly quiet with only second tier economic data released.
---
Get our daily currency email by signing up here:
---
BNZ Markets research is available here.