Global equities and bond yields lower; most major currencies haven't showed a lot of movement; commodity currencies are slightly weaker, except the NZD which has managed to hold its ground, while GBP is the strongest of the majors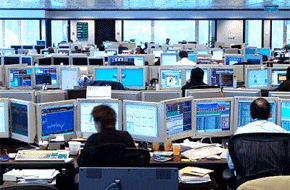 Market sentiment has deteriorated, with global equities and bond yields lower.  Most major currencies haven't showed a lot of movement.  Commodity currencies are slightly weaker, except the NZD which has managed to hold its ground, while GBP is the strongest of the majors.
After the run of stronger equities and higher US Treasury rates last week, things have reversed course.  US equities are currently down 1.3% while the 10-year rate is down 4bps to 2.74%. While a breather in the risk-on rally seen this year to date is understandable, the reversal of course hasn't been helped by yesterday's downgrading of the economic outlook by the IMF, some softer US earnings reports from household names like Johnson & Johnson and Black & Decker, the ongoing US government shutdown with no resolution in sight, and a poor read on US existing home sales, which fell 6.4% to their lowest level in more than three years.
The US-China trade war remains front of mind as well with Trump tweeting yesterday for China to "stop playing around" and "do a real deal".  The WSJ reports that in a joint report to the US Trade Representative, the US Chamber of Commerce and the American Chamber of Commerce in China say Beijing's ambitious plan to become a global technology leader is being widely implemented, casting doubt on efforts by Chinese officials to play down its significance.
Currency movements overnight have been insignificant apart from further strength in GBP, supported by a strong labour market report and increasing optimism that a no-deal Brexit can be ruled out.  The labour market report showed strong employment leading to a fall in the unemployment rate to 4.0% and the strongest wage growth since the GFC.
On Brexit, there are continuing signs that the UK Parliament will be more in control of the Brexit process with a number of amendments proposed by various MPs, including staying in a customs union with the EU, a second referendum on Brexit, an Article 50 extension which would significantly delay any Brexit outcome, and ruling out of a no-deal outcome.  The speaker will decide which amendments can go to a vote. The FT reports that the Cooper-Boles amendment to stop a no-deal Brexit looks to have a good chance of being selected next week and voted on in early February.  GBP is up 0.6% to 1.2965 while NZD/GBP has slipped below 0.52.
The NZD has been range-bound and trades this morning at 0.6730, the same level as at this time yesterday, recovering from a small dip late yesterday.  In the risk-off environment, that's not a bad showing, with modest outperformance against the other commodity currencies, with a 3% fall in oil prices not helping AUD and CAD.  This sees NZD/AUD up slightly to 0.9430 and NZD/CAD up slightly to 0.8970.
The local focus today will be the Q4 CPI report.  Headline CPI inflation for the quarter should be very soft – close to flat – weighed down by much lower petrol prices and seasonal factors. But we expect core inflation to show signs of holding up.  Indeed, the risk is that non-tradeables inflation overshoots the RBNZ's estimate of 0.4% q/q.  NZ rates were little changed yesterday. Given the market is pricing a significant chance of a rate cut this year (including a 25% chance by May), we think the market is more vulnerable to a stronger than expected CPI release (on the core measures). Even if the CPI release is weaker than expected, we think the hurdle for cuts is high, given the tightness in the labour market.
Later today, the Bank of Japan's policy meeting should pass with little market reaction, with a likely downgrade in the inflation outlook keeping the outlook for policy super-easy for an extended period, and the lack of palatable options preventing any further policy easing.  JPY has been supported by the risk-off tone that sees USD/JPY and NZD/JPY both down around 0.3% to 109.30 and 73.6 respectively.
---
Get our daily currency email by signing up here:
---
BNZ Markets research is available here.