Economists expect the RBNZ will consider what impact its $28 billion Funding for Lending Programme has on interest rates before taking a knife to the OCR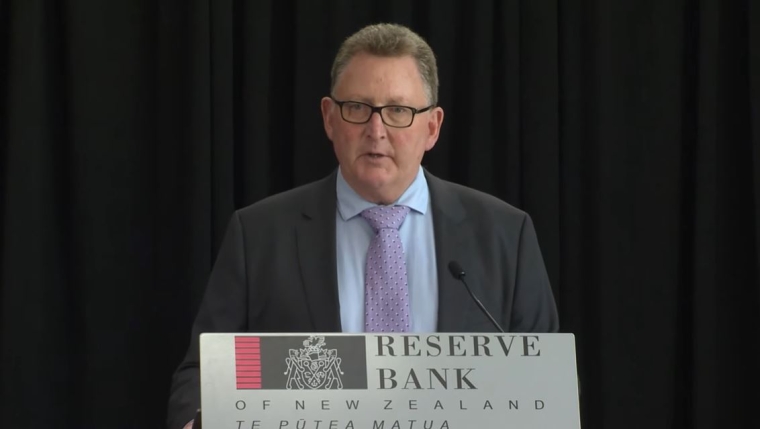 Bank economists believe the odds of the Reserve Bank (RBNZ) cutting the Official Cash Rate (OCR) into negative territory in early 2021 have fallen.  
A number of bank economists revisited their OCR forecasts following the RBNZ on Wednesday confirming it would, from December, provide retail banks with cheap wholesale funding to help them lower mortgage and term deposit rates.
The aim is to encourage more borrowing and spending to boost inflation and employment in line with the RBNZ's mandate.
The RBNZ confirmed it would figuratively print up to $28 billion for banks to borrow and on-lend to whomever they want via its new Funding for Lending Programme (FLP).
While the RBNZ said monetary policy would need to remain stimulatory for a "long time" and it remained prepared to provide additional support if necessary, it noted economic activity had proven more "resilient" than it expected at its August Monetary Policy Statement.
Asked at a media conference whether the probability of a negative OCR had been reduced, Governor Adrian Orr said: "It's too early to tell. We want to leave all options open. We will be revisiting that decision at our next Monetary Policy Committee [meeting], which is in February."
RBNZ expected to take a breather
Nonetheless, ASB economists no longer see the RBNZ cutting the OCR next year. Provided banks use the RBNZ's cheap funding to lower retail rates, they see the OCR staying at 0.25%.  
BNZ economists likewise see the OCR "flatlining" at 0.25%. They previously "reluctantly" forecast a negative OCR, because they thought that's what the RBNZ had told the market it wanted to do.
ANZ economists now see the RBNZ cutting the OCR to 0.1% in May, and taking stock before lowering it to -0.25% in August. They had seen a cut to this level in April.
Kiwibank economists have pencilled in a cut to -0.25% in May, rather than a cut to -0.5% in February.
Westpac economists haven't changed their OCR track and continue to see the RBNZ making a series of cuts through the middle of 2021 to take the rate to -0.5%. They expect this despite their "firm expectation" the economy and housing market will outperform the RBNZ's expectations over the next six months.
Sean Keane of Triple T Consulting made the point that come February, it might be too soon for the RBNZ to see the effects of its FLP.
However the economists generally didn't completely rule out an OCR cut as early as February, noting the country is potentially a major Covid-19 outbreak away from another lockdown.
Should the government provide another wage subsidy in this scenario, increasing the RBNZ's $100 billion government bond-buying, QE programme might be appropriate. Should it not provide much support, an OCR cut could be the way to go.
Nonetheless, for now the RBNZ has an opportunity to wait and see what impact the FLP has before loosening the monetary policy tap even further.
RBNZ confident in the FLP's potency
The RBNZ stressed the success of the programme would hinge on its effect on interest rates, not on its size.
"We could see a scenario where FLP funds are only drawn down in small amounts, but its availability encourages a broad decline in interest rates," the RBNZ said in its Monetary Policy Statement.
"We would consider this scenario successful, even though actual use of the FLP would seem minimal."
While Westpac economists see the FLP slicing 25 basis points off mortgage rates and a bit more off term deposit rates, Orr wouldn't put a number on this.
But he believed the impact of the FLP would be greater than cutting the OCR to 0.1%, as the Reserve Bank of Australia has done.
While banks won't be made to on-lend FLP funding, or forced to lower rates, RBNZ Assistant Governor Christian Hawkesby said: "We have a very high degree of confidence it will get passed on."
Orr said the RBNZ would be watching banks very closely.
Hawkesby reiterated the RBNZ didn't want to restrict the uptake of the FLP by putting conditions on it, like requiring banks to on-lend the funds to businesses rather than property investors. This would make it less effective in driving down rates.
To date, the vast bulk of the RBNZ's stimulus has flown through the housing market, with lending against housing up, and business and agricultural lending down.
Here's a summary of what the FLP will look like: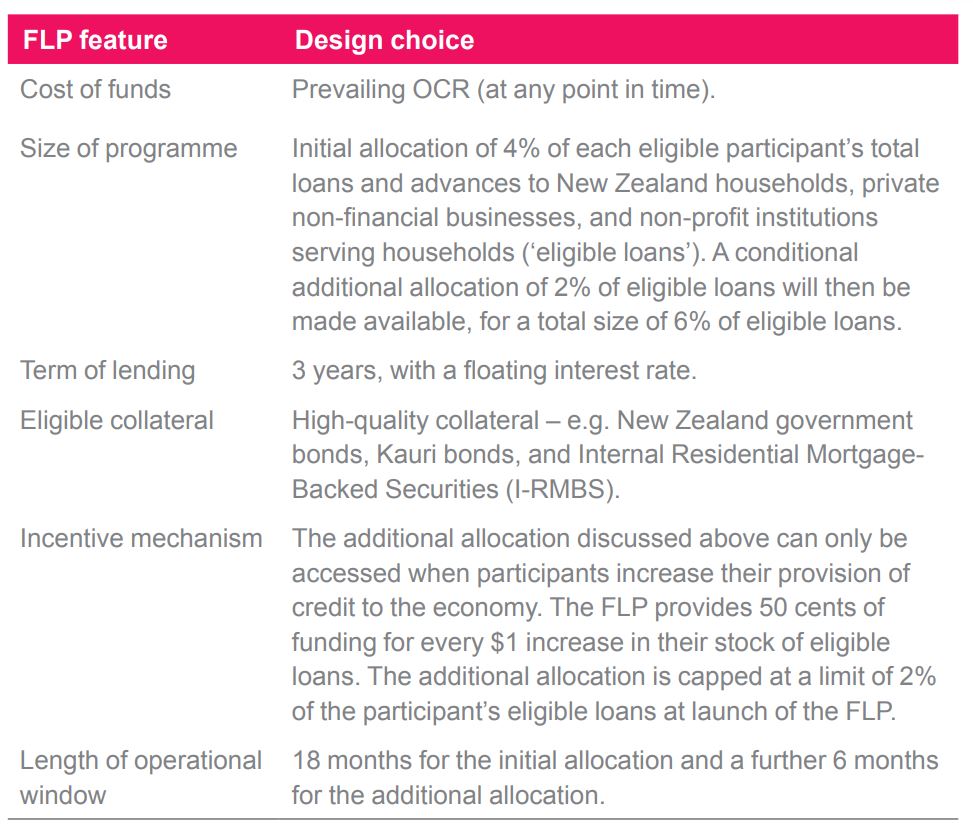 High house price inflation not the RBNZ's problem
The RBNZ remained of the view it was better for it to risk loosening monetary too much and overshooting its inflation target temporarily, than doing too little.
Orr noted it wasn't the RBNZ's job to control house prices.
Westpac economists see house price inflation overshooting the RBNZ's forecasts dramatically, getting into the double digits next year.