New Zealand bank executives can sit back and watch their bosses in Australia face the music knowing they won't be grilled by a parliamentary committee anytime soon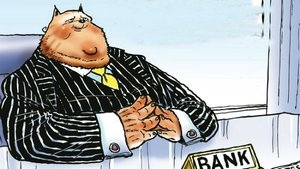 By Gareth Vaughan
US-style political theatre comes to the Australasian banking sector this week with members of the Australian Parliament's Standing Committee on Economics set to grill the CEOs of this region's big four banks.
First up this afternoon (Tuesday) is Ian Narev, CEO of ASB's parent Commonwealth Bank of Australia. ANZ's Shayne Elliott follows on Wednesday. Andrew Thorburn, CEO of BNZ's parent National Australia Bank, and Westpac boss Brian Hartzer round things out on Thursday.
We're hoping to live stream the grillings on interest.co.nz, so grab a coke and some popcorn and tune in for the entertainment. Its due to start at 4pm NZ time.
Click on the "full screen" icon

 in the above screen (bottom right) for a larger view. Refresh to start.
Undoubtedly names like CommInsure, Storm Financial and financial planning and advice scandals in general, will crop up. As will the Australian Securities and Investments Commission's legal proceedings over alleged manipulation by the major banks of the setting of Australia's bank bill swap reference rate (BBSW). Then there's the general conduct, culture and behaviour of bank staff, not to mention executive pay.
And don't forget high bank profits, plus the fairness or otherwise of mortgage rates, deposit rates, credit card interest rates, interchange fees and the vexed issue of funding costs. Then there's the issue of competition, or the lack of it, in Australian banking.
Political careers could be made
Reportedly the bank bosses don't know what line of questioning they're going to get from the governing coalition MPs who wouldn't meet them ahead of the hearings. And the opposition Labor Party's still calling for a Royal Commission into misconduct in the banking and financial services sector. So the stakes are high for both those asking the questions and those answering them.
As The Australian Financial Review noted yesterday, "Political careers could very well be made this week by an MP who is able to deliver the 'gotcha' moment that will light up the airwaves and make the front page splash."
This week's hearings are the first since Treasurer Scott Morrison asked the committee to hold public hearings at least annually with the four major banks focusing on; domestic and international financial market developments as they relate to the Australian banking sector and how these are affecting Australia; developments in prudential regulation, including capital requirements, and how these are affecting the policies of Australian banks; the costs of funds, impacts on margins and the basis for bank pricing decisions, and how individual banks and the banking industry as a whole are responding to issues previously raised in Parliamentary and other inquiries, including through the Australian Bankers' Association's April 2016 six point plan to enhance consumer protections and in response to Government reforms and actions by regulators.
Here in New Zealand there's currently no public push for such a grilling of our bank bosses. Although we've had some scandals of our own such as the ANZ and ING frozen funds and the rural interest rate swaps cases, and concerns customers' interests aren't being put first by bank KiwiSaver providers. There was also Westpac "modifying" its privacy policies after handing over 10 months of Dirty Politics author Nicky Hager's bank statements to police. And ASB got a public ticking off from Finance Minister Bill English for withdrawing pre-approvals for high loan-to-value ratio home loans.
Issues to get its teeth into
Even though the same four banking groups dominate the New Zealand market as Australia, and a key factor at the centre of the Australian scandals being the conflict of interest through banks making money both from selling financial advice and from the financial products the advisers sell, is also in place here, we haven't had the volume or scale of scandals as Australia.
The Financial Markets Authority has even gone as far as to bravely suggest New Zealand's regulatory framework is sufficient to enable it to discover systemic problems, where they may exist, that have been brought to light by whistleblowers in Australia.
Despite this an equivalent probe of the banking sector in New Zealand would still have numerous issues to get its teeth into. Competition for one in a market dominated by the same four players as Australia. High floating mortgage rates is another issue with OCR cuts not being passed on in full (and see this story too), as is high credit card interest rates. And the Government appears poised to probe interchange fees too. Shedding some light on funding costs, and debating capital adequacy would be a public service too.
It's worth noting that Chartered Accountants Australia and New Zealand, along with Melbourne University's Centre for Ethical Leadership, issued a report recently arguing that countries such as New Zealand remain vulnerable to a repeat of the scandals that led to the Global Financial Crisis. And in 2009 our opposition MPs probed bank profits.
But it doesn't appear there's the political or public demand for our own version of the Aussie political banking theatre right now. So our bank executives can relax, knowing they won't be facing the extraordinary kind of grilling handed out to Wells Fargo CEO John Stumpf by Senator Elizabeth Warren recently, and watch how their bosses across the ditch fare.
*This article was first published in our email for paying subscribers. See here for more details and how to subscribe.