Economists expect the Consumers Price Index to hit levels not seen in years; Reserve Bank not expected to act at this stage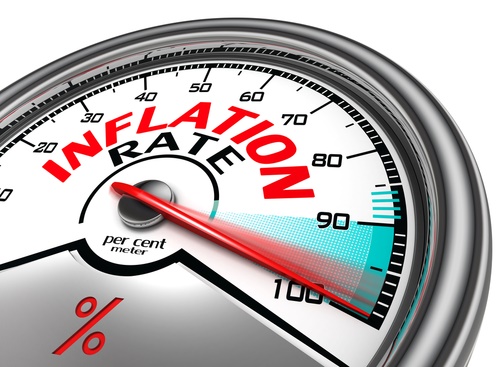 By David Hargreaves
Economists are expecting forthcoming Consumers Price Index figures to show levels of annual inflation not seen for years - levels that will be much higher than the Reserve Bank forecast as recently as February.
The latest CPI figures will be released by Statistics New Zealand on Thursday (April 20) - and it is highly possible they will show annual inflation hitting or exceeding 2% for the first time in over five years.
The RBNZ has a target of achieving 1% to 3% inflation, with a specific aim of hitting the 2% midpoint of that range - but it has been missing its targets for a very long time.
ASB's chief economist Nick Tuffley and economist Kim Mundy are expecting the CPI to be 0.9% for the first quarter of the year - pushing the annual figure up 2.1%.
They cite tight capacity pressures in the construction and services (tourism) sectors, combined with a further lift in petrol prices, a 10% tobacco tax increase and a lift in food prices as key contributors for the rise.
"Despite annual inflation returning to the RBNZ's 2% target, we caution that part of this lift in inflation is temporary. Higher petrol, food (largely fruit and vegetables) and tobacco prices are transitory and, as a result, we expect inflation to dip again before grinding back up to the midpoint of the inflation target over the medium term.
"The RBNZ itself noted in March's [Official Cash Rate] statement that inflation is likely to be volatile over the near term. With broader inflation pressures still muted, we expect the RBNZ to leave the OCR unchanged until late 2018."
ANZ senior economist Phil Borkin says he's expecting  a 0.7% quarterly lift in the CPI, to give an annual inflation rate of 1.9%.
"With inflation back at target (or close to it), some may argue that the RBNZ should be shifting from its neutral stance. The figures are certainly expected to print well north of the RBNZ's February MPS forecast of 0.3% q/q (1.5% y/y). However, we doubt the data will alter the RBNZ's thinking greatly. The RBNZ was reasonably explicit in March that it is discounting the impact of 'one-offs'," Borkin says.
"For the RBNZ, the far more important issue is whether inflation is going to stabilise around target. And we doubt the rest of the CPI figures will provide a clear answer.
"Our Monthly Inflation Gauge suggests that outside of housing, domestic inflation pressures remain surprisingly benign. We see non-tradable inflation at 0.9% q/q in Q1, but that is really just seasonal, with annual non-tradable inflation ticking down a touch to 2.3%. Deflationary influences from the NZD and global scene should continue to be evident across the non-food and petrol tradable space. In addition to this, the peak impact from earlier petrol price gains is occurring right about now and the food price spike should also start to unwind."
ASB's Tuffley and Mundy say the RBNZ will be relieved to see capacity pressures are picking up, though they are largely confined to the construction and tourism industries.
"Sustained levels of high net migration are supporting demand for construction. And, the recent tourism boom NZ has been enjoying is placing pressure on the accommodation sector. We expect these pressures to continue driving inflation for some time yet. Further, in Q4, we saw some evidence of pricing power returning to retailers and the RBNZ will likely look for more evidence of this.
"On balance, the NZ inflation outlook has undoubtedly lifted in recent months. Further, the recent fall in the NZD will reduce some of the drag from tradable inflation going forward. However, with inflation likely to be volatile in the near term and the ongoing downside risks stemming from global uncertainty, the RBNZ is likely to remain cautious."
ANZ's Borkin sees the 'bias' for inflation from now on being upward but the trajectory will "be a slow grind".
"With the economy increasingly butting up against capacity pressures, domestic inflation should broaden beyond just housing over time. However, we are yet to see firm evidence of this in the labour market (wages) and the housing market is now slowing.
"While the global inflation pulse looks to have turned in pockets, huge uncertainties remain including the commodity cycle (not kicking on), subdued wage setting behaviour globally, and the deflationary influence of technology. If our forecasts prove near accurate, core inflation should be around 2% by Q2 next year, which is when we expect the first OCR hike.
"...So, beyond the 'headline shock' of having inflation perhaps with a 2 in front of it (as it certainly feels like a long time since that has occurred), we doubt the numbers are going to shed a great deal of light on the outlook for inflation from here apart from some base effects. And so it is going to leave the RBNZ in a cautious, watchful stance."