David Hargreaves takes liberties with metaphors as he ponders the uphill task RBNZ Governor Adrian Orr has as he tries to get New Zealand spending and investing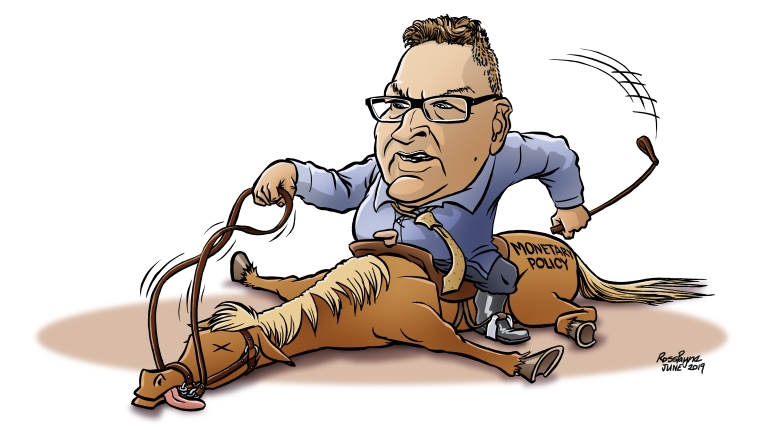 All sorts of metaphors involving horses came to mind when viewing the results of the latest ANZ Business Outlook Survey released on Thursday.
On the one hand I was thinking "well you can lead a horse to water but you can't make it drink" and on the other I was thinking of the expression "flogging a dead horse". And I was thinking of these two in tandem. 
So mixing and mangling those two completely, I came up with "you can't lead a flogged dead horse to water" as a summation of where we are right now. Huh? What's that, you say? Well, apologies for the incomprehension. If I can put that all into context using plain english - it really is starting to look as though Reserve Bank Governor Adrian Orr is taking on a battle he may struggle to win to get the country spending money on the back of the 'shock and Orr' cut of the Official Cash rate from 1.5% to 1% on August 7.
If we look at the latest ANZ survey we see that apparently only a third or so of the responses to survey were completed AFTER the OCR cut was made. So, some caution is required in drawing conclusions. But by all accounts the responses of those third who answered the survey after the OCR announcement were not markedly different to those received before it. In other words nobody had been particularly cheered by the OCR cut. And they weren't suddenly in the mood to expand their business.
Perhaps Orr is starting to feel the weight of the task he has in trying to stimulate some activity. 
I thought his decision to circulate "comments" in the aftermath of his visit to the high-power Jackson Hole talkfest involving the creme de la creme of central bankers in the US over last weekend was unexpected and noteworthy.
'Come on and spend!'
Reading heavily between the lines I could see a strong thread of frustration; a sense of 'look, I've given you the stimulus, come on and spend some money!'
The Orr comments were targeted at both the Government and the business sector, but there's no particular sign that anybody's biting. Perhaps the best hope is that the Government will loosen the fiscal straitjacket and start dishing out the sweeties, particularly as next year is an election year.
But business seems determined not to be cheered up, despite things not looking all that bad domestically, surely. Of course if you look offshore, well anything seems possible - in a bad way - and presumably that's where all business eyes are at the moment.
The financial markets here were certainly startled by the magnitude of the OCR cut. But it hasn't put anybody in a better mood.
Drifting expectations
Worryingly from an RBNZ perspective, the ANZ survey showed another tick down in inflation expectations. 
The RBNZ watches that pretty closely. It got a sharp shift downwards in inflation expectations in its own quarterly survey of business views that came out just before the last OCR decision and I dare say that may have provided a final pervasive argument in favour of a double rate cut.
So, if inflation expectations generally start drifting well below the 2% midpoint of the RBNZ's inflation target then that will heap more pressure on our central bank to act further.
The RBNZ is running out of ammo though.
Unless there is a serious change in sentiment within the next month or few then I think we are heading for unconventional monetary policy territory. 
It just seems likely that it will become clear that the conventional weapon of choice, the OCR, is not going to gain traction in terms of stimulating the economy. 
Whether unconventional policies will carry any greater potency, well, who knows.
Stirrings in the housing market?
Strangely one ray of light, one potential avenue, might be if there are stirrings in the housing market.
Logic says that the disappearing 'safe' yields on bank term deposits might just encourage some investors back into the housing market. And that of course could spark things up a little in the market.
It won't happen though if the confidence is low. So, while logic says we could be in for more activity in the housing market, it ain't necessarily going to happen if people are feeling in the dumps.
The Spring housing market is therefore going to be very significant this year.
There's no doubt that the New Zealand psyche, heavily influenced as it is by property ownership, is given a positive lift if the housing market is buoyant. And if that happens people start to spend more.
Doubtless the RBNZ and Governor Orr will be mindful of such things as well.
Overlapping roles
While the central bank's financial stability and monetary policy roles are seen largely as discrete, this is one occasion where we may well see some overlap.
I think it's almost a given that at its next Financial Stability Report announcement in November the RBNZ will further loosen the loan to value ratio (LVR) limits.
In the current environment would the RBNZ consider removing the extra limits (currently a 30% deposit minimum) on investors?
That could certainly stimulate some activity. But it might be risky too from both a practical and political perspective.
There's no doubt the first home buyers have been given more space to operate in with the knocking back of investor interest. Where they were crowded out by investors in the early days of LVR limits, the big deposit requirements for investors that were subsequently applied levelled the playing field and allowed the FHBs back in the door. To their own home. 
Would encouraging investors back into the market by taking their handbrake off negatively impact the FHBs?
Take a risk?
I do wonder though if the RBNZ might be prepared to take the risk now.
As Governor Orr's comments this week indicate, he wants to spark up some activity. 
This probably needs to be done one way or another and probably all things would be considered to make this happen - to stimulate economic activity.. 
To push the language at the start of this piece even further then, Orr needs to find a winning horse to back.
But it isn't looking easy at all.
The horses are all cowering in the stable.
*This article was first published in our email for paying subscribers early on Friday morning. See here for more details and how to subscribe.