The 2019 Interesties featuring John Key, Andrew Thorburn, Adrian Orr, Westpac, Fonterra, Scumbank, Jacinda Ardern, Simon Bridges, James Shaw, Phil Twyford, Greta Thunberg, capital gains tax & more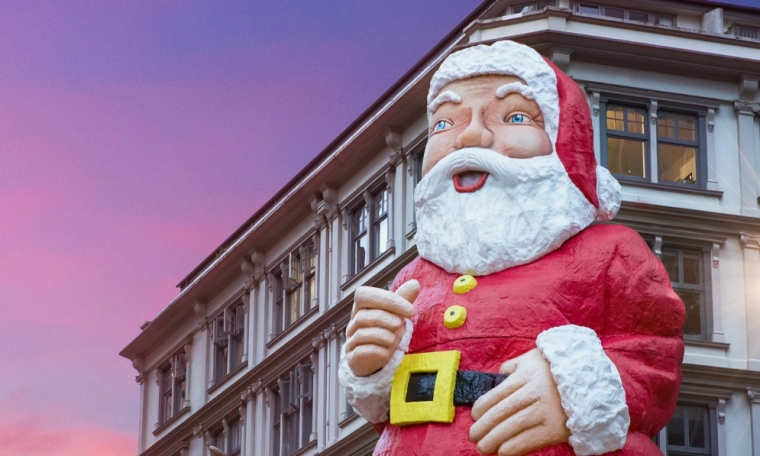 By Gareth Vaughan
Our planet has completed yet another lap around the sun meaning it'll soon be 2020.
That means it's time once again for our annual Interesties Awards.
This year has certainly had its share of tragic events, and our thoughts are with everyone impacted by the terrorist attacks at the Christchurch mosques on March 15, the recent Whakaari/White Island eruption, and the devastating measles outbreak in Samoa, a country closely connected to New Zealand. 
As we move towards a new year, here's wishing all interest.co.nz readers, viewers, contributors, commenters and staff a very Merry Christmas, and a happy and fulfilling 2020. And thanks for your support during 2019.
Without further ado, here are the 2019 Interesties where we find out what Santa has in his sack for the people who made our news this year.  As ever, we welcome your comments, and suggested additional awards, in the comment thread below. (All previous versions of our annual Interesties can be found here).
The Throw the CEO Under the Bus Award - ANZ NZ chairman John Key for his handling of David Hisco's departure.
The Gap Year with a Difference Award - Andrew Thorburn for the message on his LinkedIn profile (below). This came after the former BNZ CEO left his job as CEO of its parent National Australia Bank (NAB) in February following criticism of NAB in Royal Commissioner Kenneth Hayne's final report.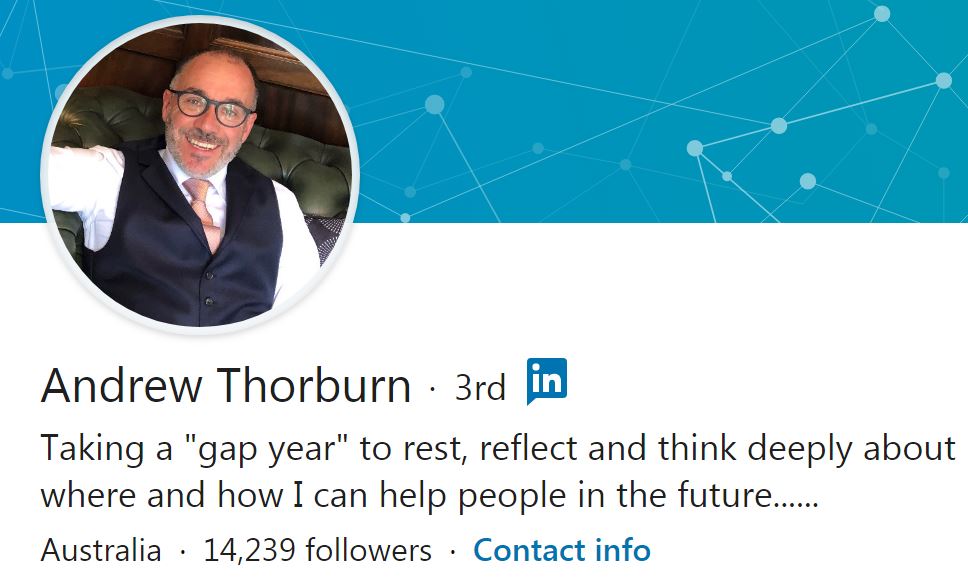 The Have your Cake and Eat it Too Scandal Award - Westpac Banking Corporation for allegedly contravening Australia's anti-money laundering laws more than 23 million times, including apparently failing to "carry out appropriate customer due diligence on transactions to the Philippines and South East Asia that have known financial indicators relating to potential child exploitation risks."
The Dove and Thunder Award - Reserve Bank Governor Adrian Orr for overseeing cuts in the Official Cash Rate to just 1%, and holding firm under fire on increasing banks' regulatory capital requirements.
The Chicken Little 'The Sky is Falling on our Heads' Award - ANZ Banking Group CEO Shanye Elliott for comments (here and here) on the Reserve Bank of New Zealand's proposed increases to banks' regulatory capital requirements.
The Woo Hoo We're Still Here Award - Fonterra.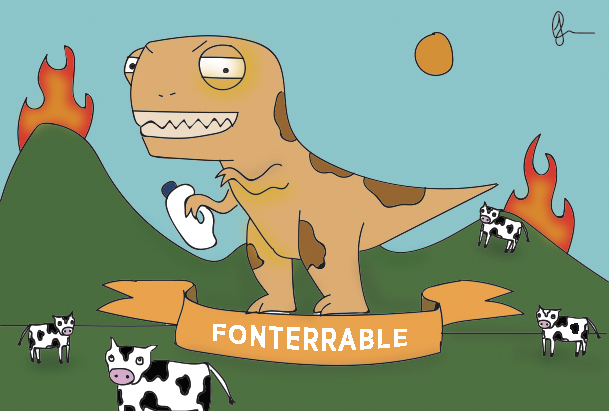 The So Long and Thanks for all the Headlines Award - Long serving BNZ chief economist Tony Alexander who left the bank.this year.
The Best use of Music in Economics Reports Award - Kiwibank chief economist Jarrod Kerr. (See the example below).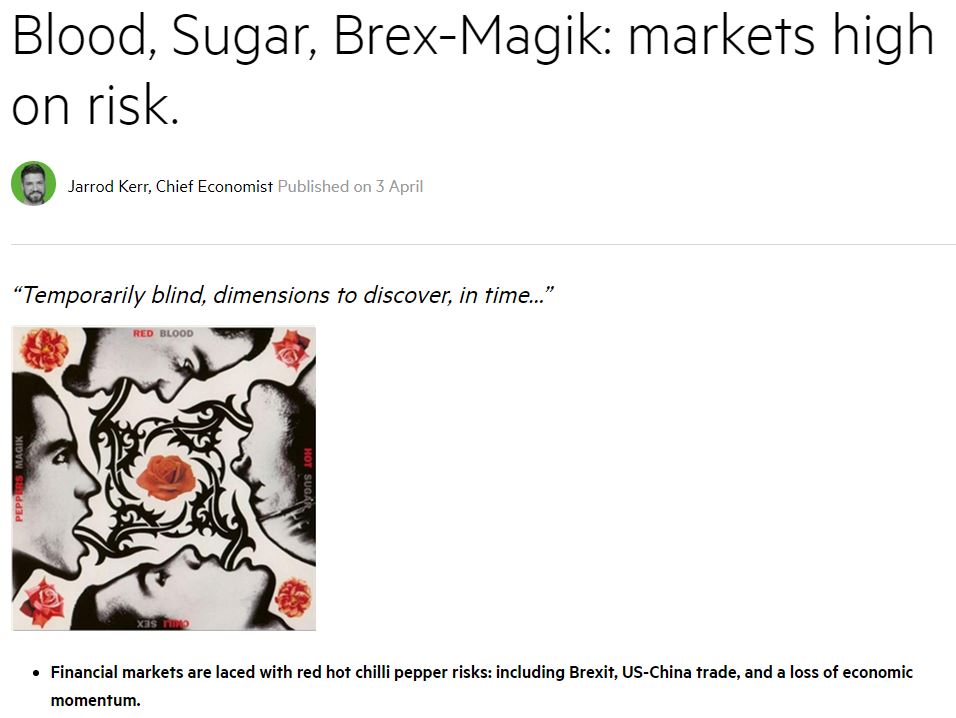 The Free IT 101 Lessons Award - Gabriel 'Gabs' Makhlouf, whose term as Treasury Secretary ended this year amid a Budget leak debacle.
Australia's Bank of Year - Scumbank, see below.
The Most Unfortunate Name Associated with the former East Germany - Christine Stasi, IAG's "group executive people, performance and reputation." (Is that a fancy name for HR?).
The Charming the International Scene but Struggling to Deliver at Home Award - Prime Minister Jacinda Ardern.
The Best Impersonation of a Dog Barking at Every Passing Car Award - National Party leader Simon Bridges.
The Building Trams to the Airport Very, Very Slowly Award - Transport Minister Phil Twyford.
The Minister who Forgot which Hat he was Wearing Award - Green Party co-leader James Shaw. (Kind of sums up the Census problems).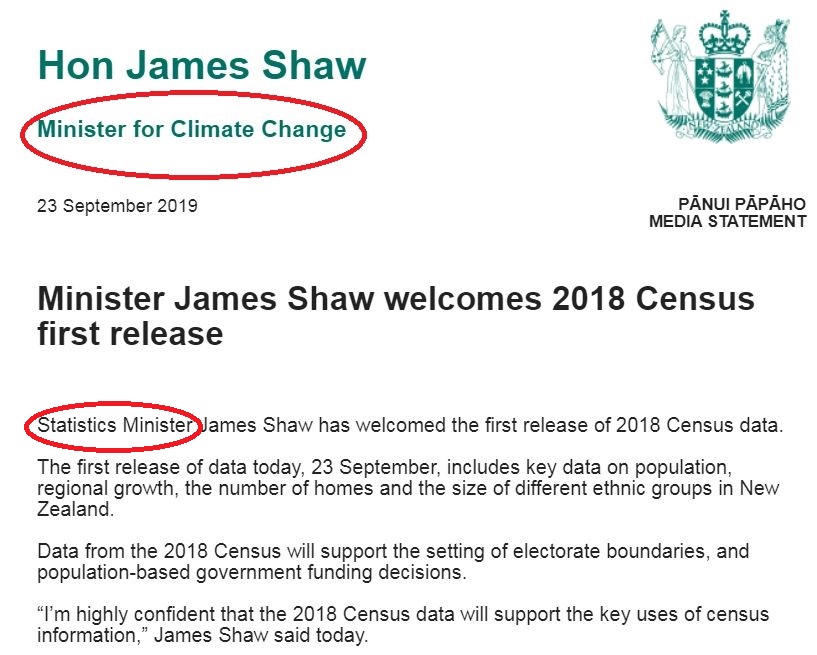 The Please Put a Sock in it Award - Shane Jones.
The Red Rag to a Bull for Grumpy Old Men Award – Greta Thunberg.
The Hawaiian Holiday that Disappeared in Smoke Award - Australian Prime Minister Scott 'ScoMo' Morrison.
The Dead as a Dodo Award - Capital gains tax.
The Services to Satirists and Cartoonists Award - US President Donald Trump, with a couple of examples below.
HISTORIC: Donald Trump just won a popular vote for the first time pic.twitter.com/URs37tUQVk

— The Daily Show (@TheDailyShow) December 19, 2019
(The cartoon below comes from Politico's Matt Wuerker).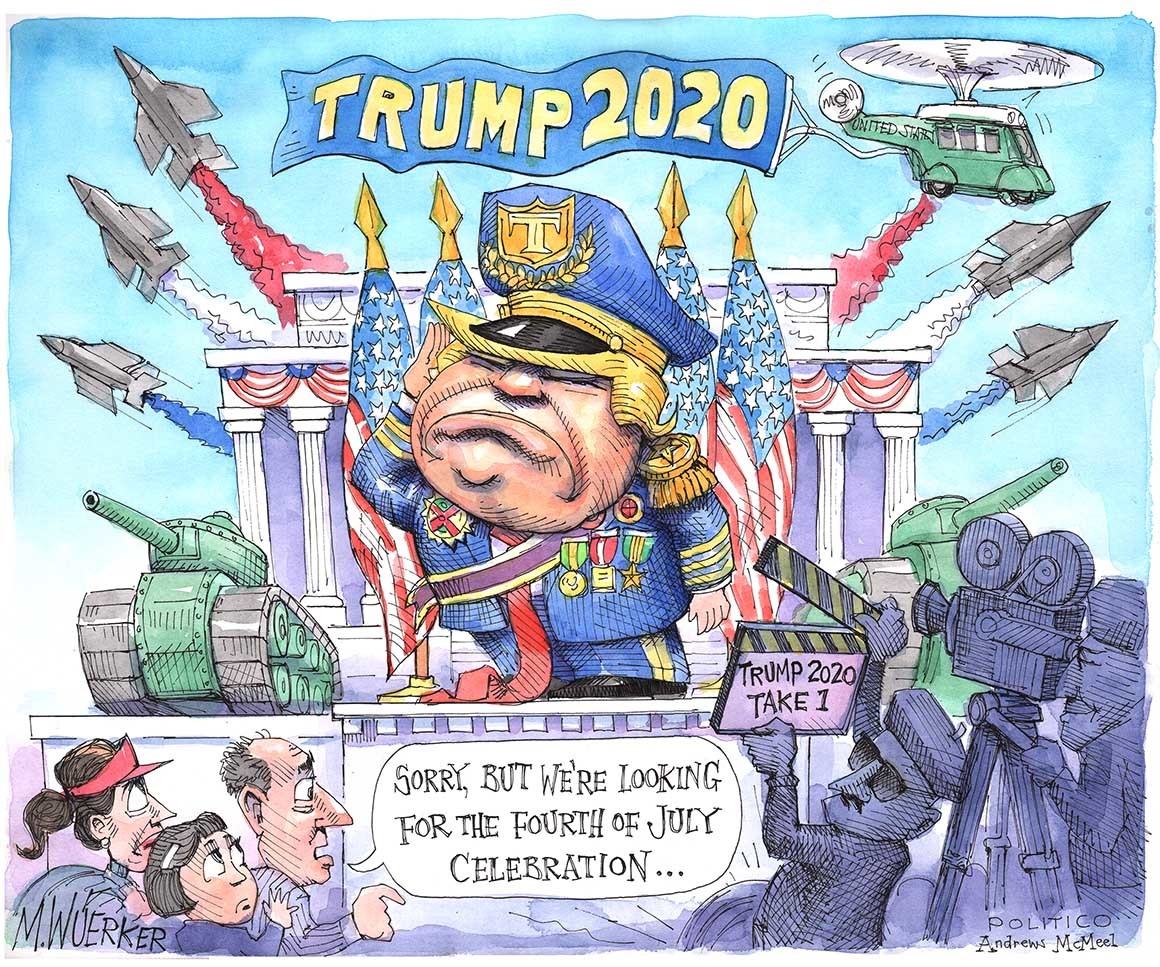 The Chart of the Year Award - Bloomberg's Tracy Alloway. She tweeted the chart below in May accompanied by the following sentence;
"My avocado-based quant model says buy Bitcoin based on the Mexico tariffs news."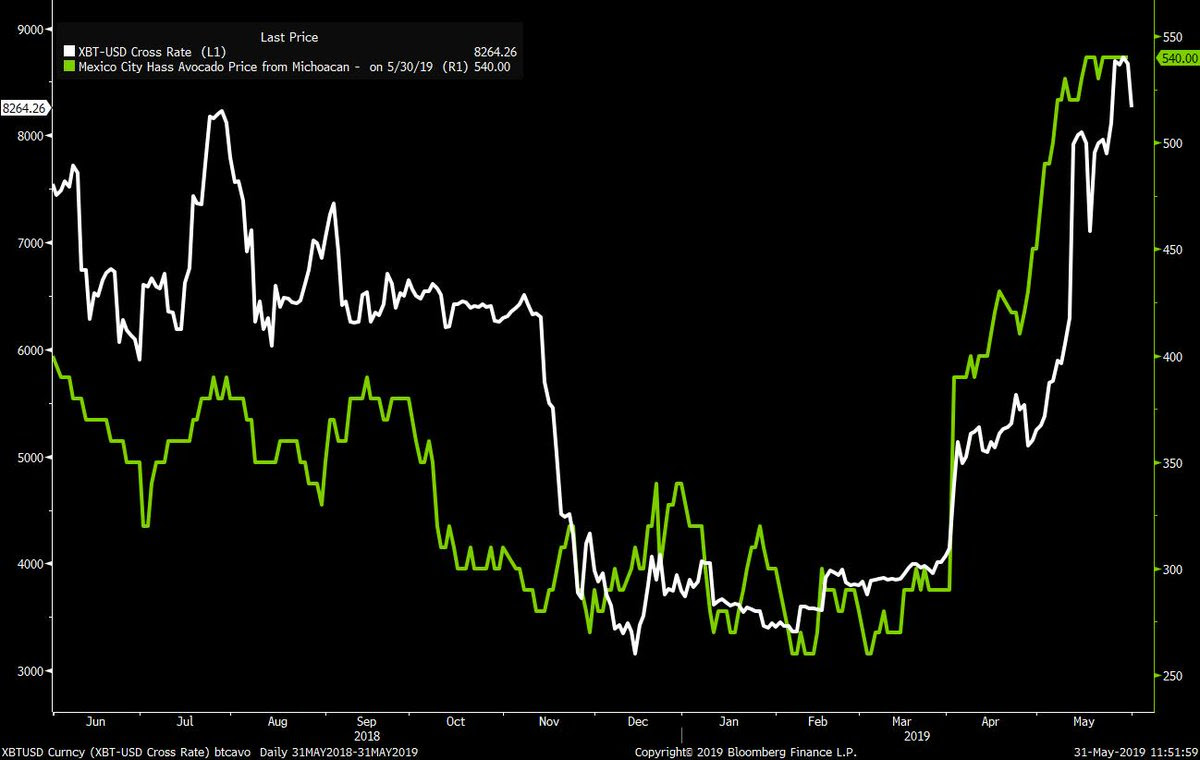 Finally, thanks to all those who've made informative, entertaining and humorous contributions to interest.co.nz this year adding to the discussion and debate. We appreciate it.