Bernard Hickey picks out the five most important numbers for the New Zealand economy in 2015 that explain the dairy slump, the housing boom and an amazing jump in tourism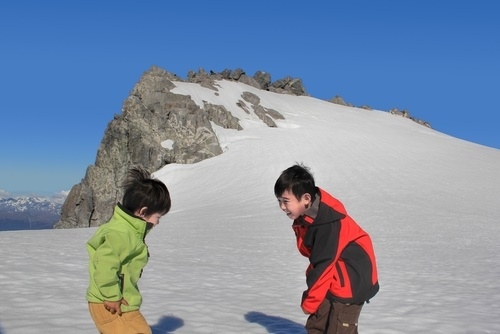 By Bernard Hickey
2015 has been a big year for the New Zealand economy, ranging from an extended slump for the dairy payout to a big boom for tourism and Auckland house prices. Here are the five big numbers for 2015 that explain those booms and busts.
8 million tonnes
That's the reduction in dairy imports by Russia and China over the last year to 10 million tonnes. That's a stunning 44% drop in one year.
Everyone talks about the rise in dairy production by Europe and the United States as a major factor that halved the dairy payout to NZ$4.60/kg over the last two years, but Russia's decision to ban European imports and China's slowdown are big factors too.
The dairy sector is the weakest in the economy right now and faces a second successive year of loss-making payouts. The slump is hitting Taranaki in particular because of the double whammy from lower oil prices, but the West Coast of the South Island is being hit hard too -- along with the coal price slump.
The South Island has been able to fall back on the Canterbury rebuild and the tourism boom, but could not ignore the body blow from dairy.
New Zealand's dairy production is forecast to fall 6% this year and many farmers that can't rely on irrigation will be even more nervous as the El Nino bites this summer.
78%
That's the rise in spending by Chinese tourists in the year to September to NZ$1.6 billion (see MBIE graph below), which isn't that far behind dairy exports to China of NZ$2.3 billion in the year to September.
Average spending per Chinese tourist is now up to NZ$3,700 per trip, which is only just behind the spending by Canadians, Americans and Europeans.
Chinese tourists are now much more likely to be renting cars, camper-vans and are staying 7 to 10 nights, rather than just doing a cheap and nasty 72 hour mini-bus tour of the Rotovegas souvenir shops. Extra direct flights and a change in Chinese Government policy to discourage the cheap tours are factors, along with the much lower New Zealand dollar.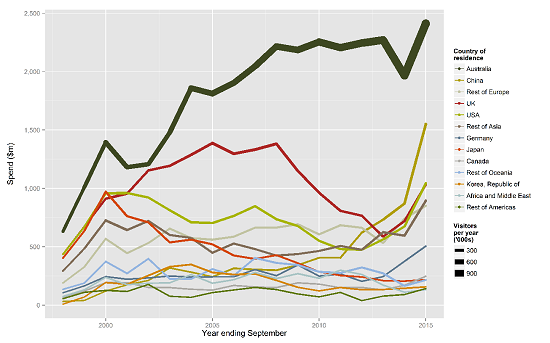 14,500
That's the number of houses that needed to be built in Auckland in the last year to keep up with total population growth of 43,500, which includes around 30,000 net migrants and 13,500 of natural population growth.
That assumes three people per house.
Unfortunately, Auckland only built an extra 8,900 houses in the last year. That means in the last year alone Auckland's housing shortage increased by 5,600. It was already 25,000 at the beginning of the year.
This shortage is at the core of the biggest social and economic problems in New Zealand's biggest and fastest growing city.
A massive building programme would go a long way to solving the housing affordability crisis, both for renters and first home buyers, and the housing poverty crisis that is the major factor in child poverty.
A big surge of housing supply would make it easier for the Reserve Bank to cut interest rates further next year, given it has financial stability concerns linked to the house price boom.
1%
That's the amount the Reserve Bank cut the Official Cash Rate this year in response to the extended slump in dairy prices, persistently low inflation because of the high New Zealand dollar in 2014 and a big fall in oil prices.
The four cuts in the rate between June and December completely reversed the bank's hikes between March and July of 2014.
The bank denied last year's hikes were a mistake, but the heat is on Governor Graeme Wheeler to lift inflation back near the bank's 2% midpoint of its target range next year from just 0.4%.
Fixed mortgage rates fell more than 1% this year to as low as 3.99%, but some economists expect rates to fall even further next year given even lower oil prices and a higher New Zealand dollar than the Reserve Bank expects.
NZ$95,000
That's the increase in Auckland's median house price to NZ$765,000 between November 2014 and November 2015.
The election result's removal of the prospect of foreign buyer restrictions and a Capital Gains Tax, along with the lower interest rates and record high net migration unleashed a perfect storm of house price inflation early in 2015. By May, the price shock forced the Reserve Bank and the Government to announce a twin-pronged attack on rental property investors and non-resident buyers.
Tighter rules on lending to landlords, a new two year 'bright-line' test for speculative capital gains and forcing non-residents to disclose their identities eventually cooled the Auckland housing frenzy.
The jury is out on how long it will stay cool given net migration is still at record highs and Auckland's housing shortage grew by at least another 5,000 to over 30,000. 
------
A version of this article first appeared in the Herald on Sunday. It is here with permission.