Gareth Vaughan argues the Reserve Bank's inflation targeting regime is broken and it's time for a change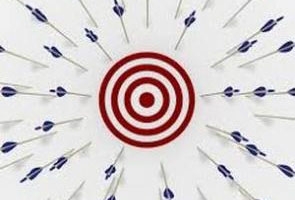 By Gareth Vaughan
Doing the same thing over and over again and expecting different results is a famous definition of insanity attributed to Albert Einstein.
This quote came to mind this week when I read a speech from Reserve Bank Assistant Governor John McDermott. He said inflation is expected to rise in the December quarter and be at the bottom of the Reserve Bank's target range. Nonetheless further monetary policy easing will be required to ensure that future inflation settles near the middle of the central bank's target range.
As ANZ's economists noted, McDermott's comments were viewed by financial markets as making "it clear that another OCR cut in November is happening".
The Official Cash Rate is already at a record low of 2.00% having been cut by 150 basis points since June last year.
The Reserve Bank's Policy Targets Agreement (PTA) with Finance Minister Bill English requires it to keep inflation between 1% and 3% on average over the medium term, with a focus on keeping future average inflation near a 2% target midpoint.
In the June 2016 quarter the Consumers Price Index (CPI) rose 0.4% from the March 2016 quarter. And for the year to June 2016 the CPI inflation rate was steady at 0.4%.
In its August Monetary Policy Statement the Reserve Bank forecast annual CPI inflation would rise to 1% in the December quarter, and to 2% in the September quarter next year. It has now been below 1% since the September quarter of 2014, and was last above 2% in the September quarter of 2011.
Going around in circles
We get the September quarter CPI figure next Tuesday, October 18. That may help paint a clearer picture of whether the Reserve Bank's forecast for December quarter inflation will turn out to be correct. However, with inflation there have been a few false dawns. Notably during 2014 when the Reserve Bank hiked the OCR by 100 basis points to 3.50%, saying inflationary pressures were increasing and were expected to continue doing so.
Thus we've been going around in circles with inflation and the OCR for a few years now. And with the OCR set to be cut to 1.75% at the next OCR review on November 10, we in New Zealand are closing in on a tipping point towards the really, really low interest rates that are now a blight in other developed economies.
And to what end?
Will a lower OCR really help magic up the inflation the Reserve Bank craves to meet its target? I'm not convinced. 
And will it help our exporters by weakening a New Zealand dollar that has been stubbornly high for so long? Again I'm not convinced.
The Kiwi has weakened against the US dollar over recent weeks. At the time of writing it's at US70.4 cents, down from US74.72c on September 8. (Over the same timeframe the Trade Weighted Index, TWI-5, has dropped 4% to 74.9). 
Whilst expectations of a Reserve Bank OCR cut helps, the Kiwi's weakening against its US counterpart is largely because financial markets think the US Federal Reserve may hike interest rates. Whilst the Kiwi may be the world's eleventh most traded currency, the Greenback is number one with 87.6% of the US$5.1 trillion in daily foreign exchange trades done in the US dollar. We're an ant on the back of an elephant.
Deposit rates at breaking point
US economist John Mauldin argued this week that the world's in the middle of a massive monetary policy error. He argues the US Federal Reserve is destroying the retirement hopes and dreams of tens of millions of people with its super low interest rates. 
And Mauldin has a point. Two years on from bringing the curtain down on its Quantitative Easing bond buying, or money printing, programme put in place after Lehman Brothers collapsed in 2008, the Federal Funds Rate, the US equivalent of New Zealand's OCR, is still only at 0.25% to 0.50%. Other major central banks, such as the European Central Bank, Bank of Japan and Bank of England, are still printing money.
Here in New Zealand Westpac Group CEO Brian Hartzer made some interesting comments recently. Hartzer estimated people in New Zealand reliant on bank deposits probably need interest rates of around 4% to live off. Westpac NZ's highest carded, or advertised, term deposit rate is currently its 3.50% six-month rate. This with the OCR at 2% and KPMG's latest quarterly Financial Institutions Performance Survey showing funding costs across the nine banks surveyed at 3.03%.
ANZ is the country's biggest bank and usually the one that sets the tone when the OCR is moved. After the last 25 basis points OCR cut in August ANZ took an interesting approach, with most other banks ultimately making similar moves.
ANZ reduced its floating mortgage rate by just five basis points to 5.59%. (Most home loan borrowers are on lower, fixed-term mortgages). The bank was a bit more generous to commercial, agriculture and business customers, cutting their borrowing rates by 15 basis points. And, in an encouraging move, ANZ increased its five-month term deposit rate by 25 basis points to 3.25%, and its 18-month term deposit rate by 30 basis points to 3.60%. (The 18-month rate lasted just five weeks before being cut by 15 basis points to 3.45%). 
Does this economy need a rate cut?
We've got annual Gross Domestic Product growth of 3.6%, low mortgage rates with the two-year average bank mortgage rate currently 4.45%, and stratospheric house prices in Auckland where the house price to average income ratio has reached 9 or 10. House prices are now rising elsewhere in the country. Doesn't really sound like an economy that needs an OCR cut.
Meanwhile, household saving turned negative in 2015 after a positive run from 2010 to 2014.
And the latest quarterly figures show that household financial liabilities, mostly mortgages, reached nearly $252 billion at the end of June. This number dwarfs the $152.7 billion annual disposable income figure. Thus the debt figure now makes up 165% of the disposable income figure, an all-time high.
Household saving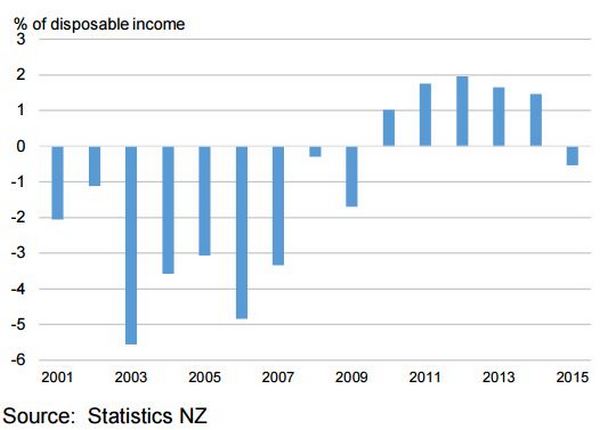 Update the Policy Targets Agreement
So clearly it's in the national interest to encourage the public to save money rather than borrow it. Thus the time has well and truly come to start turning off the cheap credit tap.
The Reserve Bank could start this process by not cutting the OCR on November 10.
Yes, this will probably mean the central bank continues to be in breach of its Policy Targets Agreement. But this agreement needs to be updated for a changed world. Why not tweak the Policy Targets Agreement so the Reserve Bank is simply tasked with keeping inflation between zero and 3% with no target midpoint?
As Bloomberg notes in this article that highlights difficulties a range of central banks are having with inflation targeting in a world of low inflation and even deflation, there is a precedent for such a move. Citing weaker demand, an ageing population, and intensified price competition in global and local markets, the Bank of Korea has set its inflation target for 2016 to 2018 at 2%, down from 2.5% to 3.5% between 2013 and 2015.
It's time New Zealand took the bulls by the horn and made a similar change. 
*This article was first published in our email for paying subscribers early on Friday morning. See here for more details and how to subscribe.