Personal Finance
/
analysis
The scale of home loan rate rises is now at a level that will crimp consumer spending for those who roll over the fixed rate mortgages. The impact will spread relentlessly over the next few months
[updated]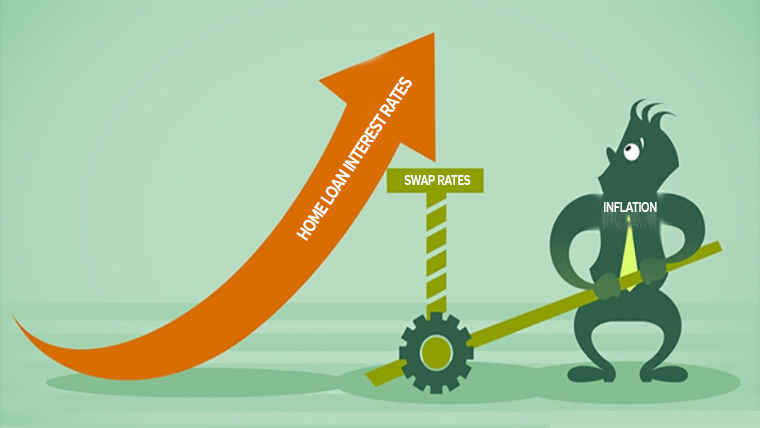 Kiwibank is the next major to push through home loan rate increases, and while they matched ANZ and BNZ at the one year level, they are offering lower rates for all longer fixed terms in their new rate card.
For rates pf three years and longer the benefit is quite large.
This just leaves Westpac still offering 'yesterday's' rates, although that opportunity may close fairly soon.
The scale of this round of increases is substantial. They have been creeping up week by week and getting more frequent recently. But a longer term perspective gives the true scale of these changes. Virtually no-one buys a house for cash, they buy using leverage. The key metric is serviceability.
Two years ago (April 22, 2020) a 2-year fixed rate contract could be had for 3.39%. Rolling that over now for another 2-years fixed will incur a 5.25% rate (5.19% for Kiwibank). For a $450,000 home loan, that changes the monthly repayments by +$492. For most households, having to switch $492 every month from other disposable spending, or from saving, will be a shock.
Two years ago (April 22, 2021) a 1-year fixed rate contract could be had for 2.65%. Rolling that over now for another 1-year fixed will incur a 4.55% rate. For a $450,000 home loan, that changes the monthly repayments by +$480. So that will be a very similar shock as for the two year rate.
We may report incrementally rising rates, but anyone re-fixing now will bet the full brunt of it. Almost every borrower will make the adjustment successfully, finding the extra for the mortgage repayment. But the merchants who relied on the foregone disposable spend will really notice it. That money will no longer circulate in the economy.
So the analogy that 'inflation is a thief in your wallet' is a fair representation of what is happening.
Kiwibank raised term deposit rates at the same time. And yesterday BNZ came through with higher term deposit rates as well.
Update: TSB has raise home loan rates too. The table below includes these latest changes.
Since the beginning of March, wholesale swap rates have risen almost +90 bps. Since the beginning or April they are up more than +30 bps. And despite a hesitation on bond markets overnight, are not showing any sign of slowing down. Almost a full +50 bps is priced in to financial markets for the May RBNZ OCR rate review. Yesterday's undershoot in the CPI did not show any reduction in wholesale swap rates.
One useful way to make sense of these changed home loan rates is to use our full-function mortgage calculator which is also below. (Term deposit rates can be assessed using this calculator).
And if you already have a fixed term mortgage that is not up for renewal at this time, our break fee calculator may help you assess your options. But break fees should be minimal in a rising market.
Here is the updated snapshot of the lowest advertised fixed-term mortgage rates on offer from the key retail banks at the moment.
Comprehensive Mortgage Calculator