Personal Finance
/
analysis
Latest RBNZ figures show while overall non-performing loans climbed in August, household mortgage stress didn't get any worse
Banks' non-performing loans collectively hit the $3 billion mark for the first time since October 2020 in August, but - perhaps surprisingly - household mortgage stress didn't worsen over the month.
Reserve Bank loans by asset quality figures for August show that total non-performing loans rose by $171 million (6%) in the month to 3.017 billion. The RBNZ said the non-performing loan (NPL) ratio reached its highest level since May-21 at 0.55%.
Yes, 0.55%. It is worth recording that the total loans in the banking system stood $551.368 billion. So it is a small percentage that's not performing - but rising nevertheless. (The highest percentage of system-wide non-performing loans recorded was 2.2% during 2011,)
The big mover in terms of non-performing loans in August, was commercial property impairments. These rose by some $122 million, which pushed the commercial property sector's total non-performing loans up to $211 million and the NPL ratio up from 0.22% to 0.49%, levels last seen in 2018.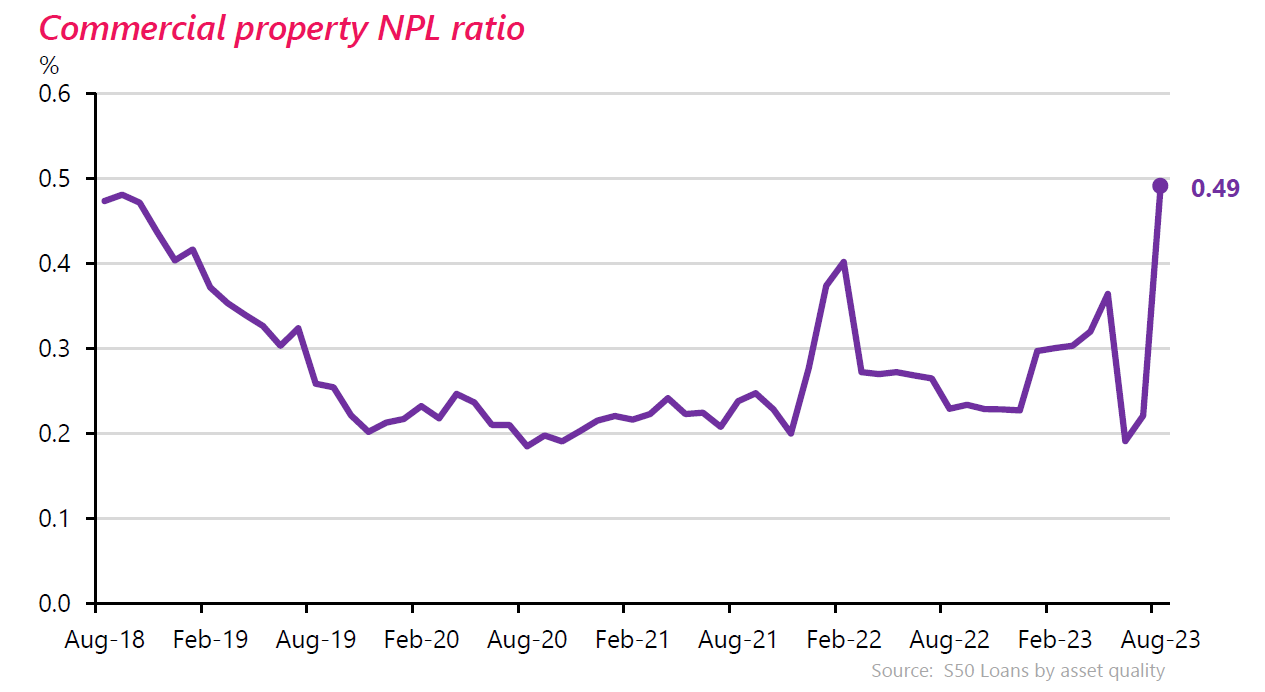 Total SME impairments rose $123m, which pushed its NPL ratio up to 0.73%, its highest level since June 2018. And agriculture non-performing loans rose by $26 million (3.3%) and have risen $131 million (18.8%) since the beginning of 2023. 
The biggest portion of banking loans by a long way is made up by housing loans, which totalled $346.358 billion as at the end of August.
As we reported last month, the specific impairments on mortgages and the past 90 days due figures have been rising notably this year - albeit off a very low base.
Therefore it comes as a genuine surprise (to me at least) to see that there's been very little movement in the figures in the latest (August 2023) month.
Specific impaired housing loans rose to $188 million in August from $185 million the previous month. However, the 90 days due figure actually dropped for the first time since September 2022, falling to $1.137 billion from $1.139 billion. This meant the total of non-performing housing loans edged up to $1.325 billion from $1.324 billion.
In December 2022 the total of non-performing housing loans stood at just $850 million, so, it has been climbing quite markedly this year, although from very low levels.
But do the latest (August 2023) figures suggest we are now seeing a levelling off? It is dangerous to make any assessment based on just one month, but at this stage I certainly might have expected to see the figures keep going up month by month at a noticeable rate.
The ratio of non-performing housing loans to the total remains at a little under 0.4%. And while that's well up on the 0.2% seen less than a year ago, it is still a long way short of the kinds of levels seen after the Global Financial Crisis.
The ratio of non-performing loans at that time rose above 1% for a considerable period of time, hitting 1.2% during the period from 2009 to 2011.
So, at the moment, while with mortgage stress is higher than its been, is not particularly elevated by historical standards.
And yet this is despite the fact we've just moved rapidly from a period where mortgage rates were at historically low levels that encouraged people to take on historically large mortgages. For a while there it required a first home buyer in Auckland attempting to acquire an average sized house (average price at one point $1.3 million) and with a 20% deposit, to take out a million dollar mortgage. And people did.
In terms of popular fixed mortgage rates, in August 2021, according to RBNZ averages, the average one-year fixed rate was 2.49%, while the two year was 2.7%.
As of August 2023, the average one-year rate was 7.1% and the average two year 6.78%. 
People have been facing 50%+ rises in the monthly mortgage servicing costs. And yet, for the most part they do seem to be managing. We do know that a lot of people were ahead of their mortgage payments. And a lot of people have been able to secured reasonable pay rises.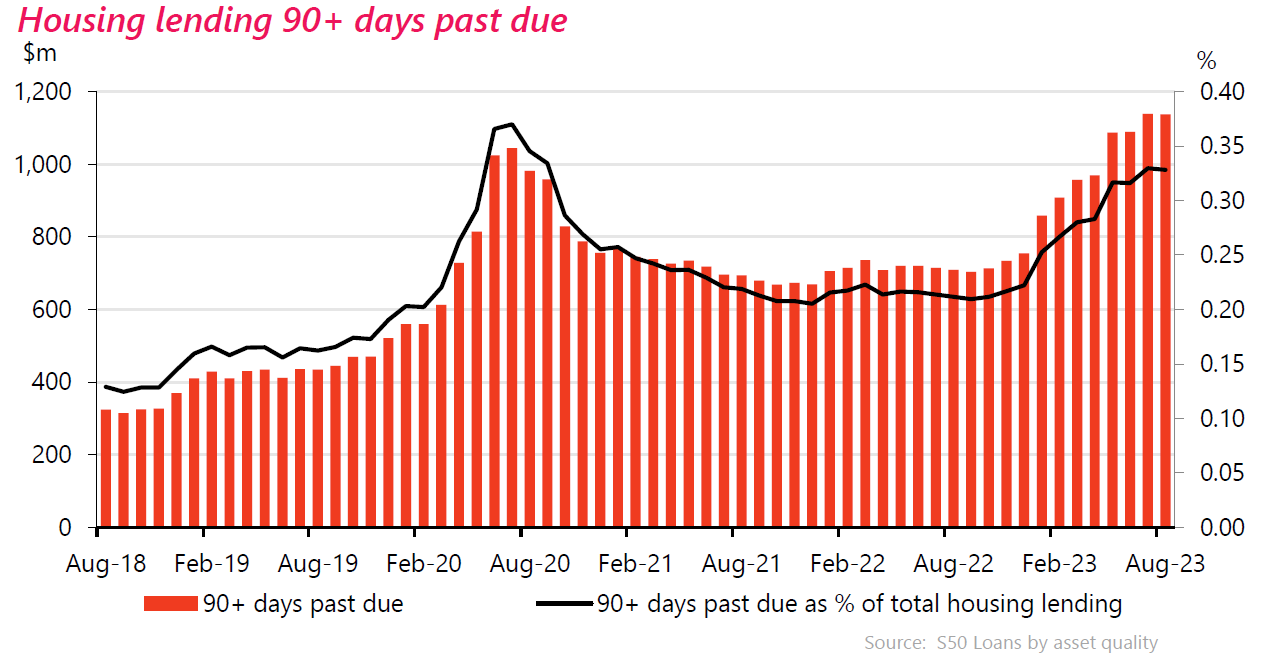 Is it possible then that mortgage stress levels won't get that much worse, or will we suddenly see a sharp move upward again in those non-performing loan numbers?
At the time interest rates started heading skywards in mid-2021 (a move which pre-empted the first RBNZ Official Cash Rate hike in October 2021), it was noted that the RBNZ would be able to get substantial 'bang for its buck' in terms of the impact higher rates would have on customers. This was simply because at the time a lot of people had gone 'short' in their fixed rate terms. 
A perusal of the RBNZ's mortgage data on times to repricing shows that as of August 2021, owner-occupiers had a collective $203.427 billion of fixed mortgages. At that time $67.712 billion (33.2%) was due to refix within six months, while $141.855 billion - a very considerable 69.7% of the total - was due to refix in up to a year.
The situation now?
Well, a lot of people are still up for refixing, but proportionately quite a few fewer than two years ago. As of August 2023 owner-occupiers had $229.704 million of fixed mortgages. Of this, $66.204 billion (28.8%) was to be refixed within six months. Some $133.97 billion (58.3%) was to be refixed in up to a year. 
So the numbers of those that face imminent repricing are still notable, but not AS notable as they were at the start of the rate rises two years ago.
And the other point worth referring to at this stage is what's happened to mortgage rates in that time. The one and two year fixed rates have tended to be the most popular over time, though we can now chart ups and downs in popularity with a new data series that the RBNZ is running on these. But anyway, looking at the two-year rate, if a buyer had taken up a mortgage on this in August 2021 they might, according to RBNZ averages have been paying 2.7%. So, had these people been re-fixing in August 2023, and they went for two years again, it would have definitely been smelling salts time, with the average rate according to the RBNZ being now 6.78%. Ouch.
However, those fixing for one year might have had a mortgage at around 2.49% in August 2021, but would have had to refix in August of last year - 4.91% - and now refix again this year in August at 7.1%. 
I guess the point I'm making is that we are now gradually getting through that major 'pain threshold' that we saw when rates first really started to surge. The increases in mortgage rates, and therefore payments, from now will be progressively less onerous. But will the damage to finances be cumulative?
The question is whether people who have moved on to these higher rates had savings up their sleeves that buttressed themselves against the higher payments for a while at least - but maybe the buffers are gradually being used up? Or alternatively are people finding a way to cope better than perhaps the RBNZ might have thought. 
The key thing now presumably is whether we see mortgage rates go much higher than they are and for just how long they do stay at or around current levels. Definitely worth keeping an eye on.