ANZ economists expect the housing market will cool 'in time', but exactly when is highly uncertain, given that momentum in the market can be slow to moderate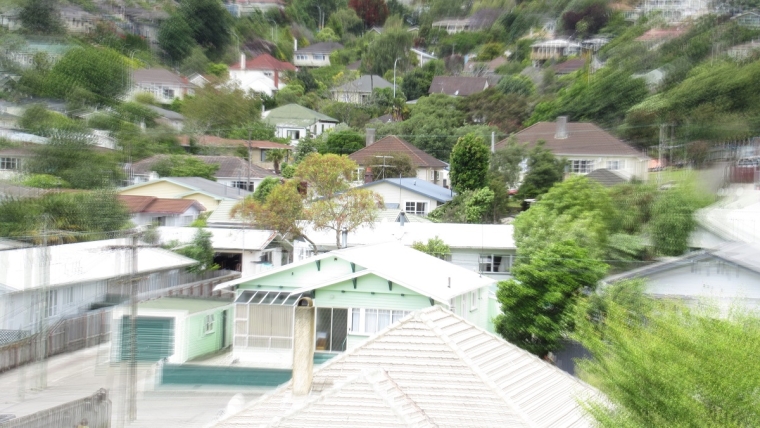 The New Zealand housing market has experienced a "perfect storm" and "unprecedented" price gains, according to ANZ economists. They say the market will cool "in time".
In the bank's latest Property Focus publication, ANZ senior economist Liz Kendall, senior strategist David Croy and chief economist Sharon Zollner say the perfect storm we've seen in the housing market has combined: A fear of missing out (FOMO), scarcity of properties and expectations that house prices will get further out of reach - all at a time when interest rates have been falling and bank funding has been readily available.
"This dynamic is expected to contribute to further price gains in the short term at least. We expect the housing market will cool in time, but exactly when is highly uncertain, given that momentum in the market can be slow to moderate, she says.
Strength in the housing market through the second half of 2020 was "unprecedented", the economists say, with prices rising 16% since May.
"Increases like that are unsustainable in the context of incomes that have been stable at best."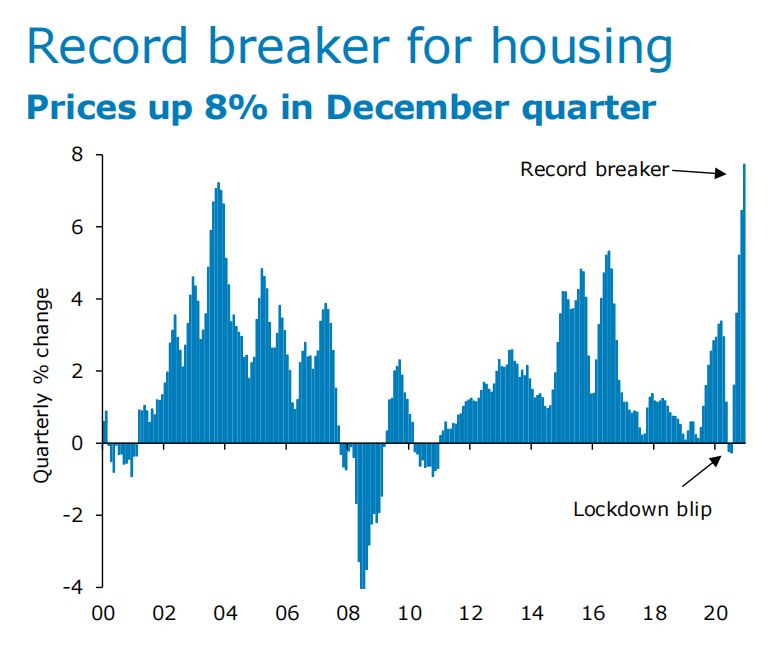 Annual house price inflation is still below the peak seen in February 2004 (24% y/y), which followed a year of solid monthly gains (1.8% m/m on average), the economists say.
"The upturn this time has been shorter but sharper, with price rises of 2.1% m/m on average since May.
"It is possible that continued momentum could see the 2004 peak in annual house price inflation surpassed.
"But there are reasons to think that the upturn might not have the same persistence this time around. A key difference is that the economy was very buoyant in the early 2000s, with incomes growing strongly. This time income growth is fairly stagnant and house prices are already very unaffordable relative to incomes – making continued house price inflation at the current pace unsustainable."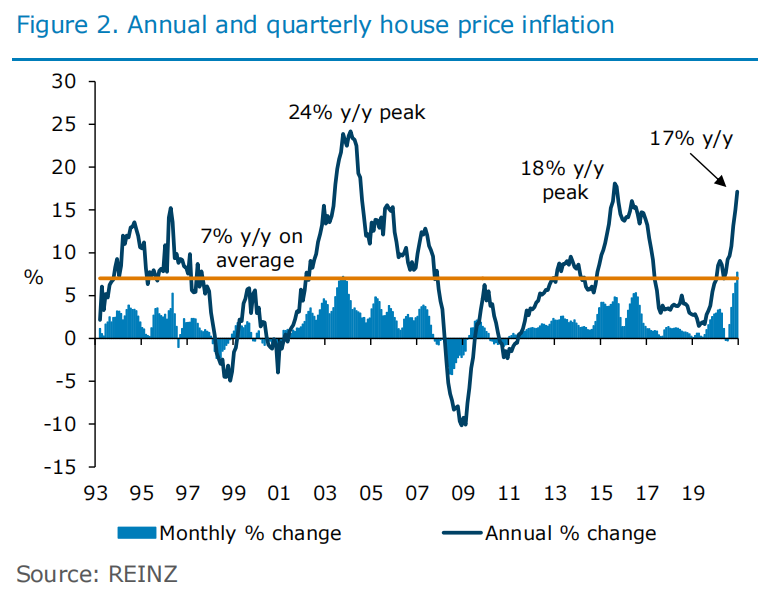 Kendall, Croy and Zollner note that reports of rampant house price inflation "have inflamed FOMO" in a tight, supply-constrained market.
And they say while some heat will come out of the market at some stage "in the meantime, New Zealand's issues with acute housing unaffordability continue to worsen".
"To reverse the tide, big, bold action is needed urgently."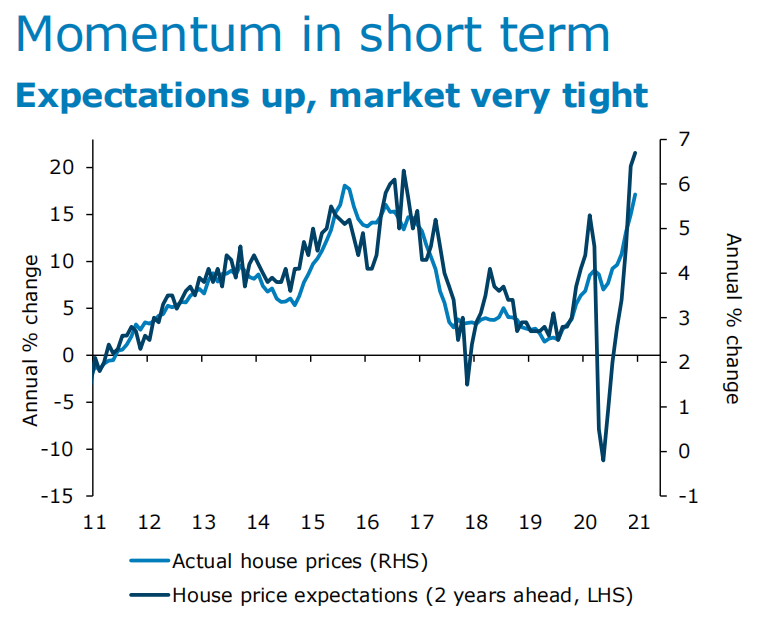 Eventually, the ANZ economists say they expects that an easing in acute market tightness will occur and fundamental factors will return to the fore, including income considerations, weak population growth (with building strong), affordability limits and credit constraints
The Reserve Bank has moved to curb high loan-to-value ratio lending to investors, effective from 1 March, they note, with some banks acting pre-emptively to rein in lending to this segment.
"This will have some effect in dampening house price inflation (say 1-2 percentage points, according to the RBNZ), though only temporarily, as with previous imposition of such restrictions. Nonetheless, these may play a role in curbing (in the RBNZ's words) 'irrational exuberance', thereby contributing to a slowing in momentum."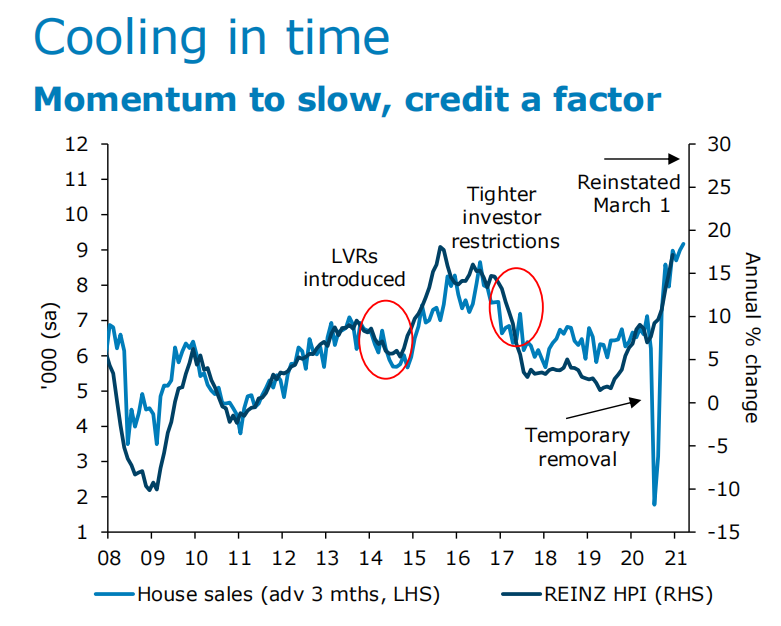 "Overall, we expect house price inflation to moderate, with solid gains in the next few months, followed by a more marked cooling," the economists say.
"House price declines can't be ruled out, but for now that is not our expectation and sits squarely in the 'risks' basket."
ANZ is currently forecasting house price growth of 3.5% for the March 2021 quarter, followed by gains of 2% in June, and 1% in the September quarter. The next three quarters after that (up to June 2022) are also each forecast as 1% rises.
What this would mean for annual house price inflation, according to ANZ, is that it would be 15.3% at the end of March, rising to 17.8% by the end of June this year, but then falling to 7.7% by the end of the year and 4.1% by the middle of 2022.