Kiwibank economists say housing supply should be able to meet demand by 2024 and we could even see an over-supply, leading to improved affordability; house price growth to fall to 1% by end of 2022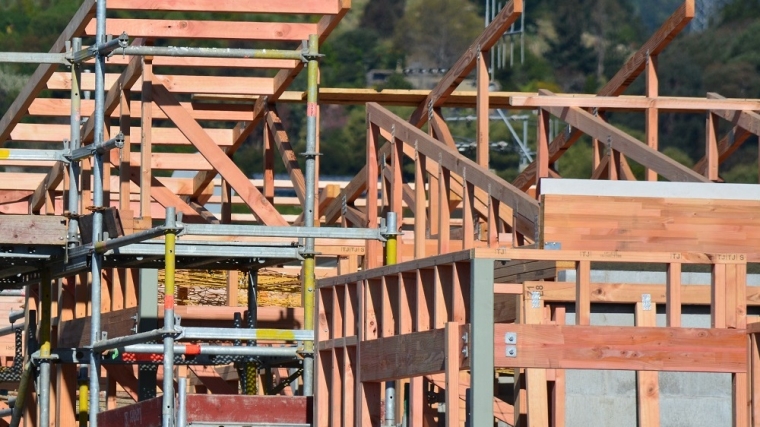 Kiwibank economists believe that New Zealand's housing supply should be able to meet demand by 2024 - and we may even see some over-supply, leading to affordability. 
And they predict that after peaking at around 25% in the current quarter, house price growth could drop to around 1% by the end of next year.
In a Kiwibank Inner Kiwi publication, senior economist Jeremy Couchman says that the Covid pandemic has provided a rare opportunity for NZ to balance its housing market.
He says in a "rare silver lining to the Covid crisis", NZ has for the first time in eight years produced a surplus of homes, according to Kiwibank calculations.
"With a drop in population growth, builders are catching up.
"But the 13,000-home surplus generated last year only nibbles around the edges of NZ's huge shortage - which we estimate to be in the order of 67,000 houses.
"We estimate that it will take at least three years to balance the market, dependent on when, and how, our border fully reopens."
Couchman says balancing the housing market with more affordable dwellings is the best way to tackle affordability and widening inequality. And allowing the supply of dwellings to better respond to future demand is key to success.
"Our ability to generate a surplus of houses in the last year was largely due to Covid," he says.
'Net migration has almost evaporated'
"Our closed border has meant net migration has almost evaporated, leading to a fall in the demand for new housing. After peaking at 90,000 people in the year to March 2020, net migration added only a tenth of that figure to NZ's population this year. At the same time, the supply of new housing continues to rise. We've experienced the fastest rate of growth in supply since the 1970s, and supply growth continues to accelerate."
So, Couchman says, a time when the country will no longer have a housing shortage "now looks to be within reach".
The Kiwibank economists are "hopeful" the border fully opens by the middle of 2022.
"On the supply side, recent building consents suggest the pace of building will rise further over the year ahead.
"We have pushed the envelope of our housing supply and demand model to provide an estimate of when the housing shortage will be addressed.
"At some stage in 2024, supply should meet demand. And depending on appetite on both sides, we may see the accumulation of an oversupply. That's increased affordability."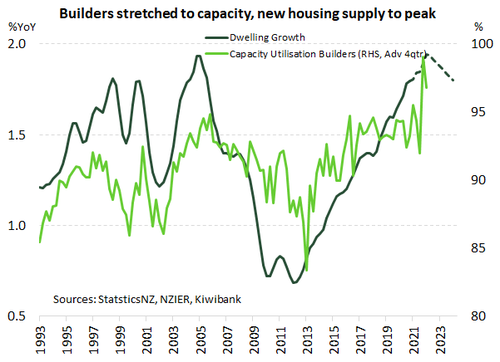 For the moment, Couchman says he believes there is enough momentum in the market – with its chronic shortage of listed property – to see house price growth peak at around 25% year-on-year in the current quarter.
"However, affordability constraints, new housing supply, and recent policy changes are expected to start taking the heat out of the market. The return of LVR restrictions on investor mortgages on their own may not have been enough to tip the balance. The recent surge in house prices has helped to push up investors' equity on existing portfolios. Equity that can be used as a deposit for additional borrowing.
"However, combined with recently announced tax changes, policy should pack somewhat of a punch on the investor side of the market. Overall, we see a deceleration in house price growth this year and next, hitting a low of 1% year-on-year by the end of 2022. Recent developments mean that even if the RBNZ is given the OK to have DTI [debt-to-income] restrictions and restrictions on interest only lending in their macroprudential toolkit, the Bank may no longer need to use them. Certainly not immediately anyway."
'Supercharged inequality'
Unfortunately, Couchman says, the current housing crisis has "supercharged" rising inequality.
"And while a reduction in the housing shortage is encouraging to see, we still have not addressed a fundamental issue. Housing supply is simply far too slow to respond to changes in demand.
"The current shortage goes hand-in-hand with a lack of new housing-related infrastructure. The Government's announcement of the Housing Acceleration Fund is welcome but long overdue. Unfortunately, at just under $4 billion it feels a little underdone.
"The Government's Budget on May 20th might have more to add – we certainly hope so. And the fund ignores the years of underfunding of existing infrastructure in many of our older cities. Densification of housing will be hampered if infrastructure is not up-to-scratch.
"Finally, more needs to be done to speed up and lower the cost of construction. A revamp of the Resource Management Act is certainly part of the solution.
"If housing supply remains too rigid in the future, then we are likely to see a case of history repeating itself."