The Official Cash Rate will most probably be kept at 1% this week after last month's shock double cut - but under the current RBNZ regime, nothing should be ruled out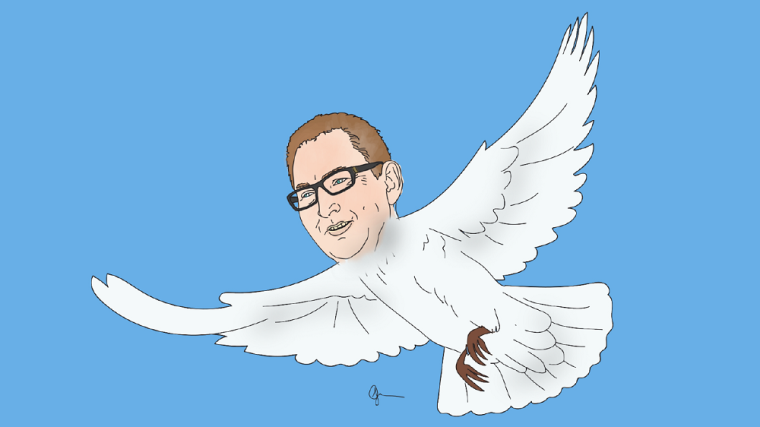 The doves are likely to be left in their cages this week - but with the current 'shock and Orr' regime at the Reserve Bank, we should not be ruling anything in or out.
After RBNZ Governor Adrian Orr blind-sided the financial markets on August 7 with a stunning 50-basis-points cut to the Official Cash Rate, the natural expectation could be that the OCR will be left at 1% in this Wednesday's (September 25) review.
There's a couple of good reasons why that would be the expectation.
First, it would be logical of the RBNZ to wait and see the impact of the last month's double-cut coming through. It's too soon to see that fully yet.
Second, the RBNZ traditionally favours moving rates at OCR reviews that also include a full Monetary Policy Statement release. Last month's OCR review coincided with an MPS release, while this month's review is just the 'one-pager' press release. The reasoning behind waiting for an MPS is that this gives the RBNZ a chance to fully articulate why it is making a change.
Shoot on sight
But after all that has been said, under Governor Orr and now also the new Monetary Policy Committee, this is an RBNZ that is not giving itself the chance of dying wondering. Shoot on sight might be the best way of summing up the approach.
So, that's why there is some expectation that there could be a rate change this week - although that's not seen as the most likely outcome. Right at the moment though it has to be assumed that any OCR decision is a 'live' one.
In the meantime, as the OCR heads rapidly and ever more closely towards zero, there's increasing debate around about the effectiveness or otherwise of continued cuts. Or indeed even whether these are likely to be counterproductive.
The New Zealand Institute of Economic Research has for some time been convening a 'shadow board' of industry leaders, academics, and economists, to state their views ahead of OCR decisions on whether there should be OCR moves and how they view the current situation.
Are they doing the right thing?
It's been notable that this year there's been increasing division among this 'shadow board' as to whether the RBNZ's doing the right thing with the aggressive easing cycle it has commenced. For the most part the economists have tended to agree (although BNZ head of research Stephen Toplis has been notable in his disagreement), while the academics in particular are doubting the effectiveness.
Increasingly we are seeing the view that the Government has to do much more in terms of fiscal policy support and that monetary policy is running out of ammo.
And that's very much the case with the latest release from the NZIER. The 'board' thinks there should be no cut this week. But there's even a bit of a feeling that the OCR should actually be higher.
BNZ's Toplis (a 'board' member) says the BNZ economists are not forecasting a rate hike and to the contrary, think rates will continue falling, with the next move down in November [which will be another full MPS review].
"It's just that we do not believe lower rates are the answer to New Zealand's current concerns," Toplis says.
"Indeed, lower interest rates, at this juncture, risk causing more harm than good."
Fellow 'board' member Viv Hall of Victoria University in Wellington says no further OCR cut is warranted at this stage.
More fiscal help needed
"No argument that New Zealand's economic growth continues to become more modest, but OCR-based monetary policy will have minimal further effect on consumer and investment expenditure, and on employment growth. Increased asset price inflation would result and is not desirable," he says.
"Fiscal and structural adjustment policies will need to contribute further."
Board member Prasanna Gai of the University of Auckland notes that the world economy has recently been hit by several negative supply shocks that have disrupted trade in goods, services, energy, capital and information. Two of these, Brexit and the Sino-US trade and technology war appear permanent, and the shock to oil supplies may also persist.
He says the global trend of uncertainty generated by political factors – and increasing talk of negative interest rates – means that firms will wait rather than invest, and savers will save more (rather than spend) in order to hit retirement targets. The more prolonged the policy uncertainty at home and abroad, the greater the option value of waiting, and the weaker aggregate demand will be.
"The effects of such shocks cannot be properly reversed through conventional monetary or fiscal policymaking," he says.
"By sharply lowering interest rates, the RBNZ is attempting to encourage exports, investment, and an appetite for risk to ensure that aggregate demand will remain resilient enough to in spite of the policy uncertainty.
"But it is not obvious that a simple reliance on the incentives of lower interest rates will be sufficient to stave off a self-fulfilling downturn. A more novel approach to policy coordination will soon be needed."
Keep the powder dry
Board member Kerry Gupwell, the CEO of environmental planning and design consultancy Boffa Miskell, says he doesn't think it's appropriate for another cut (or change) at this time as the effect of the last cut continues to be gauged.
"We may need to keep some powder dry for future cuts," he says.
"I think the government needs to continue to focus on policy certainty and delivery as a boost to confidence and economic activity."
In their previews of the RBNZ's upcoming OCR decision, the major bank economists have all been addressing the point that while a cut would not be probable this week, nothing should be ruled out at the moment.
ASB's chief economist Nick Tuffley put it this way:
"Has the urgency to cut further remained?  We think not, but the lesson is: Never Say Never Again.
Never saying never
"The Monetary Policy Committee is making Sean Connery look like a thumb twiddler as it takes on its Largo equivalent in the form of elusive inflation pressures.  But recent developments have been fairly much in line with the RBNZ's outlook and assumptions, suggesting there is time to monitor the impact of the Shock and Orr 50bp cut and wait for greater clarity around US-China trade tensions and Brexit paths.
"And the RBNZ will be pleased at the Skyfall that lending rates and the NZ dollar have experienced: the easing of monetary conditions to date this year has been substantial."
He says, however, that the risks to interest rates are all one way, with further OCR cuts next year very possible.
"NZ growth could remain bogged down given weak sentiment and the worsening global growth outlook. Furthermore, the RBNZ has yet to factor any economic drag from its proposed increases in bank capital requirements."
The ANZ economists, who have been market leaders in terms of picking the onset of the RBNZ's easing cycle, and who are now picking an OCR of just 0.25% by next year, are expecting no cut this week - but another in November, before two more next year.
Letting the dust settle
"The [Reserve] Bank will most likely want to let the dust settle a little following August's surprise 50bp move, but with this pre-emptive [Monetary Policy] Committee nothing is certain," ANZ chief economist Sharon Zollner said.
She said, however, that there was "plenty for the RBNZ to worry about", with downside risks having intensified in recent months.
"The Reserve Bank's August 50bp cut hasn't caused any discernible improvement in business or consumer confidence, or inflation expectations indicators," Zollner said.
"Looking ahead, we're confident that an OCR of 1% will not be the low of this cycle. The weak global outlook, gloomy business activity picture, and changes to bank capital requirements are likely to add further headwinds that a lower OCR will need to try and offset."