Economists flag potential for quantitative easing to reach its limit if government spending and debt issuance end up being lower than forecast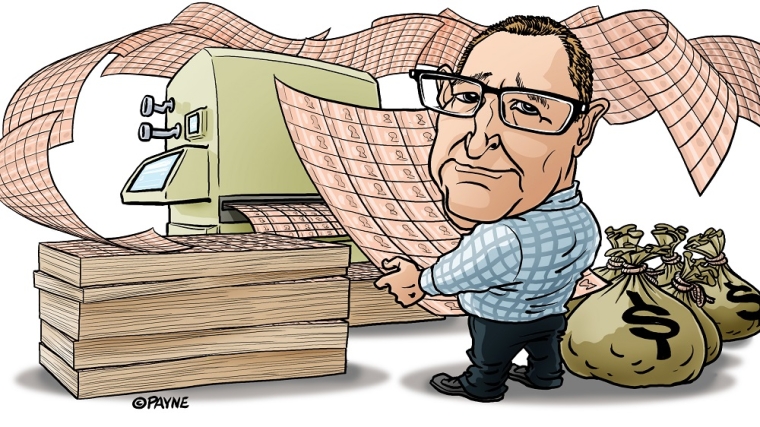 Some economists are concerned prudence by the Government could restrict the Reserve Bank (RBNZ) from majorly expanding its quantitative easing (QE) programme.
An indemnity provided by Finance Minister Grant Robertson allows the RBNZ to buy up to 50% of outstanding New Zealand Government Bonds (NZGB) on issue via its $60 billion QE, or Large-Scale Asset Purchase programme.
The thinking is, if the RBNZ buys a higher portion of bonds, this could distort the market.
But what happens if the Government doesn't commit to spending as much, and thus issuing as many NZGBs as the RBNZ expected it would, and the RBNZ reaches that 50% limit when it still wants to do more bond-buying?
ASB economists Mike Jones and Mark Smith said there was a "near-term risk" that with the economy now doing better than expected a few months ago, the Government wouldn't issue as much debt.
Westpac economist Dominick Stephens made the same observation, noting that Finance Minister Grant Robertson last month said he was putting away $14b of the $20b allocated in the May Budget towards yet-to-be-determined Covid-related expenditure.
Stephens expected Treasury's Debt Management Office to reduce its forecast bond issuance programme to $50b (from $60b) this year, and to $35b (from $40b) next year.
Even though the rate at which the RBNZ has been buying NZGBs has slowed, Stephens forecast it owning 54% of the bonds on issue by 2022.
ANZ's Liz Kendall and David Croy made similar comments, adding it created uncertainty having a cap defined as a value of outstanding bonds on issue, when it wasn't clear what this was going to be.   
"If bond issuance is expected to be lower, then a percentage cap is more likely to become binding, and sooner," they said.
The limits of buying NZGBs
While all three banks' economists agreed this was a potential issue, their views differed on how the RBNZ would respond.
Kendall and Croy said the indemnity needed to be made more flexible, or increased to 60%.
This would ensure the QE programme delivered its "maximum stimulus" while dealing with "market perceptions" it could hit its limit.
They maintained it would be more risky and costly for the RBNZ to try to reach its inflation and employment targets using the other monetary policy tools available to it.
However, ASB's Jones and Smith couldn't see the RBNZ asking Robertson to lift the indemnity "anytime soon", saying: "Bank staff have frequently expressed a view that they don't wish to own more than 50% of the government bond market. To do so would impair market functioning and liquidity and also exceed where some offshore central banks have got to with their QE programmes."
Meanwhile Westpac's Stephens believed the RBNZ would turn to cutting the Official Cash Rate (OCR) from 0.25% to -0.5% in April next year.
The RBNZ's Monetary Policy Committee is on Wednesday expected to expand its QE programme and provide more of a steer on its thinking, when it releases its quarterly Monetary Policy Statement.
The RBNZ has committed to buying up to $60b of mostly NZGBs over a year (by May 2021). In the past four-and-a-half months, it's bought $23b of NZGBs and $1b of Local Government Funding Agency Bonds.
'Economic adjustment will be a marathon not a sprint'
While economists' views differed on how the RBNZ would respond to QE reaching its limits, there was also some disagreement on how bad New Zealand's economic outlook was.
ANZ's Kendall and Croy expected the RBNZ to expand the QE programme to $90b over 18 months.
"Even in a best-case scenario, inflation and unemployment look set to be away from the RBNZ's targets for an extended period, necessitating very expansionary policy to see these return within an acceptable timeframe," they said.
"The path of least regrets is to err towards doing more, given downside risks and the possibility that inflation expectations settle too low. The chances of doing too much and causing a growth and inflation overshoot look remote in the near term, and worth the risk, given the ability to reverse course if required."
Furthermore, they said: Shifting the timing of the programme out to 18 months will help with the prospect of a QE 'cliff', which is becoming a concern for markets. With purchases due to end in 12 months, the question is: what happens next?"
ASB's Smith and Jones, and Westpac's Stephens likewise believed the RBNZ would extend the timeframe.
Stephens saw the cap being extended to $70b over 15 months, while Smith and Jones put it at $80b over an unspecified extended timeframe.
Smith and Jones were more upbeat on the economy than Kendall and Croy, saying, the RBNZ had time on its side, as QE had been successful to date.
"But the economic adjustment will be a marathon not a sprint. NZ's recent economic performance has certainly been encouraging, but the RBNZ may yet be called upon to do more," they said.
They provided this table detailing the pros and cons of the tools at the RBNZ's disposal: