Economists are tentatively suggesting the 6.9% annual inflation rate might be somewhere near the peak, but they don't see high prices subsiding any time soon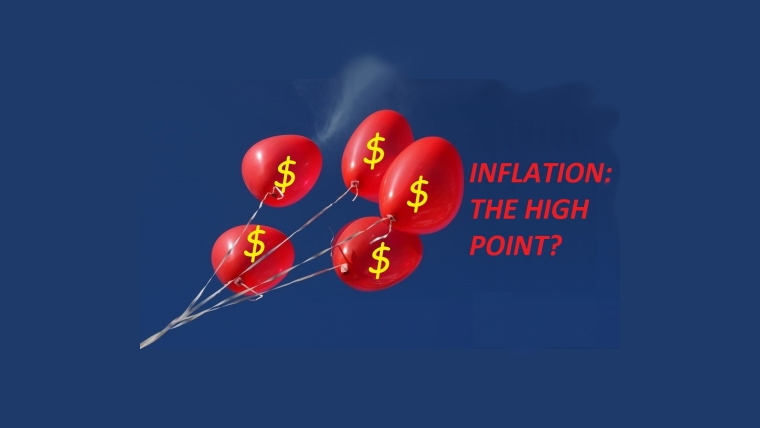 So, was that the high point for inflation? Or is there more to come?
After Statistics New Zealand unveiled a slightly-lower-than-expected annual inflation figure of 6.9% for the year to March, economists have been trying to make sense of it all.
Crucially of course they are trying to work out whether this is the high point? Will it go higher? How long will be it around for at elevated heights? And last - but by no means least - what will the Reserve Bank do?
In addressing the "obvious" question of whether the 6.9% figure was the "peak",  ANZ economist Finn Robinson and senior strategist David Croy said "at a headline level, it definitely could be".
"Barring some un-forecastable shock, we're unlikely to see another massive spike in commodity prices like we saw in Q1 [the first quarter of the year] – and so mechanically it will be difficult to see inflation rise above what we just saw," they said.
But here comes the 'but'.
"But it's too early to claim the RBNZ's job is done on inflation."
Robinson and Croy noted that inflation had "persistently surprised" forecasters to the upside over the past year - both in NZ and overseas. And with the global environment still highly inflationary, and with global food prices surging, and China grappling with Covid outbreaks, "we could feasibly still see higher headline inflation prints over the middle of this year".
Second, and more importantly, the "domestic inflation pulse" has continued to increase, with non-tradables (domestic) inflation at 6.0% year-on-year and measures of core inflation far too high and heading in the wrong direction.
"The labour market is set to be a big driver of inflation over 2022, as wages start to get the memo about record-low unemployment. So if anything, this continued rise in domestic inflation pressures only reinforces the need for ongoing interest rate rises by the RBNZ."  
ANZ economists were the first major bank economists to forecast a 50 basis point Official Cash Rate rise - which of course did transpire last week. And they still see another 50 pointer coming in May. 
Westpac senior economist Satish Ranchhod said while the inflation figures had been "a touch softer than we expected" the result supported Westpac economists' expectations for a series of further rate hikes from the RBNZ over the coming months, including a 50 pointer in May.
"Inflation is expected to remain above the RBNZ's target band through the remainder of 2022. And although much of that is due to overseas cost pressures, the domestic inflation picture has also heated up," Ranchhod said.
"Crucially for the RBNZ, both households and businesses are expecting that inflation will remain strong for some time yet. That's a big concern for the central bank, as if that spills over into wage and price setting decisions, the strength in inflation could be sustained for even longer. That would mean that even larger interest rate increases are needed to rein the inflation monster in. On this front, it's notable that we're already seeing growing upwards pressure on wage claims.
"Concerns about inflation expectations saw the RBNZ swing into action at its recent policy meeting with a 50bp increase in the cash rate. Today's strong inflation result will have done nothing to alleviate those concerns."
ASB senior economist Mark Smith said while the inflation figure was weaker than expected, "it has not substantively changed our view on inflation".
"There is likely to be payback in Q2 [the second quarter of the year] from many of the downward surprises, with airfares and supply chain frictions set to boost prices.
"Uncertainty is high but we could still see a 7% annual inflation print delivered in Q2 of this year.
"Elevated inflation is likely to validate the case for a 50bp OCR hike in May as the RBNZ seeks to quickly reduce policy stimulus," Smith said.
He said the bigger issue is not so much what the inflation peak will be but how persistent the uptick in inflation is.
"We remain wary of a more pronounced and persistent lift in inflation and expect annual CPI inflation to remain well above 5% for all of 2022, and not to fall back below 3% until 2024."
ASB economists have assumed a 3.25% OCR peak this cycle (early 2023) [slightly below the RBNZ's current forecast peak of 3.4% in 2024].
"Going forward, the degree of RBNZ hikes will depend on the outlook for inflation and inflation expectations, the state of the labour market and how the NZ economy responds to tighter financial conditions.
"Households have built up a savings buffer during COVID-19, but unless they are compensated for surging living costs, household spending will remain under pressure over the next few years.
"If this coincides with a cooling in inflationary pressure and increasing labour market capacity, the OCR could well move lower. We have penciled in roughly 100bps of OCR cuts from mid-2024," Smith said.
ANZ's Robinson and Croy say then that headline inflation may well have peaked – "but only because we expect the RBNZ will continue to quickly raise interest rates to force inflation down".
"Without the ongoing tightening in monetary policy that we're forecasting, we'd likely see rising inflation expectations and the tight labour market bounce off each other in an inflationary spiral that could be very hard to tame.
"Touch wood then, that was the worst of it.
"But higher interest rates will still squeeze indebted households over this year – and engineering a soft landing for this overheated economy will be quite the task for the RBNZ, especially with the housing market already softening.
"But at the end of the day, while the monetary policy medicine may not be pleasant, it's a heck of a lot better than letting inflation get out of control."