The downbeat results from the ANZ Business Outlook survey suggest that the RBNZ may have to rethink its OCR hiking plan, according to BNZ economists
[updated]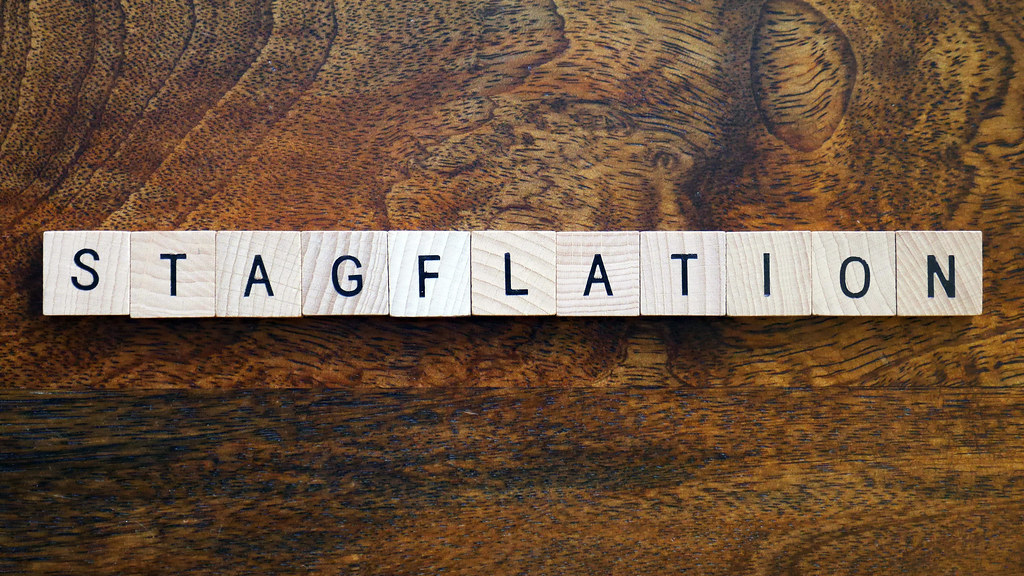 BNZ head of Research Stephen Toplis is raising the spectre of the dreaded stagflation after the latest ANZ Business Outlook Survey (ANZBO) provided another very down beatbeat snapshot of how NZ business inc is feeling.
"...The survey confirms diminishing growth prospects are being accompanied by heightened inflation and an excess demand for labour. In other words – stagflation," Toplis said.
"The big question is, how weak will leading indicators of growth have to be for the Reserve Bank to feel comfortable its targets can be met?
"The RBNZ has confirmed it intends further 50 basis point rate increases [to the Official Cash Rate]. It is difficult for us to ignore its determination to do so and today's ANZ survey should do little to change its course of action given its stated concerns.
"Nonetheless, we remain strongly of the view the economy's wheels are beginning to fall off and that, ultimately, the Bank may have to rethink the pace and extent of its currently anticipated tightening cycle," Toplis said.
In the ANZ survey, the residential construction sector was sending "dire signals", while across all industries inflation expectations for the year ahead, at 6.2%, are "far too high" according to ANZ Chief Economist Sharon Zollner.
Business confidence fell 14 points in May to -55.6 (the lowest reading since Covid first hit in 2020), while own activity fell 13 points to -4.7.
BNZ's Toplis noted that the RBNZ was "confident" the New Zealand economy can avoid a hard landing.
"We are not so confident. Our forecasts contain just a modest recession but the risks of something much deeper are rising by the day. Today's ANZ Business survey clearly highlights this. If the RBNZ does push the cash rate to 3.9%, as it projects, the odds of a significant economic correction will be further elevated.
"It is our central view that the peak in New Zealand's cash rate need not be any higher than 3.5%. Today's survey leaves us feeling even more comfortable with that view. It is also our view that in the current environment the RBNZ could be more conservative in its approach to interest rate setting. Yet it is not.
"The rational for not being so is that it needs to be certain its targets are within reach. To be so it wants clear signals that inflation is on its way to 2.0% and the labour market is softening towards maximum sustainable employment. Alas, it will not get these signs from today's survey." Toplis said.
Also commenting on the latest survey results, Westpac senior economist Ratish Sanchhod noted that "the times they are a-changin'…and not for the better".
"Nervousness is widespread across sectors. However, it's notable that sentiment in the residential construction sector has plummeted. That's not necessarily a reflection on the current state of demand. In fact, this morning's consent numbers signalled a large pipeline of planned projects.
"However, many building firms are struggling with rising costs and shortages of materials. In addition, the downturn in the housing market will be raising red flags about the outlook for demand over the next few years," Ranchhod said.
And, in noting the rise in year-ahead inflation expectations from 5.9% to 6.2%, he said that will be "unwelcome news from the perspective of the RBNZ, who have emphasised the pressure on inflation expectations as a key reason for their recent large increases in the OCR".
ASB senior economist Mike Jones said the question is not whether the RBNZ will eventually get on top of inflation, but more what will need to be sacrificed to get there.
"On this score, the news from the May ANZBO wasn't flash. It's not just higher interest rates. The general explosion in costs, supply problems, difficulty sourcing staff, and squeezed profitability are all combining to push business sentiment to extremely depressed levels.
"Risks of a hard landing continue to rise," Jones said.
"...Long story short, business confidence is at recessionary levels. So is consumer confidence. The post Omicron-peak bounce is yet to arrive and the longer confidence remains mired at these levels the higher the chance the RBNZ will have to sharply downgrade the GDP growth view delivered only last week. Indeed, even our own much weaker GDP view is on thin ice.
"Still, this won't shake the Bank off it's plan to keep rapidly hiking interest rates. Inflation remains public enemy number one. Indicators of such remain far too high, and there's plenty more interest rate work to do."
In terms of the detail in the latest ANZBO survey, ANZ's Zollner noted that "inflation and cost pressures remain intense".
"One-year-ahead inflation expectations lifted again, and at 6.2% are far too high. The rate of increase has eased, but the RBNZ [Reserve Bank] needs to see inflation expectations fall."
The outlook for residential construction "is deteriorating rapidly", Zollner said.
The chart below shows the average of two forward-looking ANZBO indicators for construction: residential construction intentions, and expected own activity for the construction sector.
Zollner says the average has a slightly stronger correlation with consents than either measure alone.
"The two series generally move closely together, but the latter has not fallen as sharply in recent months.
"At -15.4 it's certainly well off its peak, but it's not sending such dire signals as expected residential construction is, at -50.
"Note the fall in early 2020 was due to lockdown, and a repeat of that V-shaped recovery is therefore unlikely. The data suggests the issuance of consents (and ultimately, building activity) is about to fall sharply. What is unclear, however, is how much of the fall is due to weaker demand, and how much is shortages of building supplies."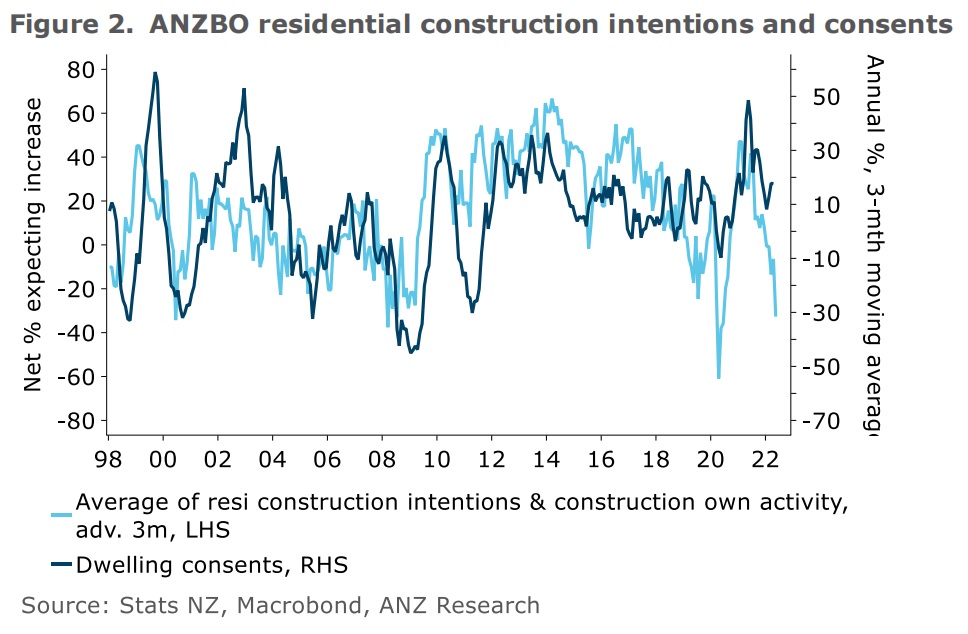 Zollner said by sector, the sharpest cooling in activity indicators this month was in the manufacturing, services and construction sectors. Retail and agriculture were more mixed.
In terms of inflation, Zollner said 'pricing intentions' are actually the better leading indicator for inflation. The net proportion of firms intending to raise their prices in the next three months remains sky high, but it has dropped both this month and last, down from a March peak of 80.5% to 71% (and it dropped more definitively in the late-May sample, to 63%). There was also a slight easing in anticipated cost inflation.
"Overall the data are consistent with CPI inflation peaking soon. Firms are also generally anticipating lower wage settlements next year than those seen in the past 12 months.
"Firms are worried about the economic outlook, but employment and investment intentions are holding up relatively well.
"Overall, there was good news and bad news in the May ANZ Business Outlook survey. The RBNZ will be pleased to see more early signs of cost and inflation pressures starting to top out, and a softer outlook for the highly stretched construction sector. On the other hand, margins are clearly very squeezed across the economy, and firms are increasingly worried about the economic outlook, as interest rates continue their relentless climb and the housing market screeches to a halt.
"The RBNZ has a very big job to do tackling inflation, and it seems likely that the OCR needs to go much higher yet. However, they are getting traction, and we expect rate hikes will revert to a more standard 25bp pace from August onwards as the balancing act between medium-term inflation risks and near-term growth risks becomes more nuanced than it is currently."