Global equities rebound. Surging commodity prices push up break-even inflation yields; US 10-year rate back above 1.5%. OIS market prices in 86% chance of a 25bps RBNZ hike today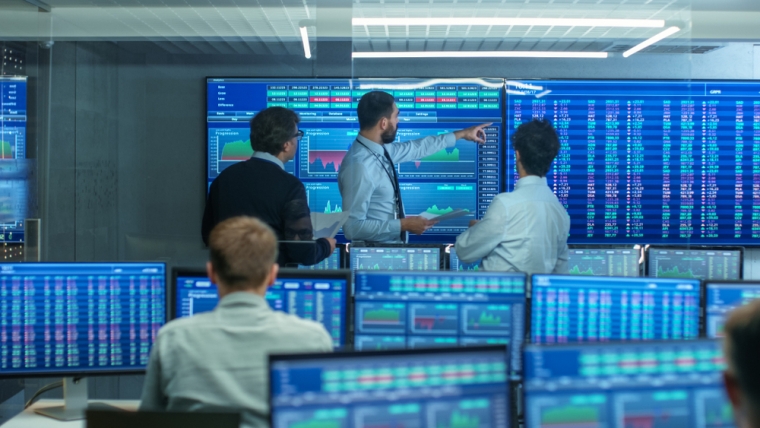 US equities have recovered after yesterday's spat. A range of commodity prices continue to break higher ground, pushing up break-even inflation yields and leading to higher global rates. Overnight, the NZD and AUD have recovered losses during local trading hours, the NZD now little changed over the past 24 hours at 0.6970.
There hasn't been a great deal of news but the S&P500 has recovered yesterday's loss, currently up 1½% with the IT sector leading the charge.  The Euro Stoxx 600 index also recovered, closing 1.2% higher.
The US ISM Services index unexpectedly rose to 61.9 from an already-high 59.9, likely a reflection of easing concerns about the impact of the delta variant. The data suggested strong growth for the services sector while the commentary warned that ongoing challenges with labour resources, logistics and materials were affecting the continuity of supply. The employment index slipped less than a point to 53.0. The US trade deficit widened to a record high of $73.3b in August, driven by a surge in imported consumer goods against a tepid lift in exports.
The US 10-year Treasury rate is up 4bps to 1.52%, driven by a 5bps increase in the break-even inflation rate to 2.44%, taking this back to the top of its 3-month trading range, albeit still below the 2.60% peak in May. Higher oil prices are a likely factor, with yields increasing further after the ISM Services report.
European breakeven inflation rates have been surging recently, driven by higher energy costs, with the UK 10-year rate adding another 10bps overnight, almost hitting 4.0%, and Germany's up 8bps to 1.8%. European gas prices continue their record-breaking run, both benchmark Dutch and UK futures up around 20% for the day, reflecting widespread shortages and low stockpiles.  Meanwhile, oil has continued its blistering run, with Brent and WTI up nearly 2% to fresh multi-year highs up to USD79 and USD83 respectively. We could spend the whole report writing about commodities that are trading at fresh multi-year highs, but we'll stop by noting that we can add cotton to the list, up some 20% in the past fortnight and making headlines in the WSJ.
The overnight GDT dairy auction showed little movement in prices for the key products with the price index flat, whole milk powder down 0.4% and skim milk powder up 0.5%. This solidifies the run higher in pricing from mid-August and supports a strong milk payout for FY22, with the futures market trending higher to just over $8.50, representing a welcome boost to farm incomes if these price levels can be sustained.
In currency markets, the safe haven currencies have underperformed overnight, with JPY, CHF and the USD at the bottom end of the leaderboard. But for the NZD, the overnight recovery just makes up the loss seen during local trading hours, so the current level near 0.6970 is little changed from this time yesterday. The same can be said for the AUD, which has recovered to trade near 0.73. As expected, the RBA's policy update was a non-event, with no fresh insight from the statement, the Bank remaining optimistic about the post-lockdown recovery but unmoved on its dovish rates outlook through to 2024. With the next taper decision marked for February, the meetings over the rest of the year will also barely be noteworthy.
Despite negative headlines on the UK's energy crisis and widespread labour shortages – last week's headlines on a lack of truck drivers and empty gas stations giving way to a culling of healthy pigs due to acute shortages of butchers – GBP has been one of the better performers, up to 1.3640, against a lagging EUR which is struggling around 1.16. Of note, real Germany 10-year yields have fallen to a record low of minus 2.1%, and falling real Germany-US yield spreads go a long way towards explaining the weaker euro of late.
On NZD crosses, NZD/EUR is back on a 0.60 handle while NZD/GBP has slipped closer to 0.51.
In domestic news, the NZIER's quarterly survey of business opinion provided more questions than answers, with results likely distorted by the lockdown restrictions. The tightness in capacity indicators and extreme readings for labour indicators showing major shortages were believable, but the plunge in cost and pricing indicators defied common belief.
Domestic rates were well contained, with a 1bp lift in longer term NZGB yields and a slight flattening bias for the swaps curve, with the 2-year rate up 2bps to 1.40% and the 10-year rate down 2bps to 2.21%. There were some last-minute adjustments to OIS pricing ahead of the RBNZ's policy update today, with pricing for the meeting closing up slightly at 0.465%, equivalent to an 86% chance of a 25bps hike today.
A full forecast update by the RBNZ won't be presented and there won't be an accompanying press conference. The statement is likely to suggest that rates need to continue to rise towards a more neutral setting, while the latest COVID19 situation in NZ represents a source of uncertainty for the economic outlook.
Tonight, US ADP private payrolls data are released and, given the Fed's focus on the employment situation, it could be a market mover if it is widely different from expectations, coming ahead of the important payrolls release on Friday. Chair Powell has indicated that employment doesn't need to be a blockbuster report for a taper decision to proceed next month.