Markets volatile, VIX index up to 28, decent flattening in US Treasuries curve. Fed Chair Powell alludes to greater inflationary pressure and argues for a faster taper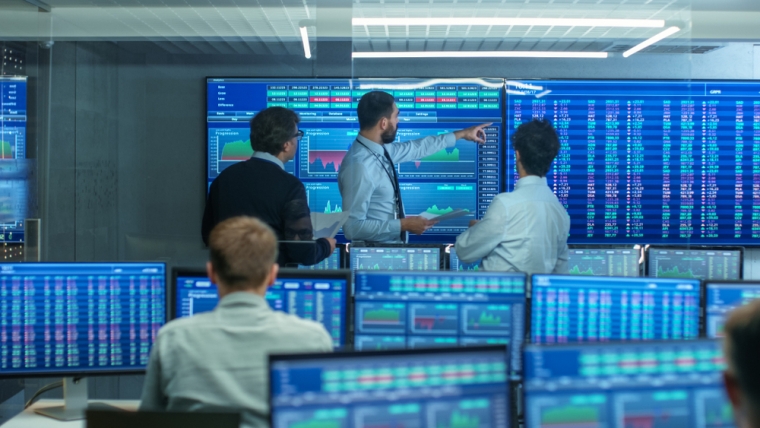 It has been a rocky trading session overnight, with risk sentiment hit by a double blow of sobering comments by Moderna's CEO on the Omicron variant and hawkish commentary by Fed Chair Powell in front of lawmakers. Global equity markets are under pressure, the VIX index has spiked back up to 28 and the Treasury market shows a decent flattening in curve. Commodity currencies have underperformed, with the NZD printing a fresh low, while safe haven currencies have been in demand.
Soon after the NZ close yesterday, risk appetite was hit after the FT published an interview with Moderna's CEO. His comments on the Omicron variant were sobering, as he predicted a "material drop" in the efficacy of existing COVID19 vaccines, because 32 of the 50 mutations were on the spike protein, which current vaccines focus on to boost the body's immune system. He added that it would take several months before pharmaceutical companies could manufacture new variant-specific vaccines at scale.
Risk assets fell on this report, with S&P futures heading south and the NZD printing a fresh low of 0.6781. The market then regained some poise as the night continued, helped by comments from BioNTech's CEO that didn't read as dramatic. He said that the current generation of COVID19 vaccines will probably still protect against severe disease in people infected by the Omicron variant, adding "don't freak out".
By the early hours of the morning, risk appetite had almost fully recovered and the NZD was on the charge, breaking up through 0.6850. Things turned to custard again after Powell, recently appointed to a new term as Fed Chair, faced lawmakers and gave a clear view on how he viewed the inflationary backdrop and policy outlook.
Speaking in front of a Senate Panel, Powell said that price pressures had spread more broadly across the economy in recent months and that the "threat of persistently higher inflation has grown". It was time to retire the word "transitory". He added that it was "appropriate in my view to consider wrapping up the taper of our asset purchases, which we actually announced at the November meeting, perhaps a few months sooner". In doing so, he joined a number of FOMC members, including vice-Chair Clarida, who have recently argued for a faster taper to give some optionality of earlier rate increases.
On the Omicron variant, Powell downplayed the risk, saying that "I'm not thinking that the effects on the economy will be remotely comparable to what happened last March" and he noted that the disease will probably be around for a long time.
Powell's commentary drove US equities lower (S&P500 currently down 1.6%) and a decent flattening of the yield curve, with the 2-year Treasury rate currently up 5bps for the day to 0.53% (having traded down to 0.44% before he spoke) and the 10-year rate down 5bps to 1.45% (and a volatile overnight range of 1.41% to 1.50%). A faster tapering could mean an early start to rate hikes and the Fed Funds curve is back pricing just over two hikes for next year. Heading into the Senate hearing, the USD was on a weaker footing. The USD strengthened after Powell spoke, but the BBDXY USD has pared some of that recovery and is now slightly lower for the day.
Commodity currencies have been amongst the worst performing overnight, the AUD falling 0.6% to 0.71, after printing a fresh low for the year of 0.7063. The NZD is down 0.2% overnight to 0.6810, essentially back to where it was this time yesterday, after printing a fresh low for the year of 0.6773 in the aftermath of Powell's comments. Against the fall in risk appetite, JPY has been the best performing, with USD/JPY down to just over 113 and NZD/JPY at 77, after trading as low as 76.67.
Economic data have taken a back seat to the rollercoaster ride in markets. Euro area inflation positively surprised, with the headline CPI up 4.9% y/y in November and the core rate up 2.6% y/y, both at record highs. There was little market reaction, after yesterday's barrage of ECB speakers weren't concerned after Germany's figures were published, playing the transitory card and arguing that inflation would fall to 2% through 2022.
The Conference Board measure of US consumer confidence fell to a nine-month low, driven by concerns about rising inflation and, to a lesser degree, the spread of the Delta variant. On a positive note, the series remains much stronger than the University of Michigan measure, which recently fell to a decade-low, and the labour market indicator remained strong, with the proportion saying that jobs were "plentiful" rising to a record high of 58%. The Chicago PMI also came in weaker than expected, down over 7pts to 61.8.
Canada GDP bounced back a stronger than expected 5.4% in Q3 (annualised) on the economic re-opening, but this followed a downwardly revised 3.2% contraction in Q2 and the data had little impact on the market. Reported yesterday, China PMIs for manufacturing and non-manufacturing both came in slightly ahead of expectations.
The domestic rates market showed flat to slightly lower yields with 10-year swap and NZGB yields down 2bps. The bias on the open will be for a further fall, with Australian 10-year bond futures down 5bps in yield since the NZ close.  The ANZ business outlook survey showed little change in the final readings for November compared to the early estimates, of some relief considering that confidence levels could have easily deteriorated further, with Auckland still in lockdown.
In the day ahead, Australian GDP data for Q3 will be contaminated by lockdowns and the market isn't particularly interested in the figures, with a strong recovery already in train after the re-opening for NSW and Victoria. US ADP employment will be an important release ahead of non-farm payrolls on Friday and the ISM manufacturing index is also released. Fed Chair Powell faces another session in front of lawmakers but it hard to see him revealing anything new in light of his latest comments.