Roger J Kerr reckons the RBNZ's monetary tightening inflation objectives haven't worked out too well in their first four months, and they may need to bring out a bigger stick at their February review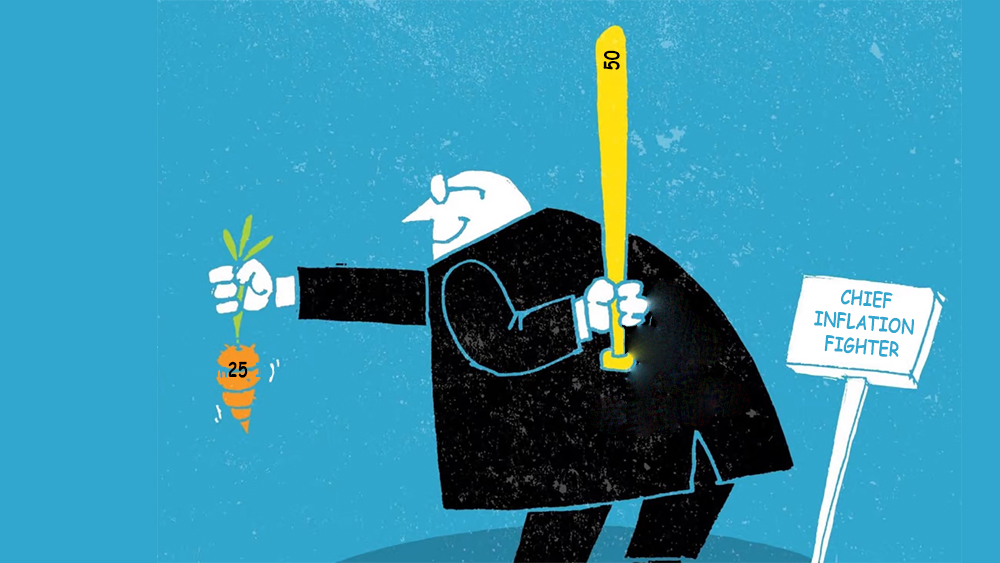 Summary of key points:
RBNZ monetary tightening stymied by currency depreciation
Burgernomics: Big Max Currency Index
---
RBNZ monetary tightening stymied by currency depreciation
Reserve Bank of New Zealand Governor, Adrian Orr would be the first to tell you that he cannot control the value of the NZ dollar in the big bad world of global forex markets. However, he can lower and raise interest rates to respectively loosen and tighten monetary policy/conditions to keep inflation between 1.00% and 3.00%.
Interest rate changes or anticipated future interest rate changes do impact on exchange rate values.
In changing interest rates, the RBNZ seek to influence both demand and prices in the economy. Because New Zealand is an export-based economy who imports just about everything, the NZD exchange rate movement plays an important part in the transmission mechanisms through the economy to influence demand and prices: -
Tighter monetary policy to reduce inflation:
Higher interest rates increases cost to borrowers, therefore at the household level they have less money to spend on discretionary consumer goods i.e. reduces consumer demand to reduce inflationary pressures.
Higher interest rates (in theory) causes a higher NZD value, which reduces the prices of imported goods and petrol pump prices, thus decreases tradable inflation.
Higher interest rates and a higher NZD value hurts profitability in the export sector and slows the overall economy, reducing inflationary pressures.
Looser monetary policy to increase inflation:
Cutting interest rates puts more money in borrowers pockets to spend, therefore increasing consumer demand in the economy, which in turn pushed up prices.
A lower NZD value from lower interest rates increases the cost of imported consumer goods to increase tradable inflation.
Lower interest rates and a lower NZD value is good news for the export industries, they invest/expand and hire more people. The economy grows at a faster clip, putting pressure on resources/capacity utilisation which increases inflation.
In recent years the economic shock from Covid lockdowns has disrupted the norm in respect to the control of inflation. Extraordinary monetary stimulus through near-0% interest rates and money printing in 2020 caused asset/spending bubbles in 2021 that have added to the well-documented supply-side inflation problems.
The RBNZ commenced their monetary tightening cycle in October 2021 to bring inflation back into the target band.
To date, that plan is not working out too well.
The Kiwi dollar appreciated on its own accord very briefly in late October 2021 in response to the RBNZ tightening. However, since early November it has been one-way traffic the other way for the NZD. The overall Trade Weighted Index ("TWI") value has depreciated 4.9% from 76.25 to the current 72.50 (refer chart below). The NZD/USD rate is down 8.0% from the highs of 0.7200 to 0.6620 today. Against the AUD, the Kiwi has depreciated four cents (4.2%) from 0.9700 to 0.9300. As the majority of our imported consumer goods are denominated in USD and AUD, the local prices will be increasing due to currency depreciation, in addition to the continuing shipping and supply chain cost increases being passed-through to consumers via higher prices.
Greater forces have been at work to weaken the Kiwi dollar and therefore undermine the RBNZ's objective of reducing inflation. The across-the-board depreciation of the NZ dollars tells us that to some degree foreign investors have lost confidence in our economy, sharemarket and Government. How else do you explain a weaker currency value over a period that the RBNZ are overtly tightening monetary policy? The exchange rate depreciation since November has resulted in monetary conditions in the economy being mush looser than what the RBNZ were anticipating. That suggests that Orr may need to get a bigger monetary tightening stick out at his next meeting on 23 February.  
The higher interest rates and the much higher commodity prices over recent months point to the Kiwi dollar being seriously under-valued at 0.6620. There is currently a massive divergence in the strong historical correlation between our export commodity prices and the NZ dollar. Global FX investors and traders have voted with their feet in selling the NZ dollar down in recent months, telegraphing a clear signal that the Hermit Kingdom is regarded as being well behind other economies in the post-Covid era.
It will require a weaker USD and stronger AUD on the global stage to turn that negative NZD sentiment around. There are signs already that this is occurring. As global hedge funds and macro funds reduce their weighting of USD holdings this year, they will see the very positive Australian economic fundamentals (e.g. large Balance of Payments Current Account surpluses) as a good reason to switch their USD's into the AUD. Alongside that action they are likely to recognise the NZ dollar under-valuation vis-à-vis our rising and high interest rates and commodity prices. A re-rating of the Kiwi dollar higher requires a catalyst to spark the NZD buying. The RBNZ statement on 23 February is likely to be that prompt.  
Burgernomics: Big Max Currency Index
Embrace it or dismiss it as economic hogwash, the Kiwi dollar also stands as significantly undervalued on the well-renowned "Big Mac Currency Index" comparative. A McDonald's Big Mac hamburger costs NZD7.00 in New Zealand and USD5.81 in the US, therefore the implied exchange rate is 0.8333. The difference between this and today's actual exchange rate of 0.6620 implies that the NZD is undervalued by 20.5% against the USD. Even after adjusting for GDP per capita between the US and NZ, the NZD is still undervalued by about 6%.
Buying into the theory of Burgernomics has the Swiss Franc 20% overvalued against the USD and the Norwegian Krona 10% overvalued. A selection of currencies that come in as undervalued (like the Kiwi dollar) against the USD include the Euro 14.7%, UK Pound 17.1%, Australian dollar 22.4% and the Japanese Yen a whopping 41.7%.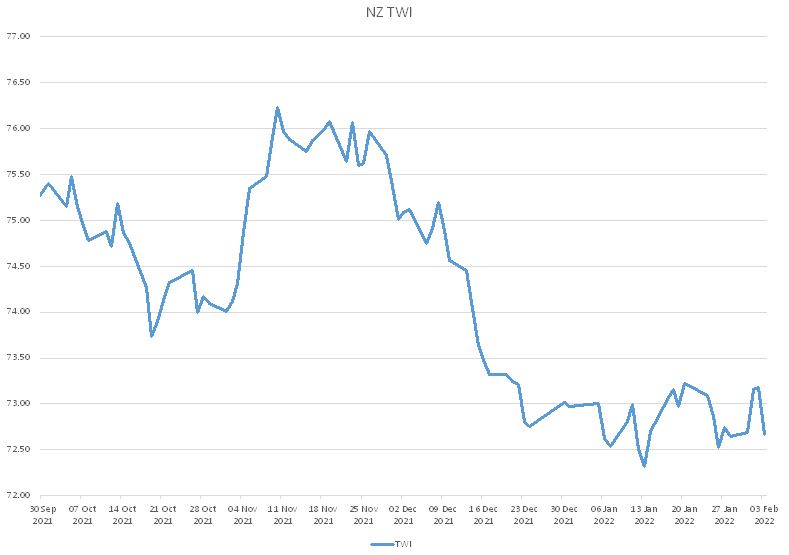 ---
*Roger J Kerr is Executive Chairman of Barrington Treasury Services NZ Limited. He has written commentaries on the NZ dollar since 1981.