Roger J Kerr says it appears that the speculative buying of the Kiwi dollar, that has dominated the local forex market recently, has run out of some steam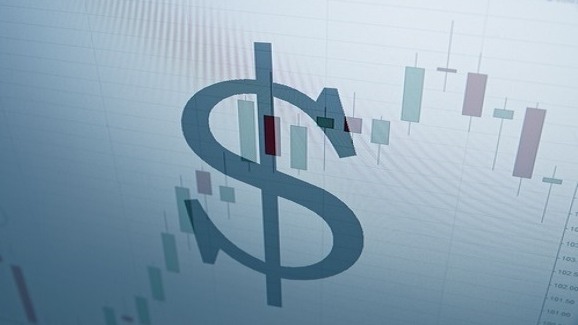 Summary of key points: -
Strong AUD buying to date – more to come
NZD/AUD cross-rate sinks to 12-month lows
NZ economic outlook deteriorating - Government not helping!
---
Strong AUD buying to date – more to come
The Kiwi dollar has lost some of its previous strong upward momentum over this last week. After climbing to a high of 0.6990 on 31 March, the NZD/USD exchange rate has recoiled to 0.6925.
It appears that the speculative buying of the Kiwi dollar, that has dominated the local forex market and pushed the rate sharply upwards since the lows of 0.6550 at the end of January, has run out of some steam (for the meantime!).
It is entirely understandable that they might be some profit-taking (i.e. NZD selling) by market participants after a four cent appreciation of the NZ unit over the last two months. Quarter-end and financial year-end 31 March window-dressing by corporates and fund managers may have also contributed to the Kiwi dollar buying that lifted the rate to almost 0.7000 on 31 March.
Local fund managers with offshore equity portfolios denominated in USD's need to protect their client's investment returns against widely-expected and general USD currency depreciation over the next 12 months. Some investment managers may not have been maintaining their NZD/USD hedge ratios at high enough levels (hence NZD buying on 31 March as they increased hedge amounts).
Whilst the Kiwi dollar may have failed at its first attempt to trade above 0.7000 since late November, the outlook remains positive, stemming from the forces that drive the NZD/USD exchange rate.
High commodity prices, rising interest rates, an impressive looking Australian economy/Australian dollar and a weaker US dollar (more likely one the Ukraine war is over) remain dominant as factors that point to further NZD gains to well above 0.7000 over coming months.
The AUD has held onto its gains of recent weeks at 0.7500 to the USD. Continuing AUD buying has to be expected in the near term as the currency speculators (US and Asian hedge funds) who previously held very large, short-sold AUD positions have so far only unwound half of their speculative bets. CFTC/COT futures data to 27 March shows that AUD short-sold speculative positions had reduced from 100,000 futures contracts (USD10 billion) at the start of March to 50,000 contracts last week.
The consistent expectation of this column over recent months has been that these speculators would eventually be forced to unwind their positions and they needed to buy the AUD to do so. The exact timing of this change was never certain, but it looks like it has finally arrived.
There are still AUD punters holding 50,000 open contracts, short-sold the AUD expecting the AUD to weaken from here. However, the AUD is moving in the opposite direction against the USD, therefore it is only a matter of time before these remaining speculators are also "stopped-out" to prevent them from incurring even larger losses as the AUD appreciates.
The Reserve Bank of Australia ("RBA") have another review of their monetary policy stance and interest rate settings on Tuesday 5 April. The stand-off between the financial markets and the RBA may go another few rounds yet, however it looks like the markets are winning the battles with the AUD FX market gains and interest rate markets in Australia pricing-in numerous increases commencing in August.
Any hint in the RBA statement wording  that they are relenting on their indefensible "inflation isn't a problem" stance to date should send the AUD higher. Australian overseas trade figures for the month of February on Thursday 7th of April will be yet another reminder of how strong this part of the Australian economy really is. It will be another month of a whopping trade surplus (exports>imports) of over AUD10 billion.
NZD/AUD cross-rate sinks to 12-month lows
The NZD/USD cross-rate traded at a 12-month low of 0.9190 last week as the AUD continues to outperform the NZD against the USD. Local exporters to Australia who had the fortitude and patience to restrain themselves from forward hedging AUD receipts whilst the NZD/AUD rate was well above 0.9300 for most of the last year, now have the opportunity to lock-into sub-0.9200 (after deducting forward points) hedged exchange rates.
The pattern of NZD/USD trading ranges over the last nine years refer chart below) has been that the dips into the 0.9000 to 0.9200 area are reliable hedge entry zones for AUD exporters.
Some may question the rationale of the NZ dollar depreciating against the Australian counterpart at this time when the RBNZ is increasing interest rates aggressively to combat inflation, whilst the RBA remains in denial mode and refuses to signal interest rate increases.
It is a good lesson in how FX markets price the future in advance, today. The NZ FX markets priced-in NZ interest rates increasing in 2022 way back in September/October 2021, pushing the NZD/AUD cross-rate up to 0.9700 at that time as the Kiwi outperformed the Aussie dollar.
Today, the Australian FX markets are pricing-in inevitable Australian interest rate increases later this year and betting that the RBA will be forced to change their monetary policy stance. For these reasons the AUD is out-performing the NZD and sending the NZD/AUD cross-rate lower.
The lower NZD/AUD cross-rate may also be having some influence on Australian investors/businesses making decisions to buy businesses in New Zealand currently. The cheaper Kiwi dollar would have helped the numbers for Ampol to buy Z Energy and First Sentier's new infrastructure fund, Igneo reportedly buying Waste Management for NZD2 billion.
NZ economic outlook deteriorating – Government not helping!
It is becoming increasingly obvious that a significant restraining factor on forecast NZ dollar appreciation against a weaker US dollar on global currency markets over the next 12 months, will be the lack of confidence in our current government to instigate economic policies that reduce inflation and stimulate investment/growth.
Appallingly low business confidence survey levels are already sending a message that the business community have no confidence that general economic conditions will improve anytime soon. The forthcoming NZIER quarterly survey of business opinion will confirm the despondency, with the confidence index likely to fall further into the negative from the -28% in Q4 2021.
Sadly, the Labour Cabinet Ministers have no comprehension of the current direction of the economy and its ultimate reliance on business investment/expansion.
As an example of their naivety, the PM and her entourage were out in force celebrating the opening of the new Transmission  Gully motorway in Wellington last week.
The PPP project that was disturbingly way over budget and delivery date is hardly something for the Government partner to celebrate! Their selection of an Aussie private sector consortium lead who had a dodgy track-record in the first place raises serious questions about competency.
A recent standout example of how to get on and do things (to this writer anyway) was the City of Barcelona's winning bid to secure the 2024 America's Cup. The unity displayed by their city and region's authorities/investment groups to make it happen to promote their city is something New Zealanders could learn from. In contrast, our lot in central and local government continue to bicker and argue over petty/parochial patches of turf and always seem to miss-trust private business initiatives.  
The lack of confidence in economic management by the current Government will be on full display in the May budget as Grant Robertson makes the RBNZ's job even harder to control inflation by continuing his fiscal spend-spree. Add on an immigration policy "re-set" that is designed to limit immigration numbers coming in at precisely the time we have severe labour shortages across all industries and a brain drain to Australia, makes one realise just how out of touch with the real world they are.
A weaker NZ economy for a whole bunch of reasons in 2022 will however only temper the forecast NZ dollar gains from the stronger AUD/weaker USD currency market environment.
NZD/AUD 2014 to 2022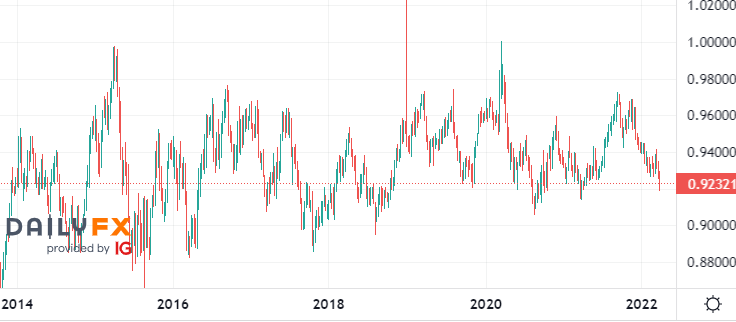 ---
*Roger J Kerr is Executive Chairman of Barrington Treasury Services NZ Limited. He has written commentaries on the NZ dollar since 1981.