NZD the strongest currency overnight, rising against all majors, up to 0.7050 USD; USD traded in a tight range, with no major data releases overnight; GBP lower, as start of the Brexit process firms up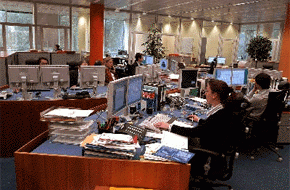 It was a quite night in markets with little material news and limited market moves. Equity markets were marginally lower with the S&P and EuroStoxx50 down 0.3%. US Treasury yields are at touch lower, as are oil prices with WTI down around 1% at US$48.40/bbl.
There was some clarity around the Brexit process overnight – well at least the starting point. We now have a date for the UK to trigger Article 50 and start the process of the UK leaving the EU. Britain's envoy to the bloc, Tim Barrow, informed EU President Donald Tusk of the UK PM Theresa May's plan to kick off proceedings next Wednesday, 29 March.
As the start line for potentially two years of complex negotiations was firmed up, the GBP was sold. After pushing up toward 1.2440 earlier in the evening and to its highest level this month, GBP/USD fell to below 1.2340. The decline has the GBP at the bottom of the currency leader board, currently sitting around 1.2350.
The US dollar has traded in a tight range overnight, with no major data to drive movement. The DXY index is marginally higher this morning, opening around 100.40. Comments from a trio of Fed officials had little impact, adding little to the policy debate although they did highlight the different perspectives within the Fed itself.
USD/JPY continues to edge lower coinciding with a pullback in US Treasury yields. The pair sits around 112.60 this morning, pushing further below its 50-day and 100-day moving average around 113.70 and 113.30 respectively as it pushes slowly towards this year's low at around 111.60.
EUR/USD did push up toward 1.0780 overnight before pulling back. The lift was before slightly higher than expected labour cost data which ultimately passed with little fanfare. There was some drag from the news of the Brexit start date and, later in the night, from a mild push higher in the USD. The pair gave back all the early gains and opens this morning little changed at around 1.0730.
In a generally settled environment overnight, the NZD and AUD outperformed sitting at number one and two on the currency leader board. NZD/USD has pushed 0.5% higher to open this morning around 0.7050. The wriggle higher is toward our short term fair value that still sits up above 0.73 supported by positive risk sentiment.
Yesterday's NZ PSI and consumer confidence data while both a smidge lower than previous remained above long term averages suggesting economic growth has started off 2017 on a firm footing. Looking ahead, as the NZD eyes its 100-day moving average around 0.7110, the NZD needs to navigate what is shaping up to be another weak dairy auction tomorrow morning and Thursday's RBNZ OCR Review where the market is pricing no change as a foregone conclusion.
Risk appetite remains elevated, with our index up at a risk-loving 78.3%. The VIX is low and was little changed overnight at 11.4.
AUD/USD sits around 0.7730 this morning, up around 0.4%. There was no monetary policy content in RBA Assistant Governor Ellis' speech yesterday. AU house price data today are expected to confirm acceleration in Q4, amid increasing talk around macro prudential policy from officials including Australian Treasurer Morrison and ASIC chair Medcraft. Today's RBA minutes are not expected to be market moving.
---
Get our daily currency email by signing up here:
---
BNZ Markets research is available here.