NZDUSD remains stuck near 0.6840, near where it closed last week; US 10-year Treasuries have traded in a narrow 1.5bp range and currently sit 1bp higher at 2.87%; GBP has remained range-bound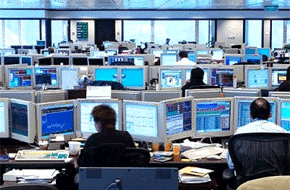 On a very slow news day, currencies have been tightly range-bound while US equities and UST yields have a modest upward bias.
A short and sweet report today, with little news to report and a FIFA World Cup semi-final underway.  US equities started on a positive note and the S&P500 is currently up 0.3%, as investors await the kick-off of the earnings season.  Trump has yet to respond to China's retaliatory tariffs imposed at the end of last week.  He is on his way to Europe to talk about NATO and has fired a few barbs ahead of the meeting, noting the $151b US trade deficit with the region and how the EU imposes tariffs and trade barriers.
GBP has remained range-bound, with seemingly no immediate challenge to PM May's leadership following the resignation of three of her Cabinet members.  The next step in the Brexit process will be to get the EU on board with the UK's plan, and there we can expect some pushback.  The EU's chief Brexit negotiator Barnier raised doubts about the plan as he reiterated that "we will protect this single market, which is based on the indivisibility of what we call the four freedoms – of people, goods, services and capital".
There have been a few data releases overnight, but none of them top-tier.  UK data releases were mixed, although notably the new monthly GDP series showed the expected rebound in May.  Germany's ZEW expectations series for economic growth fell to a 5-year low.  US small business optimism remained at a historically high level.
None of them budged the market out its torpor.  If we look at 10 major currencies, 9 of them are plus or minus within 0.1% of the previous NY close, while USD/JPY is the biggest (and only) mover, up 0.4% to 111.3.  NZD/JPY is up 0.4% to 76.1.
NZD/USD remains stuck near 0.6840, near where it closed last week and where it has been anchored around since.  There was an overnight dip to around 0.6810 as the USD found a bid, but that proved to be temporary.  After we went to print yesterday, the latest CFTC positioning data through to 3-July showed net NZD shorts extending to 26.4k, a record net short position.  Since then, the NZD has risen about 1.5 cents, so some of those shorts likely closed towards the end of last week.  NZ electronic cards transaction data showed a modest rise in May, not a strong enough bounce from recent weakness to likely avoid a weak Q2 overall.  NZ rates yesterday had a modest upside bias, with the swaps curve 1bp higher and long bond yields up about 4bps.
US 10-year Treasuries have traded in a narrow 1.5bp range and currently sit 1bp higher at 2.87%. Yesterday's CFTC data showed net short positions from speculators hitting their highest level on record.  Clearly, speculators expect rates to move back higher towards 3% and above, while the pain trade would be for rates to head lower.
It should be yet another quiet day ahead.  Tonight sees the Bank of Canada announcement, with expectations centred on another rate hike for the cycle, +25bps to 1.5%, which is nearly fully priced.
---
Get our daily currency email by signing up here:
---
BNZ Markets research is available here.