US equities have managed to inch a little higher overnight; NZD has underperformed again, as the market awaits CPI data next week; domestic rates ticked up yesterday, led by the front-end of the curve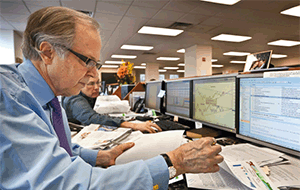 US equities have managed to inch a little higher overnight, despite the continued US government shutdown, disappointing earnings from Morgan Stanley and speculation that Trump might impose tariffs on auto imports.  The NZD has underperformed again, as the market awaits CPI data next week. 
The S&P500 is on track for its 8th session of gains in the last ten days, and is currently up around 0.2% as we write.  The broader market shrugged off Morgan Stanley's weaker than expected earnings results, which saw fixed income trading plunge by even more than its competitors in Q4.  Morgan Stanley fell around 5%, but gains in other banks have seen the financials sector broadly flat on the day.  Elsewhere, Taiwan Semiconductor (TMSC), the world's largest chip maker, reported a surprise drop in revenue, citing a weaker macroeconomic environment amidst a slowdown in iPhone sales and pressure on Huawei.  And Alcoa forecast that aluminium demand would slow to it its lowest rate of growth in a decade at its earnings report, suggestive of slowing global growth (although better than expected earnings boosted its share price nonetheless). Netflix reports after the bell this morning. 
On the trade front, US Senate Finance Committee Chair Chuck Grassley remarked that he though Trump was 'inclined' to impose tariffs on European cars to win better terms on agriculture.  The US Commerce department is due to publish a report by February 17th on whether auto imports constitute a threat to US national security.  The market's more immediate focus however is the trade talks with China, with Vice Premier Liu set to travel to the US for talks at the end of this month in an attempt to strike a deal. 
US rates continue to shadow movements in equity markets.  The 10 year yield was 1bp higher to 2.73%, towards the top of its recent narrow 2.65% to 2.75% trading range.  The closely-watched 2y10y and 3m10y yield curves, which have historically provided an early warning indicator of US recession, remain in positive territory.  Second-tier US economic data  was generally better than expected.  The Philadelphia Fed business survey unexpectedly rose, going against the grain of weakness in other manufacturing surveys, but the underlying components were more mixed (there were falls in the employment and shipments components but a rise in new orders).  Jobless claims declined, although there can be issues adjusting for seasonality at this time of year, compounded at present by the ongoing US government shutdown. 
In FX, the USD indices we monitor are marginally higher on the day.  The main outperformer has again been the GBP, which has risen 0.6% to 1.2960 amidst growing speculation that Theresa May will request a delay to the Article 50 deadline date of March 29th.  The FT reported today that the UK had informed the EU before Christmas that if the talks carried on into the New Year (as they have) the UK did not have enough time to pass all the pieces of legislation that it needs to meet the 29 March deadline.  The implication being that the UK will have to request an extension relatively soon, though Theresa May continues to publicly say that she wants the UK to leave as planned in March.  May has met politicians from other parties (although not Jeremy Corbyn), but has refused to shift her 'red lines' at this stage (i.e. she won't countenance a customs union solution).  She needs to return to parliament with a "Plan B" on Monday, with voting on that to take place on 29th January. 
The NZD has underperformed again, and is the weakest of the G10 currencies over the past 24 hours.  The NZD is 0.5% lower at 0.6745 while the NZD/AUD has fallen by a similar amount to 0.94, its lowest level since the start of November.  NZ CPI, released on Wednesday, is the key data release the market is focused on. 
Domestic rates ticked up yesterday, led by the front-end of the curve, amidst some profit-taking on received positions.  The 2 year swap bounced off its record low level to be 2.5bps higher at 1.89%.  There was less movement in longer-term rates, resulting in a flattening of the swaps curve.  The first NZGB tender of the year saw more modest demand than late last year, with a bid-to-cover ratio of 1.6. 
---
Get our daily currency email by signing up here:
---
BNZ Markets research is available here.