US Treasury yields fell modestly and the Japanese yen outperforming; NZD is unchanged this week, and continues to hover close to its year-to-date highs; USD indices are broadly flat on the day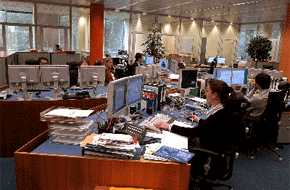 Global equities reversed all their gains from Friday after Caterpillar's earnings missed expectations and chipmaker Nvidia downgraded its revenue guidance for this year.  Both firms cited weaker growth in China.  There is a risk-off tone to markets more broadly, with Treasury yields falling modestly and the Japanese yen outperforming.  The NZD is unchanged this week, and continues to hover close to its year-to-date highs. 
With no major economic data out overnight, the focus has been on corporate earnings.  Caterpillar, the maker of industrial machinery, reported much weaker than expected earnings in Q4, citing lower demand in China and pressures on margins from higher material, labour and freight costs.  Caterpillar added that it expected sales in China to be broadly flat this year, after two very strong years of growth in the country.  Its share price fell almost 10%.  Meanwhile, shares in US graphics chipmaker Nvidia fell almost 15% after it unexpectedly revised its revenue guidance for 2019 sharply lower, blaming "deteriorating macroeconomic conditions, particularly in China."  Nvidia is due to report earnings in mid-February but, like Apple earlier this year, chose to update its guidance to the market ahead of time. 
The weaker earnings results, including tangible evidence of the slowdown in growth in China, have seen global equity indices move lower to start the week.  The S&P500 is 1.2% lower, while the Nvidia announcement contributed to the NASDAQ falling 1.5% - both indices reversing the gains from Friday.   This week is the busiest week of the US earnings season, with over 100 of the S&P500 reporting, including Amazon, Apple and Facebook.  So far this earnings season, 70% of corporates have beaten analyst expectations, but that hasn't stopped analysts trimming expectations for 2019 earnings growth (now 5.6% for 2019 vs. 6.3% two weeks ago).  Also in focus later this week will be the resumption in US-China trade talks, with US Vice Premier Liu meeting US officials on Wednesday and Thursday. 
Other markets are trading with a risk-off tone as well.  The US 10 year Treasury yield is 3bps lower to 2.73%, taking its lead from lower equity markets.  There was no economic data overnight but plenty to focus on later this week, with payrolls and the ISM Manufacturing survey released on Friday and the FOMC meeting the data before.  The US BEA (its statistics office) is working to determine a revised schedule for US economic data releases that were postponed due to the government shutdown. 
On the government shutdown, discussions are ongoing between Trump and Democratic lawmakers over border security matters. The recently passed bill only keeps the government open until the 15th of February.  Trump said overnight that the chance of a bipartisan deal to avert the government shutting down again was "less than 50-50" and again threatened to use his emergency powers if required to build the wall. 
In FX markets, the USD indices are broadly flat on the day.  The safe haven Japanese yen and Swiss franc have outperformed against the risk-off backdrop (both currencies +0.3%).  The GBP has eased back from three month highs to 1.3170, down 0.2% on the day.  UK MPs are due to vote on a number of amendments to Theresa May's Brexit plan on Tuesday, with the market particularly focused on one amendment proposed by Labour MP Yvette Cooper, which would seek take a no-deal scenario off the table.  The Cooper amendment would allow the House of Commons to instruct the government to extend Article 50 should there be no Brexit deal in place by February 26, and if it were passed would likely boost the GBP. An alternative amendment proposed by Tory backbencher Graham Brady that would seek to water down the Irish backstop was publicly rejected by Brexit hardliner Jacob Rees Mogg a short while ago. 
The NZD is close to unchanged from Friday night's close at 0.6840.  During the NZ trading day yesterday, the NZD had made fresh a year-to-date high of 0.6872 amid a strengthening in the CNY.  Volumes were light amid the bank holiday in Australia and Auckland Anniversary day.  The NZD has since given back those gains overnight as the CNY drifted lower and risk assets came under pressure.  NZ swap rates were 0.25bps to 2bps higher across the curve on very light volume yesterday.  NZ swap rates appear to have established a new, lower trading range so far in 2019. 
---
Get our daily currency email by signing up here:
---
BNZ Markets research is available here.