Economists see the Reserve Bank having to do much more in future with its quantitative easing programme after inflation dropped 0.5% in the June quarter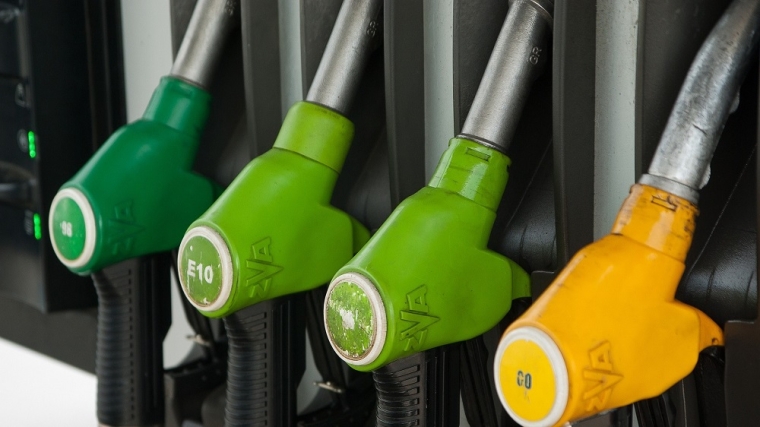 Economists see the Reserve Bank still having much more work to do with its stimulatory quantitative easing programme in future after inflation dropped by 0.5% in the June quarter.
The fall, as measured by the Consumers Price Index (CPI) was the first quarterly decline since 2015, according to Statistics New Zealand.
The drop, largely driven by lower fuel prices, was at the smaller end of economists' estimates. The Reserve Bank (RBNZ) had picked a 0.7% drop.
The quarterly decline in inflation brought the annual rate of inflation down to 1.5% from the eight-year-high of 2.5% that was hit in March.   
Economists' reaction
Westpac senior economist Michael Gordon said he expected overall inflation to slow further, bottoming at around zero by early next year.
"More importantly, we think that inflation will be slower to return to target than the RBNZ is forecasting. It's likely that the economy will be running below its full potential for several years to come (largely due to the loss of international tourism), and employment will remain well short of its maximum sustainable level. With both of the RBNZ's mandates arguing for more action, the path ahead is clear."
Gordon said with the outlook for weak inflation and higher unemployment, there is nothing to stand in the way of further easing measures by the RBNZ.
"We expect an expansion of the RBNZ's bond purchase programme in the coming months, and a move to a negative OCR [Official Cash Rate] next year."
ASB chief economist Nick Tuffley and senior economist Jane Turner said while they currently expect inflation to remain positive over 2021, "we can't rule out the risk of deflation and the RBNZ must remain vigilant".
"In saying this, the RBNZ (along with most economic forecasters) will be pleased by economic developments to date. 
"We expect GDP to be 5% below year-ago levels by December 2020, which is in line with the RBNZ's May [Monetary Policy Statement] forecasts.  However, if the economy proves weaker than expected heading into 2021, and more policy stimulus is required, we believe the RBNZ will opt to increase its Large Scale Asset Purchase programme [quantitative easing, or QE] or lean on other policy measures and leave the option of a negative OCR as a last resort."
ANZ senior economist Miles Workman said the medium-term outlook for inflation (and employment) will be making the RBNZ very concerned.
Inflation to run below target
"We expect headline CPI will be running below the 1-3% target band by year end," he said.
The NZ dollar's value is elevated, world prices are seeing deflationary pressure, inflation expectations are at record lows, and labour market capacity is set to increase markedly, he said.
"The RBNZ has a momentous battle on its hands. Without further action or a significant change in the economic outlook, the risk of a persistent undershoot [in the inflation target] is likely to materialise. 
"Overall, despite the CPI coming in a touch stronger than we forecast [ANZ forecast was -0.6%], we got what we expected: A volatile read on quarterly inflation with evidence that there's more volatility to come.
"Looking through the noise, there's also confirmation here that the underlying inflation pulse is as weak as a kitten."
Capital Economics Australia and New Zealand economist Ben Udy said non-tradeable prices were flat in the June quarter "and we think they will struggle to gain much momentum in the coming months as spare capacity in the labour market weighs on wage growth". 
"The upshot is that both headline and underlying inflation are set to fall below the 1% lower bound of the RBNZ's target in the coming months. And we think sustained weakness in inflation will force the RBNZ to cut [interest] rates into negative territory next year."
'QE programme to increase in size'
Kiwibank economist Mary Jo Vergara said a return to the RBNZ's 2% inflation target 'mid-point' is a long way away.
"Based on our forecasts, it will take at least two years to return to full employment (around 4%) and stable inflation (around 2%). And that's without further shocks.
"With both mandates unlikely to be met in the next two years, the RBNZ has more work to do to ensure the recovery is sustained. We expect the RBNZ to expand the LSAP [Large Scale Asset Purchase] programme into 2022 (from May 2021) in August, and take the total amount towards $100 billion ($90 billion on NZ Government Bonds, $10 billion on council debt)."
At the moment the LSAP programme is set at $60 billion.
"The programme is likely to hit $120 billion into 2023. But that's not all they can do. The next best policy tool would be a term funding facility for banks. Cheap term funding will lower all bank rates (deposit and lending) immediately. Indeed, deflationary pressure demands monetary policy to remain expansionary for the foreseeable future," Vergara said.
The RBNZ "are far from finished," she said.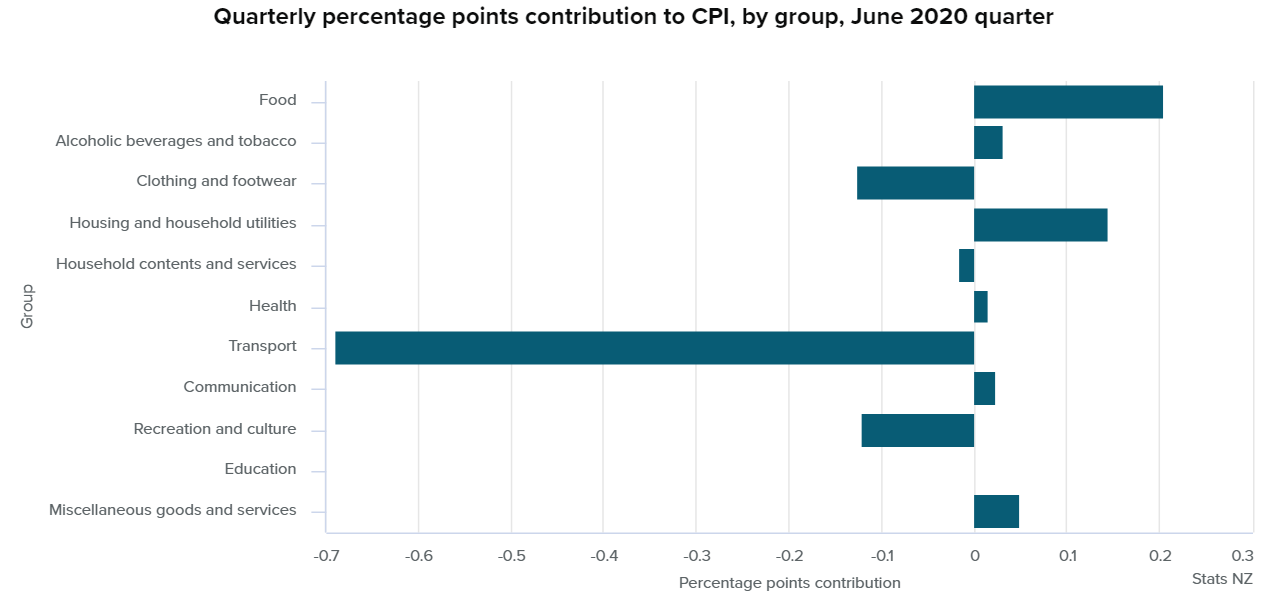 Stats NZ said the Covid-19 global pandemic saw cheaper petrol and falling hotel and motel prices.
Overall annual inflation was affected by Increased prices for rent, and cigarettes and tobacco, partly offset by lower petrol prices. 
It was the first fall in quarterly inflation since the December 2015 quarter when there was also a drop of 0.5%.
"The Covid-19 pandemic has created a lot of volatility and uncertainty," prices senior manager Aaron Beck said.
"These have resulted in some large price fluctuations as well as several measurement challenges."
Out of gas
Petrol prices fell 12% over the quarter. This is the biggest quarterly fall in petrol prices since the December 2008 quarter.
"Global crude oil prices fell sharply over the first four months of 2020 reaching a low point in April,"  Beck said.
"International lockdown restrictions and global economic uncertainty have greatly reduced international demand for crude oil, driving prices down at the pump."
The average price of 91 octane petrol was $1.83 a litre this quarter, down from $2.09 last quarter. The June 2020 quarter price is the lowest quarterly price since the September 2017 quarter.
Petrol excise duty and increases in road user charges were implemented on 1 July 2020 and will be reflected in the September 2020 quarter data.
Domestic or non-tradable inflation increased 3.1% in the year to June 2020. It is the fourth consecutive quarter where it was above 3% on an annual basis.
The latest annual increase was influenced by higher prices for rent, cigarettes and tobacco, restaurant meals and ready-to-eat food, and property rates.
Non-tradable inflation measures goods and services that do not face foreign competition. It includes housing-related costs such as rent, construction, property rates, and many domestic services.