Stats NZ says prices rose 0.9% in the September quarter, giving an annual inflation rate of 1.9%; economists expected just a 0.7% quarterly rise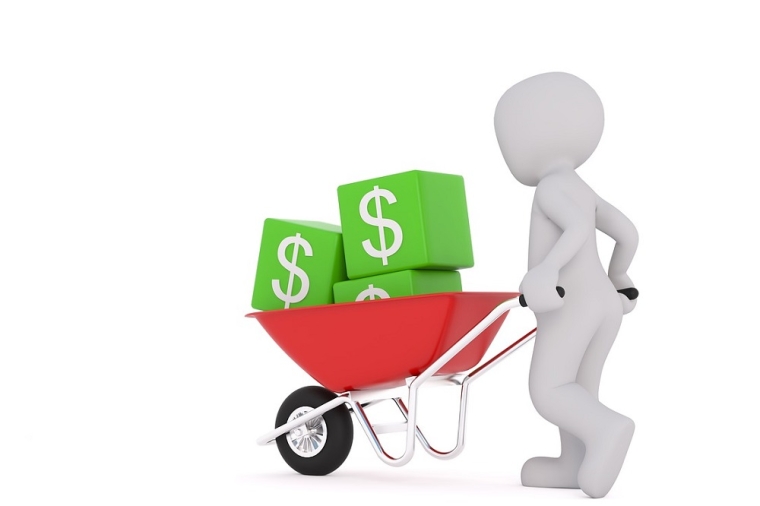 The soaring price of petrol has seen inflation surge by 0.9% in the September quarter and 1.9% annually, according to Statistics New Zealand.
The average market expectation was for quarterly inflation of just 0.7% and an annual rate of 1.7%.
At 1.9% the annual rate of inflation is just below the targeted 'midpoint' level of the Reserve Bank's 1% to 3% targeted range.
Here's the main influences in the quarterly figures:
Transport rose 2.4%, influenced by higher prices for petrol (up 5.5%).
Housing and household utilities rose 1.1%, influenced by higher prices for local authority rates (up 5.1%), construction (up 1.3%), and rentals for housing (up 0.4%).
Food prices rose 0.6%, influenced by higher prices for vegetables (up 11%).
Normally with inflation reaching this sort of level, the expectation might be to see rising interest rates, but the RBNZ has indicated it will 'look through' short term spikes in inflation caused by external things such as rising oil prices. 
Indeed it has talked about dropping official interest rates if need be, but such talk will likely be dampened by Tuesday's official inflation figures.
The New Zealand dollar spiked sharply on the news, rising from under US65.5c to nearly US66c before settling at around US65.8c.
ASB chief economist Nick Tuffley and economist Kim Mundy said there was upside surprise on both the tradables and non-tradable side of the equation over the quarter.
"Tradable inflation lifted 0.9% qoq, with much of the upside surprise contained to the transport component (+2.4% qoq). Petrol costs rose 5.5% over the quarter (higher than the 4.3% we had expected) and passenger transport services also rose more than expected. In particular, rising fuel costs appear to have had a marked impact on air travel costs (both domestically and internationally over the quarter). 
"We expect the RBNZ to continue to look through much of this quarter's rise. In saying this, the RBNZ will be watching for growing signs of any second-round impacts on broader prices. The extent to which this occurs depends on consumer demand remaining unchanged in other sectors of the economy, despite the higher fuel costs they are now facing."
Kiwibank chief economist Jarrod Kerr and senior economist Jeremy Couchman noted that the September quarter inflation result was "a significant step higher" than the RBNZ's August Monetary Policy Statement (MPS) forecast of just 1.4% year-on-year.
"The RBNZ is starting to be backed into an awkward position, with its view that inflation will gradually rise to the target mid-point increasingly untenable," they said.
"For now at least, the RBNZ can still claim that much of the recent rise in inflation pressure is coming from cost-push inflation factors that can be looked through. These cost-push factors include higher world oil prices, a weaker currency and Government induced price hikes (such as petrol taxes and a chunky minimum wage hike).
"What the Bank is likely to remain focused on is the underlying engine of inflation, GDP growth. With business confidence still casting a shadow on the economy there remains the risk that internally generated inflation peters out.
"However, as the Bank has drummed home, price setting behaviour is being more driven by actual inflation. With headline inflation on the charge, momentum is likely to build in the figures. In addition, we see GDP growth picking up above trend into 2019, and inflation is likely to accelerate.
"We believe that ultimately the RBNZ will be forced to begin gradually hiking the OCR sooner than is currently signalled. We believe the RBNZ will be able to hike by May 2020, six months ahead of their schedule."
Stats NZ's prices senior manager Paul Pascoe said petrol prices increased 19% in the September 2018 year.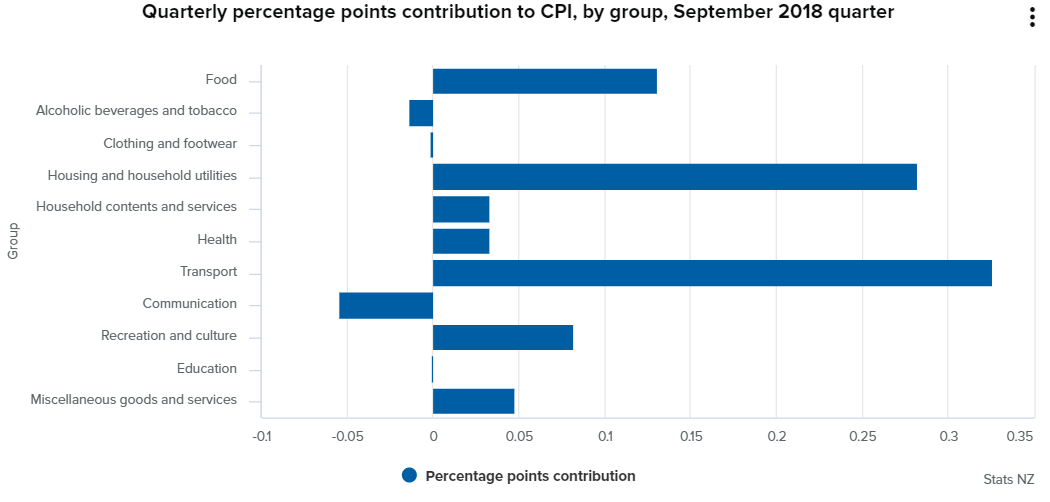 "This is the highest annual increase since June 2011."
Petrol rose 5.5% in the September 2018 quarter. The average price of 91 octane, after discounts (for the whole of the September quarter), reached $2.18, up from $2.06 in the June quarter. The price of petrol rose continually throughout the quarter, and by the last week of September was 3.2% above the September quarter average pump price.
Multiple factors contributed to the petrol price increase this quarter.  The exchange rate fell over the quarter, while crude oil prices rose. In addition, a regional fuel tax of 10 cents per litre plus GST was introduced in Auckland on 1 July.
"While petrol only makes up about 4% of the CPI, it can have a large impact on overall inflation," Pascoe said.
"It contributed about 30% to the quarterly CPI movement for September, and about 40% to the annual movement."
This is the first time petrol prices have risen for four consecutive quarters since September 2008, during the global financial crisis.
When petrol is removed from the CPI, the increase was 0.7% for the September 2018 quarter (compared with 0.9% overall), and 1.2% for the September 2018 year (compared with 1.9% overall).
A 3.5 cents per litre nationwide increase in petrol tax was introduced on 30 September. The effects of this price increase will be seen in the December 2018 quarter.
The falling exchange rate, which makes imports more expensive for New Zealanders, also contributed to a 2.6% rise in the price of audio-visual equipment such as televisions, cameras, and home theatre systems in the September 2018 quarter. This is the first quarterly rise for audio-visual equipment since September 2016, as quality adjustments generally cause price falls for these goods.