Gareth Vaughan takes a look at the interest rate environment for borrowers after receiving a surprise offer from his bank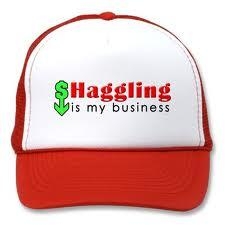 By Gareth Vaughan
Last week something happened that might have caused me to fall out of my chair a few years ago.
In an unsolicited move, our bank offered my wife and I a series of mortgage rates below its advertised rates. Apparently this was because our bank wants to look after its existing customers.
Although I'm sceptical about how widespread this type of bank behaviour is, it does feel like the worm has turned in recent years with many customers now less prepared to just accept the interest rates banks offer them, and some banks realising they should make more effort to retain their good customers.
Way back in August 2011, in what feels like a life time ago, I wrote an article suggesting it was time for borrowers to haggle with their banks over the interest rates they were being offered. The international economy was in a Global Financial Crisis induced funk, and the Auckland housing market was having a quiet period after the Champagne Charlie days of the mid-noughties. Despite all this, New Zealand banks were in clover, posting record profits.
...it's time more borrowers started to question the rates their banks are offering. Next time you're talking mortgage rates with your banker, pretend you're shopping somewhere in the third world and haggle over price. You never know, it could be your lucky day.
  Just three months later, in November 2011, I felt compelled to reiterate the message, and extend it to include savers.
So if you're looking to take out a loan, renew one, or invest some savings with one of the big banks, don't be afraid to haggle. There is room for them to move. And if your existing bank won't offer you a better deal, one of the other banks might.
So almost seven years on, it's heartening to see at least some of the banks are taking the initiative with at least some of their borrower customers and offering discounts to their advertised rates straight off the bat.
This of course does come against the backdrop of an Auckland housing market that's once again subdued, as highlighted by ANZ's economists last week, and the latest Reserve Bank data (at the time of writing) showing annual housing debt growth of 5.8%, the lowest it has been since mid-2015.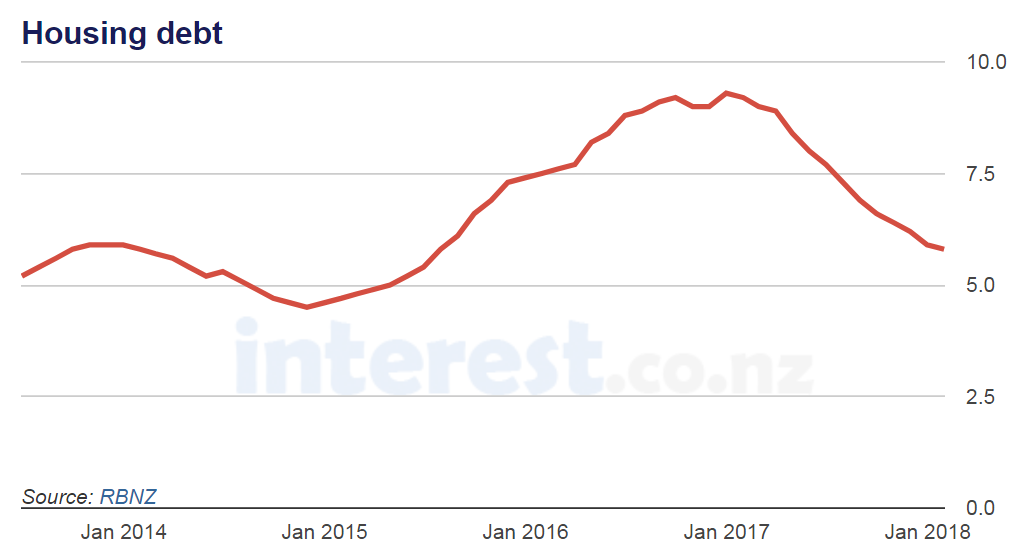 What should borrowers do?
So for borrowers with mortgages up for renewal, or those taking out a new mortgage, what should they do in the current environment?
The newbies should definitely shop around, trading off banks for the best deal. And those refixing should certainly see how their bank's offers compare to those from rival banks.
Meanwhile, is it best to fix or float? Fix some and float some? Fix for one-year, two-years, go out longer term, or split between two or more fixed terms? These are, of course, among the perennial questions for borrowers. 
As ever the advice out there differs.
John Bolton of mortgage broker Squirrel reckons fixing for three years is attractive. Here's what he wrote after the Reserve Bank left the Official Cash Rate at its record low of 1.75% last week;
With credit growth and the housing market somewhat tamed, competition between banks will keep housing rates in check.

We've seen banks offering cash incentives again as they cut each other's lunch. It seems there's still a decent financial incentive to refinance if you can put up with the hassle of shifting.

After briefly increasing last year, mortgage rates have fallen back to their historic lows with rates in the low 4's. For my money I think the three year fixed rate is looking attractive.
ANZ's economists have a different view. They reckon one-year rates currently offer the most value, or alternatively suggest borrowers spread risk by borrowing over a number of fixed terms. Here's what they say;
With average mortgage rates unchanged over the past month, our favoured views on where to fix remains unchanged. The 1-year rate remains the low point on the mortgage curve and offers the most value in our eyes. We are watching the recent lift in bank funding costs, but don't believe pressures will escalate and affect mortgage rates significantly. But borrowers concerned by that possibility, or the possibility of the OCR moving up within the next year (which is not our expectation), may wish to spread risk by borrowing over a number of fixed terms. This strategy always makes sense from a risk-management perspective.
Ultimately every borrower has to choose what suits their own circumstances best, taking into consideration what they could afford to pay if interest rates rise significantly. Building a buffer into your plans to see how your finances would be affected if your interest rates went up by, say 200 basis points or to 7.50% for example, is always advisable.
Below is the full snapshot of the current advertised fixed-term rates on offer from banks. You can see our fixed versus floating calculator here, our mortgage calculator here, and our break fees calculator here.
| | | | | | | | |
| --- | --- | --- | --- | --- | --- | --- | --- |
| below 80% LVR | 6 mths |  1 yr  | 18 mth |  2 yrs  |  3 yrs  | 4 yrs |  5 yrs  |
| as at February 16, 2018 | % | % | % | % | % | % | % |
|   |   |   |   |   |   |   |   |
| | 4.99 | 4.35 | 5.15 | 4.65 | 4.99 | 5.89 | 6.09 |
| | 4.95 | 4.30 | 4.39 | 4.65 | 4.89 | 5.39 | 5.59 |
| | 5.35 | 4.39 | 5.05 | 4.65 | 4.99 | 5.89 | 6.09 |
| | 4.99 | 4.29 |   | 4.65 | 4.99 | 5.65 | 5.69 |
| | 5.25 | 4.39 | 5.15 | 4.65 | 4.94 | 5.89 | 5.59 |
|   |   |   |   |   |   |   |   |
| | 4.80 | 4.39 | 4.69 | 4.69 | 4.99 | 5.39 | 5.59 |
| | 4.85 | 4.19 | 4.19 | 3.95 | 4.89 | 5.29 | 5.59 |
| | 4.99 | 4.35 | 4.59 | 4.64 | 4.99 | 5.49 | 5.55 |
| | 4.85 | 4.49 | 4.65 | 4.39 | 4.89 | 5.55 | 5.69 |
In addition to the above table, BNZ has a fixed seven year rate of 6.15%. And TSB has a 10-year fixed rate of 6.20%. See all banks' carded, or advertised, home loan interest rates here.
What's happening with banks' funding costs & profitability?
The basic theory of banking is that banks are middlemen. They borrow money and then on-lend this asking their customers to pay higher interest than they themselves pay to borrow.
With the US Federal Reserve now increasing its Official Cash Rate equivalent, and expected to continue doing so through until 2020, some pundits believe NZ banks' funding costs will rise, with NZ mortgage rates following suit. (The Reserve Bank recently issued an analytical note on banks' funding costs pass through to mortgage rates).
When local banks increase mortgage rates their executives often cite their own rising funding costs as a key reason. Interestingly, whenever you talk to a senior bank executive, it seems that their funding costs are always rising or about to rise...Across the range of funding deals banks do, from term deposits to covered bond issues, the pricing of individual deals differs significantly and bank funding costs are thus a constantly moving feast.
But what we can do is average them out over time. What this shows is that by historical standards NZ banks' funding costs are currently low. If you are a depositor you'll already know this. Bank profits, as ever, are strong. My headline on a February story about KPMG's annual Financial Institutions Performance Survey (FIPS) encapsulated this nicely; Annual FIPS shows highest profit & lowest funding costs in survey's 31-year history.
The FIPS showed NZ banks delivering record combined annual profit with a 7.35% increase in net profit after tax to $5.19 billion. Annual funding costs, meanwhile, fell 40 basis points to 2.82%. And every quarter I number crunch key figures from the bank's disclosure statements. This shows that, for the December quarter, the big five banks - ANZ, ASB, BNZ, Kiwibank and Westpac - had an average cost of funds of 2.8%. Smaller NZ owned banks and active mortgage market participants SBS, TSB and The Co-operative Bank, had a slightly higher combined average cost of funds of 3.19%.
In more grist for the funding costs mill, last week Westpac issued a five-year bond, paying 3.720% pa for NZ$550 million. That compares favourably to the bank's five-year term deposit rate of 4.10%.
In terms of their Reserve Bank enforced funding requirements, the banks are sitting pretty. NZ banks must meet Core Funding Ratio (CFR) requirements. The Reserve Bank introduced the CFR in 2010 to reduce NZ banks' reliance on short-term offshore funding. The CFR requires banks to meet a minimum share of their funding from retail deposits, long-term wholesale funding and/or capital. The minimum CFR for each bank is 75%. As of January, the industry-wide CFR was at 88% with core funding of $357.738 billion against total loans of $406.651 billion.
Interest.co.nz annually adds NZ's big four banks to a Bank for International Settlements measure of profitability across the major banks from both developed and emerging international economies. Profitabilty at the NZ banks, across a series of measures, continues to rank near the top.
Thus the message for borrowers in 2018 remains haggle with your bank. Given their profitability, there is room for our banks to move in a competitive market. And you never know what you might get if you ask.
The chart below shows two year fixed mortgage rates against the two year wholesale swap rate, as a proxy for bank funding costs.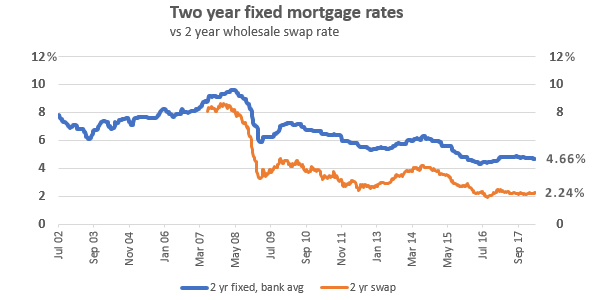 The chart below shows floating mortgage rates against the 90 day bank bill rate, again as a proxy for bank funding costs.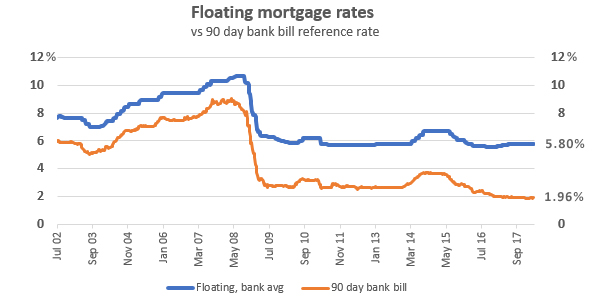 The chart below shows fixed versus floating mortgage market share.