Gareth Vaughan details the two reports, the consultation process and the chart he'll be keeping a close eye on in 2019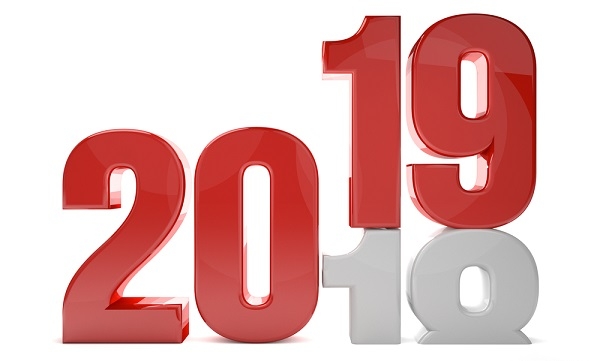 By Gareth Vaughan
The Christmas decorations are up and the sun is shining. That means 2019 is just around the corner.
And as thoughts turn to the New Year, I'm eagerly awaiting two reports that'll be crucial to the New Zealand economy. There's also a consultation process that will be very influential, and one chart I'll be keeping an eye on in 2019.
Of course, there'll be many other things to watch next year too, both domestically and internationally, but for the purpose of this article I'm going to focus on the two reports, one consultation and one chart.
Report 1 - the Tax Working Group
The final report from the Government's Tax Working Group (TWG) is due in February. This to me is shaping up as potentially the big political issue of 2019.
Will the Michael Cullen-led group actually recommend the Government adopts some sort of comprehensive Capital Gains Tax (CGT)? Albeit as comprehensive as it can be whilst excluding the family home and probably creating numerous loopholes.
And if they do and Labour is keen to implement it, will Winston Peters and NZ First get on board?
There will be some fascinating politics played around this issue within the Coalition Government. Labour's plan is to pass any required CGT related legislation before the 2020 election, with changes coming into force on April 1, 2021. That means Labour needs the support of Peters, who has previously been a staunch CGT opponent.
So what sort of deal could be done? Will there be tax relief in other areas that Peters could embrace if a CGT is recommended? Remember Finance Minister Grant Robertson wants measures included from the TWG that could result in a revenue neutral package.
One issue I keep coming back to is if the TWG is going to recommend a CGT and Labour is determined to push ahead with introducing it, has a deal already been done with Peters? If not there could be a lot of egg on Labour faces if they want to introduce a CGT having gone through the painstaking TWG process only for Peters to then turn around and refuse to back it.
Or could it be that the TWG will just dump the CGT in the too hard basket?
Report 2 - the final report from the Australian Royal Commission on banking
The final report from Australia's Royal Commission into Misconduct in the Banking, Superannuation and Financial Services Industry is due from Commissioner Kenneth Hayne on February 1. Given the close economic relationship between New Zealand and Australia, and the fact the Aussie owned ANZ, ASB, BNZ and Westpac control 88% of NZ banking system assets, this report matters on this side of the Tasman.
Of course we've also had the Financial Markets Authority (FMA) and Reserve Bank probe of bank conduct and culture, and the FMA report on bank incentive structures.
One of the big issues to emerge from this work is the FMA's demand for pay incentives linked to sales to be completely abolished. In March next year the FMA will ask all banks how they will meet this expectation, and will publicly report on their responses.
Abolishing sales incentives completely is a massive move for the financial services sector. Among the many questions this raises is what will it mean for mobile mortgage managers, and how will it impact on mortgage broker remuneration? Remuneration issues are front and centre in Australia ahead of Hayne's final report too. Across the Ditch there's talk of introducing a a fixed fee-for-service remuneration model for brokers, possibly with the payment split between the bank and the customer.
What could this mean for competition? An Australian Productivity Commission report on financial system competition, issued in June, noted mortgage brokers can make the home loan market more competitive by increasing consumers' knowledge of loan products and exerting competitive pressure on lenders on behalf of consumers. Furthermore it said brokers enable smaller lenders to diversify and compete with bigger rivals that have larger branch networks.
Nonetheless the Productivity Commission recommended trail commissions should be abolished, commission clawbacks should not be allowed beyond two years, and that passing clawbacks on to the borrower should be banned. Interest.co.nz understands that in NZ typically 100% of commission can be clawed back if the borrower repays or refinances within 12 to 15 months. This then drops to 50% through to month 26, with no claw backs beyond that.
In Australia the Productivity Commission estimates brokers originate about 54% of all new home loans. In NZ it's nearer 40%, with 36% of home loans from ANZ, NZ's biggest bank, broker originated as of September 30.
Consumer NZ raised broker commissions in a submission to Parliament's Finance & Expenditure Select Committee this year. Expect to hear more on these issues in 2019.
Responsible lending's also a key focus of the Royal Commission, with some observers suggesting the regulatory crackdown could be the catalyst for a credit crunch in Australia where house prices are already declining. What impact could this have on NZ?
The consultation process - bank capital adequacy requirements
The Reserve Bank cops plenty of criticism. Some is deserved and some comes with the territory. Every now and again it digs its heels in, asserts its and NZ's independence, and makes a worthy and brave call. One example of this was forcing Westpac to locally incorporate in NZ back in the noughties. Another was introducing the loan-to-value ratio (LVR) restrictions on high residential mortgage lending in 2013. A third example could be its push to significantly increase banks' capital adequacy requirements, thus making the banking system better able to cope in a crisis.
Should this proposal go ahead, NZ banks will need to find somewhere in the vicinity of $20 billion of new capital over five years. As credit rating agency Fitch has pointed out, the Reserve Bank plan goes well beyond the international norm, is highly conservative by international standards, and would be positive for banks' borrowing profiles. But it could also see lending rates increase as banks seek to recoup a return on their shareholders' capital invested, which in tum could reduce lending growth.
The banks, however, are not just going to accept the Reserve Bank proposals at face value. They will lobby against them and fight them. Key in this will be ANZ, ASB, BNZ and Westpac. The Reserve Bank is proposing to narrow their advantageous capital position over their smaller NZ owned rivals. They will not be happy about this and the likely hit to their profitability it entails.
The Reserve Bank is seeking submissions on its consultation paper by March 29, and expects to make final decisions by June 2019.
The Reserve Bank capital proposals and FMA demand for an end to sales incentives are sea changes for the NZ financial services sector. Also keep an eye out for whether the Government puts any meat on the bones of the suggestion it could establish a legal duty to make banks consider a customer's long-term outcomes. This is another potential sea change. So buckle in and hold on to your hats. We may be in for a wild ride.
The chart - can we keep household debt servicing costs under control?
David Chaston made the chart below specifically for this article. We'll be updating it in the future. Why it matters is because although household debt is at historic highs, as long as interest rates and unemployment are so low, meaning debt servicing costs are manageable, NZ and its economy should continue to truck along okay. Assuming, of course, no major overseas crisis or meltdown intervenes.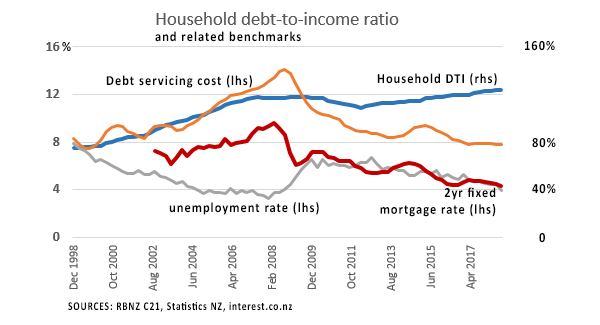 All in all 2019 is shaping up to be another interesting year.
*This article was first published in our email for paying subscribers early on Thursday morning.See here for more details and how to subscribe.