Gareth Vaughan details how the RBNZ's proposals for NZ banks to hold more capital are a victory for the smaller NZ owned banks over their much bigger Aussie owned rivals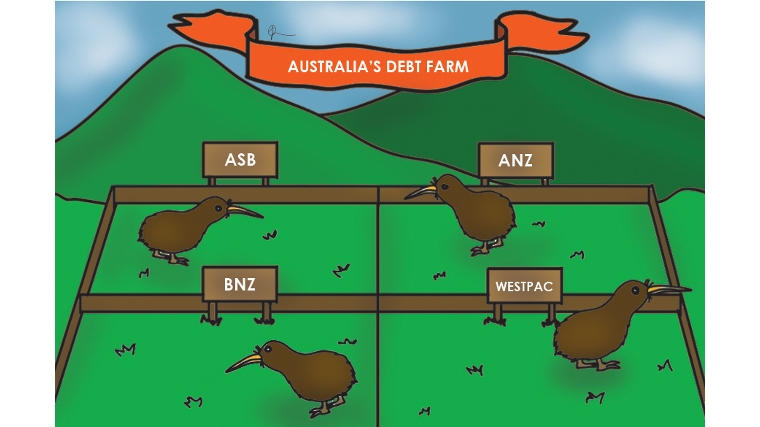 By Gareth Vaughan
Question; Name an industry in New Zealand that's dominated by overseas owned businesses that, thanks to local regulations, are handed a major advantage over their domestically owned competitors?
Answer; Banking.
ANZ NZ, ASB, BNZ and Westpac NZ, our four Australian owned banks, currently enjoy favourable capital positions over their Kiwi owned rivals such as Kiwibank, TSB, SBS Bank, The Co-operative Bank and Heartland Bank. 
This is because the Aussie owned banks, which control 88% of NZ banking system assets, are allowed to use what's known as the Internal Ratings Based (IRB) approach to credit risk measurement whilst other NZ banks must use what's known as the standardised approach. The IRB approach is an international banking standard that was imported into NZ by the Reserve Bank in 2008.
It means the big four banks are allowed to set their own models for measuring risk exposure which they must then get approved by the Reserve Bank. In contrast banks using the standardised approach have their credit risk prescribed by the Reserve Bank.
Effectively what this means is the big four banks are able to hold less capital than if they used the standardised approach giving them a profitability advantage over their Kiwi competitors. Or put another way, the Aussie owned banks can use a smaller portion of equity funding for mortgages than standardised banks, which translates into a funding cost advantage. This is a factor in the significantly higher return on equity the Aussie-owned banks generate than their local rivals, as demonstrated in the Reserve Bank September quarter dashboard chart below.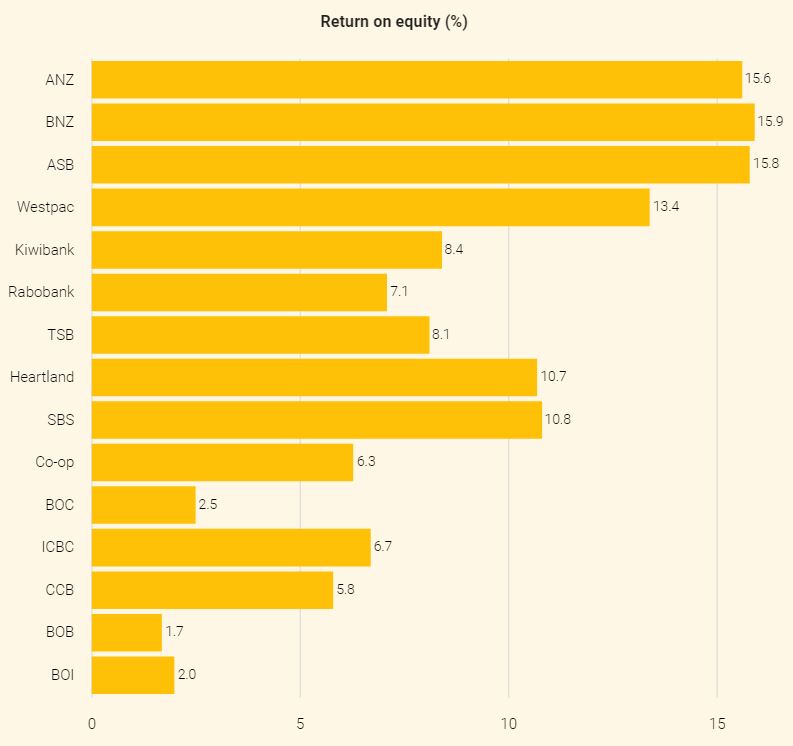 Stark contrast
The differences between the internal and standardised approaches can be stark.
A Reserve Bank probe of the big four banks' use of the IRB approach to credit risk shows them with risk weighted assets (RWA) equivalent to 69% of the standardised approach used by all other banks for residential mortgages. Across all types of lending combined, ANZ, ASB, BNZ and Westpac have credit risk RWAs of between 67% and 86% of the comparable standardised calculations, with an average of 76%.
Risk-weighted assets are used to determine the minimum amount of capital that must be held by banks to reduce the risk of insolvency. The capital requirement is based on a risk assessment for each type of bank asset. There is considerable variation both across different types of loans and across IRB banks.
For example, ANZ NZ's latest General Disclosure Statement shows an exposure weighted risk weight of 19% applied to total residential mortgages of $76.168 billion at September 30. That means the bank's risk weighted exposure was $15.761 billion, and total capital held against its home loans $1.261 billion. 
At Kiwibank, the biggest of ANZ's standardised competitors, risk weightings on home loans start at 35%. With $16.956 billion of home loans at June 30, the state owned bank had risk weighted exposure of $6.488 billion, and a minimum capital requirement of $520 million. 
That means Kiwibank's minimum capital requirement against almost $17 billion of home loans was equivalent to 3% of that sum. At September 30, ANZ's minimum capital requirement was equivalent to just 1.65% of its more than $76 billion of home loans.
The Reserve Bank's says its proposed changes would increase the total RWA value required by the four Aussie owned banks from $251 billion, where they were at March 31, to $290 billion. Note, as of September 30 the big four had combined total assets of $447.038 billion and Tier 1 capital, which consists of the likes of paid-up ordinary shares, retained earnings and preferred shares, of $34.247 billion.
The chart below comes from the Reserve Bank consultation paper.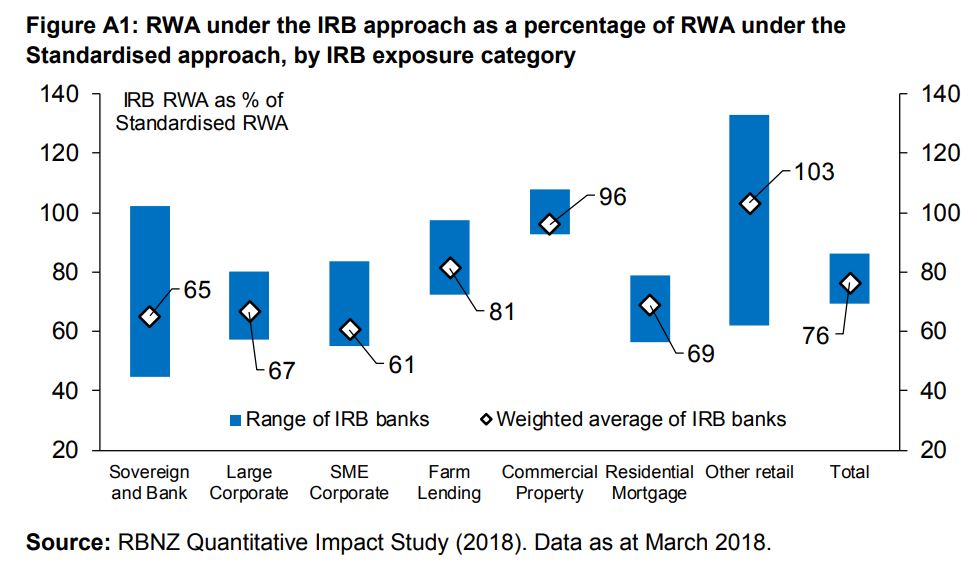 Levelling out the playing field
The proposals outlined in the Reserve Bank consultation paper issued on Friday go some way towards evening the playing field for the NZ owned banks against their Aussie owned rivals. That's because the Reserve Bank is proposing to make the Aussie owned banks increase the assets they use to determine the minimum amount of regulatory capital they hold to the equivalent of 90% of what's held by other NZ banks, up from about 76% now.
In a combined submission to the Reserve Bank last year, The Co-operative Bank, SBS Bank and TSB Bank argued the regulator should standardise the measurement of risk weighted exposures across all banks.
"This would result in all banks holding the same level of capital for the same underlying risks, ensuring a level playing field across the banking sector. This will encourage further competition in the banking system, consistent with the Reserve Bank of New Zealand objectives," the three banks argued. 
A submission from the New Zealand Superannuation Fund and Accident Compensation Corporation, who in 2016 bought a combined 47% of Kiwibank, also touched on levelling the capital playing field with the big four banks. Remember the Super Fund's CEO at the time was none other than Adrian Orr, who took over as Reserve Bank Governor in March. And Rabobank also called for a more detailed look at the differences between IRB and standardised approaches in its submission.
The Reserve Bank consultation paper also calls for the four Aussie owned banks to hold more capital than their Kiwi rivals because they are systemically important, or too big to fail. It calls for a Tier 1 capital ratio of 16% of RWA for banks deemed systemically important because of their size, and 15% for all other banks. Currently all banks require a minimum Tier 1 capital ratio of 10.5%.
Even though they too will need to increase the amount of capital they hold, this is a victory for the NZ owned banks over their much bigger rivals as, if the Reserve Bank proposals are adopted, they will be operating on a leveller playing field. Not completely level, but better than where it is now. 
All banks combined will need $20 bln more capital than they had in March
The Reserve Bank's consultation paper suggests the proposed increase to banks' regulatory capital requirements means NZ banks collectively would need $13.7 billion more Tier 1 capital than they held at March 31. They'll also need to replace $6.3 billion of what's known as Additional Tier 1 capital, which the Reserve Bank says will be non-compliant. Note, Tier 1 is the likes of paid-up ordinary shares and retained earnings. Additional Tier 1 capital is capital instruments such as preferred shares that are continuous given there's no fixed maturity date.
The Reserve Bank is proposing a five-year transition period to the new bank capital regime. The regulator suggests the required capital increase will differ from bank to bank, ranging from between 20% and 60%. This, it says, represents about 70% of the banking sector's expected profits over the five-year transition period. The biggest of the NZ banks, ANZ NZ, estimates it'll need to find up to $8 billion.
Against this backdrop there's expected to be what the Reserve Bank describes as a "minor" increase in borrowers' interest rates, and potentially a small reduction to Gross Domestic Product. The Reserve Bank argues this will be worth it to make the financial system stronger and safer, including for bank depositors.
The Reserve Bank dashboard chart below shows banks' Tier 1 capital ratios at September 30. The Reserve Bank proposals would mean a minimum of 16%, as a percentage of RWA, for the big four banks and 15% for the other banks.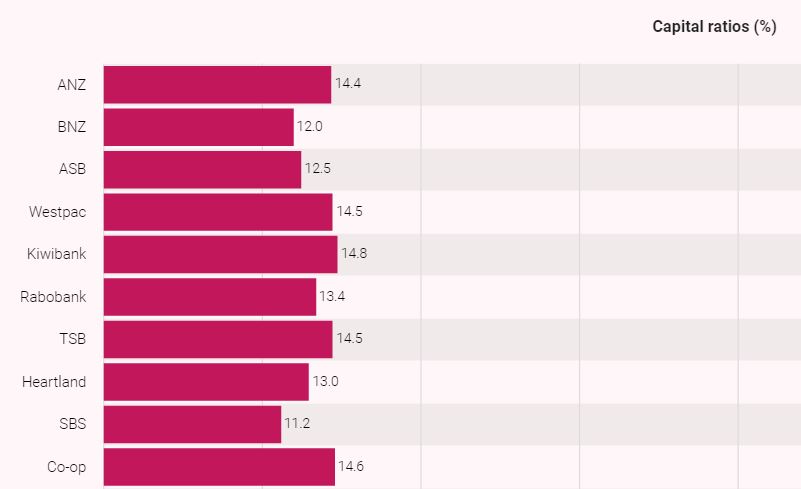 Choking on their schooners
NZ's Australian owned banks this year made combined net profit after tax of $5.128 billion, an increase of $433 million, or 9% year-on-year. They paid annual dividends of $3.39 billion. These dividends are set for a dramatic drop if the Reserve Bank proposal becomes reality.
Hence that strange sound you heard on Friday afternoon could have been senior bankers in Sydney and Melbourne choking on their schooners of beer.
The Reserve Bank is seeking submissions by March 29 next year and wants to make final decisions on its bank capital adequacy review, which has been running since March 2017, by June 2019.
So between now and then buckle in and get ready for some serious big bank lobbying, painting doomsday scenarios if the Reserve Bank has its way. Because if the Reserve Bank does get its way life will get a bit tougher at the Kiwi debt farm for the Aussie owned banks.
Crikey, there has already been a report from Macquarie banking analyst Victor German suggesting the Reserve Bank's capital proposals could result in the Aussie banks cutting back the supply of credit to the NZ economy, and potentially even selling their NZ subsidiaries. So fasten your seatbelt. It's going to be a wild ride.
*This article was first published in our email for paying subscribers. See here for more details and how to subscribe.