Heartland Bank raises all its home loan interest rates but still retains the claim to the lowest rates available from any bank. Home loan market awaits the RBNZ's signals next Wednesday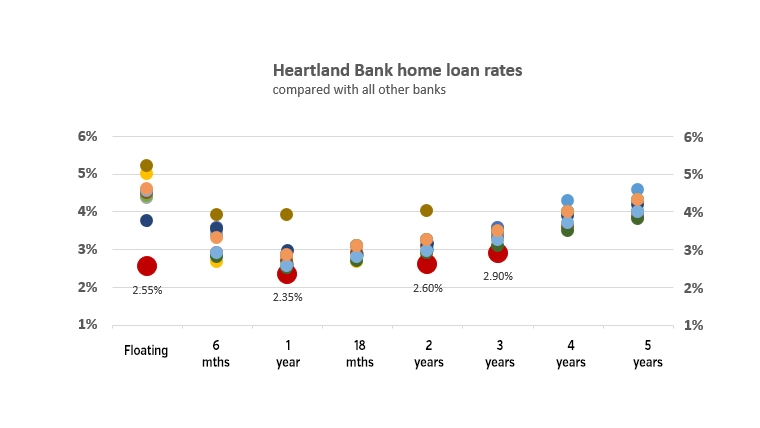 The lowest rates in the home loan market have now been raised.
Heartland Bank has added +30 basis points to its very competitive floating rate. And it has also raised all its fixed rates too.
Heartland's floating rate has become 2.55%, but that's still about a full 2% lower than any main Aussie bank, and 1.20% lower than Kiwibank.
Its one year fixed rate has risen +20 bps to 2.35% but is still the lowest among any banks (except for SBS Bank's first home buyer 'special').
Heartland's two year fixed rate is up +15 bps to 2.60%, and that is also still the lowest bank rate for that term.
Its three year fixed rate has been raised by +25 bps to 2.90%, again still the lowest of any bank for that fixed term.
Generally, Heartland Bank's rates remain 50-60 bps lower than the main banks.
But Heartland's low rate housing loans come with some direct requirements and conditions. You must have at least 20% equity or deposit, live in the property, and be able to meet the repayments from your salary or wages (so, no help from others allowed). Also, the home must be a standalone, single section house that is freehold, cross lease or on a unit title, located in an urban centre, not in a trust, and already built. And the house can't be a monolithic or plaster clad property consented before 1 January 2006.
If you can meet these, and the bank's credit conditions, you can apply - online.
Heartland doesn't currently work with mortgage brokers for home loans.
Wholesale rates are still moving higher although in the past few days, the short end of that market has been level-pegging.
The financial markets have now priced in a full +25 bps rate hike at the next Reserve Bank review on Wednesday, October 6. And they are expecting a steady set of similar rises over the rest of 2021 and 2022. Some still think there may be a +50 bps hike in there somewhere, although that is unlikely to be in 2021. A lot depends on how the 2021/2022 housing market responds to the pent-up demand pressures that lockdowns may have built up.
And to some extent it depends on how tough those pressures have been on some households balance sheets who may have to sell-up during the pandemic crisis, especially SME owners. There haven't been any real signs of overall credit stress yet in the data, but it would not be surprising if there is as the situation goes on and on.
One useful way to make sense of these changed home loan rates is to use our full-function mortgage calculator which is also below. (Term deposit rates can be assessed using this calculator). (Our calculators are all back running now.)
And if you already have a fixed term mortgage that is not up for renewal at this time, our break fee calculator may help you assess your options. But break fees should be minimal in a rising market.
Here is the updated snapshot of the lowest advertised fixed-term mortgage rates on offer from the key retail banks at the moment.
Comprehensive Mortgage Calculator