Treasury modelling suggests introducing deposit insurance would see savers pay a couple of dollars a year for every $1000 of deposits up to $100,000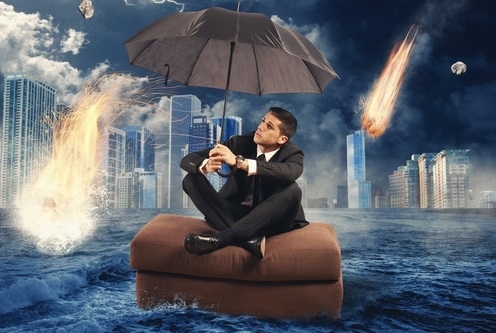 You put your money in the bank, the bank goes bust, the Government possibly steps in so that you get a slither of your savings back. Depending on how diversified your assets are, you're left financially crippled.
How's that for a bleak, yet plausible scenario?
New Zealand is an outlier among its OECD counterparts that largely protect depositors through insurance schemes. While different countries have different set-ups, the idea is that for every X amount you put in the bank, a portion is paid to a fund that can be used to compensate you if your bank runs into trouble.
The International Monetary Fund (IMF) in May said introducing deposit insurance would strengthen New Zealand's financial safety net and complement the Reserve Bank's Open Bank Resolution framework, which potentially protects taxpayers from having to bail out a bank if it goes under. 
Yet the Reserve Bank isn't keen on introducing a deposit insurance scheme, largely due to its concerns around it creating a moral hazard.
The former National-led Government wasn't keen on a deposit insurance scheme either.
And while both New Zealand First and the Green Party have within the past year spoken out in favour of a deposit insurance scheme, it isn't in the new Government's Coalition or Confidence and Supply agreements. This is despite the Labour Party supporting such a scheme in 2013.
However documents released by the State Services Commission reveal the Green Party asked Treasury to do some analysis of deposit insurance during coalition negotiations in October.
It asked how much deposit insurance of up to $100,000 would cost the average saver.
Treasury responded saying the cost per $1000 of deposits would be between $1.50 and $3.70 per year, depending on how quickly authorities would want to see the fund reach its target size.

So if the time for the fund to reach its target size was 20 years, someone with a $40,000 deposit would pay a levy of $92 a year.
Among its assumptions around how the scheme would work, Treasury's costings are based on rates only being charged on deposit balances up to the coverage level of $100,000. So if you deposited $200,000, you would only be charged on, and insured for, half that amount.
Its other assumptions include:
- Banks would pass on the entire cost of insurance to depositors.
- The fund would be big enough to cover the cost of one average sized bank failing, despite it being liable for a failure of multiple banks. Given New Zealand's concentrated banking system, Treasury says an argument could be made for a scheme to be based on covering multiple bank failures, but this would see its cost projections multiple accordingly.
It recognises that as with the Earthquake Commission (EQC), the Crown may have to lend the fund money to cover a shortfall in the event of a systemic failure, or if a failure happens before the fund gains scale.  
- The portion of deposits lost in a bank failure would be 15%. Treasury says this is a conservative estimate, as it is unlikely depositors will face a total loss, as banks will have assets they could sell.
- The levy wouldn't be risk-based, but would be applied at the same rate across all institutions.
- Insured deposits would grow at the historic average rate for household deposits of around 9% per year, but the portion of deposits covered would remain constant at around 64%.
- The scheme would be operated by staff at a pre-existing agency such as the Reserve Bank. Its funds would be invested/managed through pre-existing infrastructure such as a Superannuation Fund. It would cost $1 million p.a. to administer and returns would be 5% p.a.
*This article was first published in our email for paying subscribers. See here for more details and how to subscribe.