Economists worry government faces 'tough gig' supporting the economy and plugging the infrastructure deficit without exacerbating inflation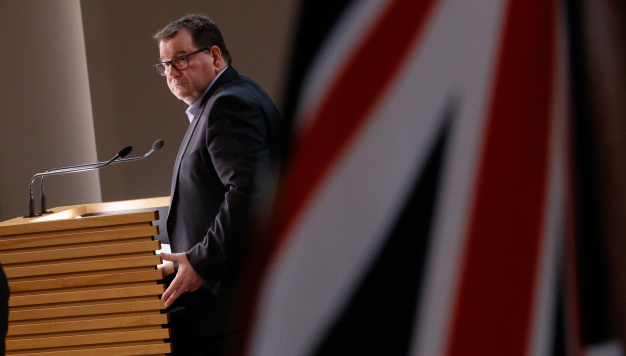 Bank economists are increasingly calling for the Government to start reining in spending to avoid fuelling higher inflation.
BNZ's head of research Stephen Toplis has for some months been worrying about building inflationary pressures.
Now other retail bank economists are saying the time is right for the Government to change gear and start preparing for the next crisis.  
ANZ economists Sharon Zollner, Miles Workman, David Croy and Finn Robinson recognised there are still people in desperate need of government support. But they worried elevated expenditure in a capacity constrained economy risks raising prices at a time the Reserve Bank (RBNZ) is lifting interest rates to try to put a lid on inflation.
They said striking the right balance is a "tough gig" for Finance Minister Grant Robertson.
Similarly, Kiwibank economists Jarrod Kerr, Jeremy Couchman and Mary Jo Vergara noted the need for investment to address the country's infrastructure deficit. In fact, they expected Robertson to put more aside for capital expenditure when he released his 2022 Budget Policy Statement last week.
But they said "fiscal decisions should be balanced against inflation risks" in the "current capacity constrained economic environment".
"Tempting as it might be, pumping up Government spending risks driving inflation even higher. The RBNZ would then have to work harder to cool the economy and raise interest rates more aggressively," they said.
ASB senior economist Mark Smith believed it "remains to be seen" whether the Government has struck the right balance between meeting shorter-term demands and preparing for future economic and fiscal challenges.
Robertson to keep the purse open for health reforms and infrastructure
The economists made these comments following Robertson last week unveiling the level of new expenditure expected in next year's Budget.
He pencilled in a whopping $6 billion for new operational expenditure for the 2022/23 year, and $9.8 billion over four years for new capital expenditure.
Robertson foreshadowed new operational expenditure falling to $4 billion and then $3 billion in 2023/24 and 2024/25. By way of context, $3.8 billion was allocated to new operational expenditure in 2021/22.
Robertson noted next year's $6 billion allocation would be a "one-off" largely to support health sector reforms. Some of this will likely go towards writing off debt held by district health boards.
Kiwibank economists noted budgets beyond 2022 are expected to include "much more restrained increases in spending". Accordingly, "Treasury's fiscal impulse analysis indicates fiscal policy isn't expected to pile on the pressure on aggregate demand beyond 2022".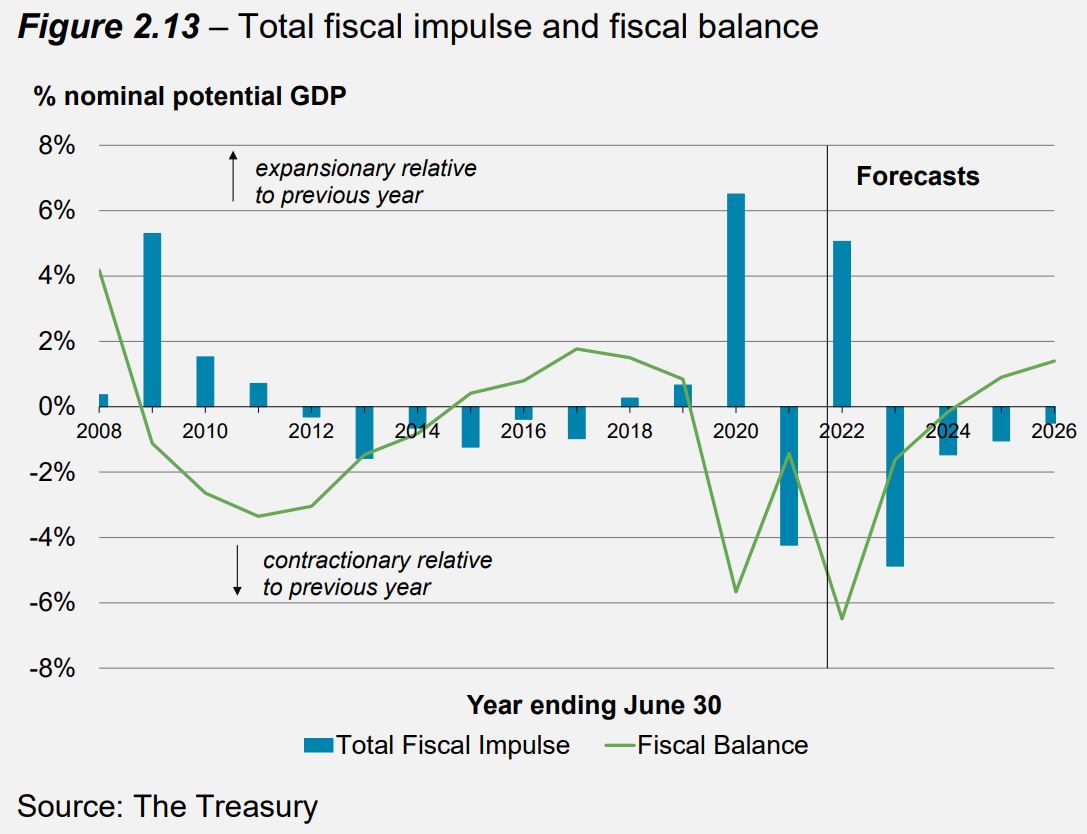 Council of Trade Unions economist Craig Renney (who used to advise Robertson) said his old boss shouldn't listen to "the call of those who would cut spending without thought to the long-term consequences".
"The medicine is working, and completing the course through continued investment in public services and infrastructure is essential to make sure we emerge with a more productive, sustainable and inclusive economy in the future," Renney said.
Taxes as a share of GDP can only go up
However, ANZ economists said the economic landscape has "changed drastically over the past year or so".
Treasury, in its Half Year Update released last week, noted, "The difference between actual and long-run potential economic activity, a key measure of spare capacity in the economy known as the output gap, has been more positive than previously thought. This lack of capacity is a strong indication of domestic inflationary pressure."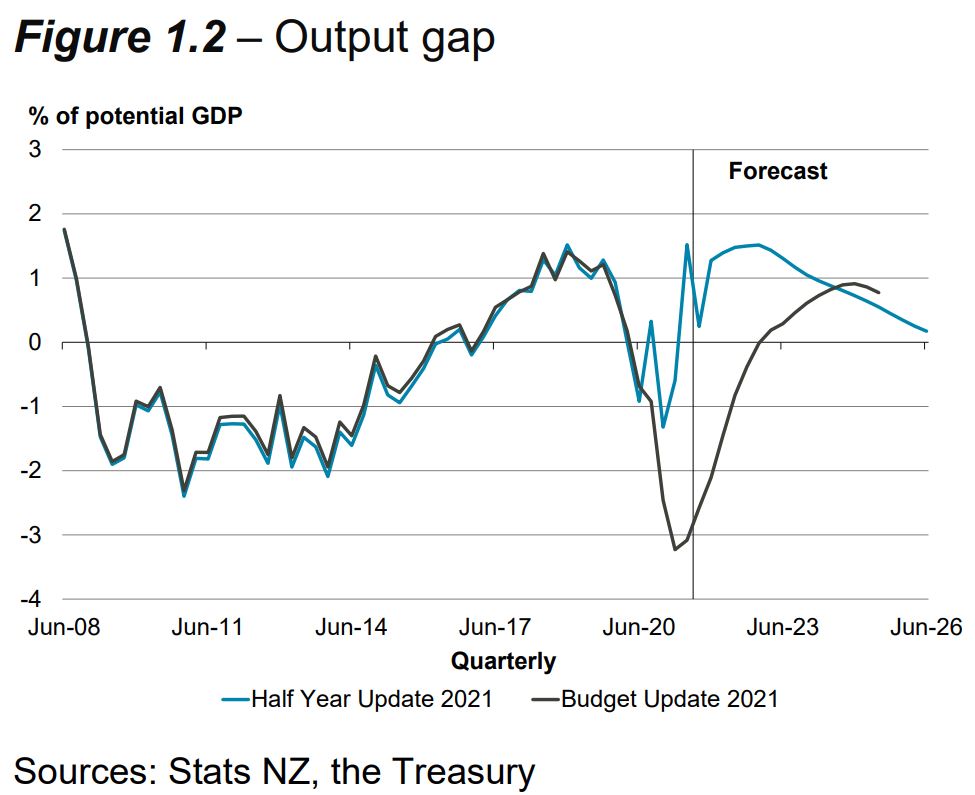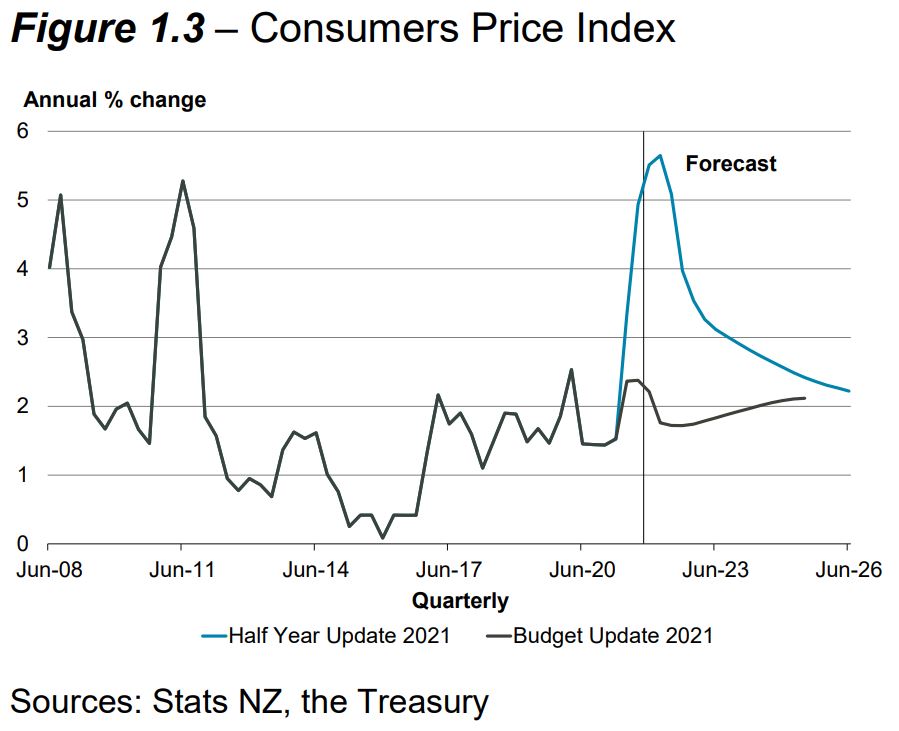 ANZ economists said, "For many, inflation is outpacing wage growth, meaning if you're not working longer hours, you're going backwards.
"Further, high rates of inflation tend to hurt poorer people more, meaning some of the benefit of high fiscal outgoings is being offset. We're certainly not saying the Government should stop helping those in need, but we are highlighting that the economic landscape has changed."
They said now is the time for the Government to start preparing for the next crisis.
"If the Government is not rebuilding fiscal buffers during the peak of the cycle, they will have less ammunition at the bottom," ANZ economists said.
"On top of the cyclical position, there are other good reasons to put fiscal settings under the microscope. Households and the Government have taken on a lot of debt recently. That debt will carry a lasting legacy, and leave us all exposed to higher interest rate risk.
"Add the costs of an ageing population and climate change (which, alongside the housing crisis, are goliath challenges from an intergenerational inequality perspective), and it's easy to conclude that in the absence of some fiscal constraint today, taxes as a share of GDP can only go one way in the future; up!"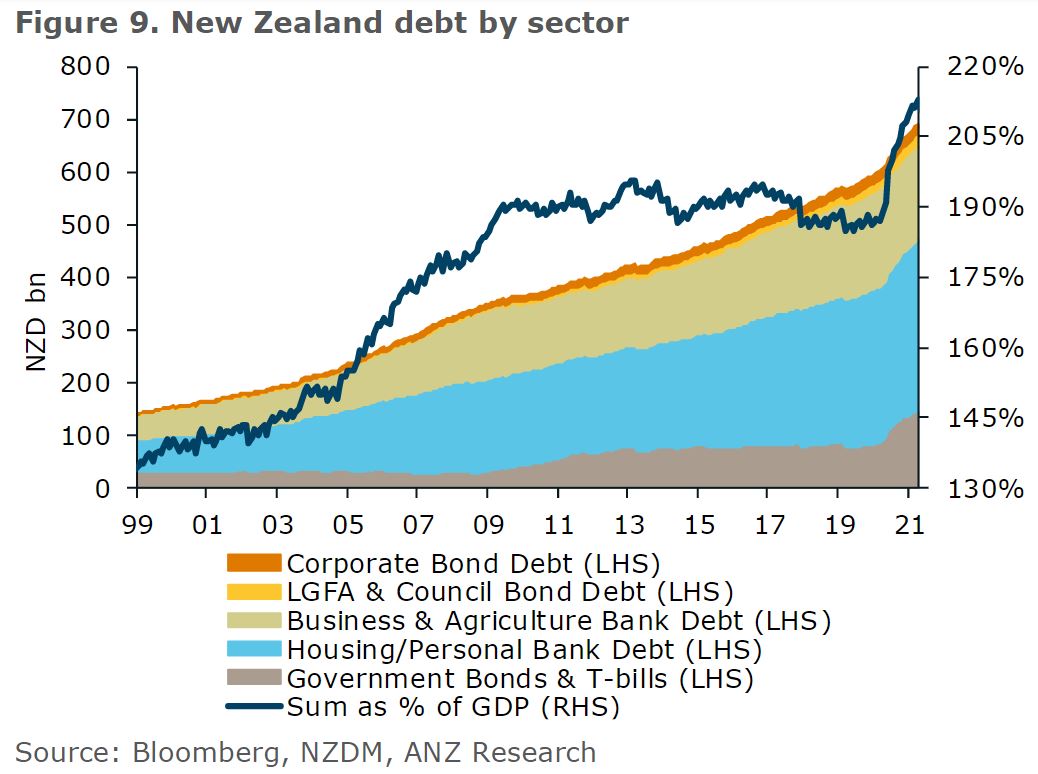 Running down Treasury's cash account will add liquidity to the system
The large amount of fiscal and monetary stimulus provided since the onset of the pandemic has supported the economy, contributing towards gross domestic product (GDP) being much stronger than expected.
This has boosted the Government's tax take and seen Treasury forecast a return to surplus in 2024 - sooner than it forecast at the Budget in May. The deficit currently sits at $4.6 billion.
The stronger-than-expected economy has also meant Treasury's Debt Management office could cut its forecast bond issuance programme by a third in the period between 2022 and 2025. It plans to issue $20 billion of New Zealand Government Bonds in the year to June 2022, and then $18 billion in each of the following three years.
While this is a downgrade, it's still historically high. Pre-Covid, Debt Management forecast issuing only $8 billion of debt in the year to June 2022.
While some government spending will be financed by newly-issued debt, some will be financed by previously-issued debt sitting in Treasury's cash account at the RBNZ. As at November, there was $36 billion in this Crown Settlement Account.
ANZ economists said financing spending using these funds will add liquidity to the financial system, which should put downward pressure on short-term interest rates and bond yields "at the margin". Remember, the RBNZ is trying to lift rates to cool inflation. 
Opposition take opportunity to attack the Govt
National and ACT have seized the opportunity to attack Robertson for playing a part in boosting inflation.
Robertson has tried to deflect, by saying higher levels of inflation are a global phenomenon, sparked partly by matters outside of the New Zealand's Government's control.
He's also noted debt as a percentage of GDP is similar to what it was after the Canterbury earthquakes.
Debt is expected to peak at 35% of GDP in 2024.
Credit ratings agency, S&P is comfortable with this, saying, there is "ample headroom within the current rating to address potential shocks, aided by its economic and fiscal recovery".
"New Zealand's economy is robust and outperforming many peers, in our view," S&P said.
*This article was first published in our email for paying subscribers. See here for more details and how to subscribe.