Gareth Vaughan gets lost in a fictional world full of fairies, rainbows and unicorns where banks use cheap public money in ways that make New Zealand a better place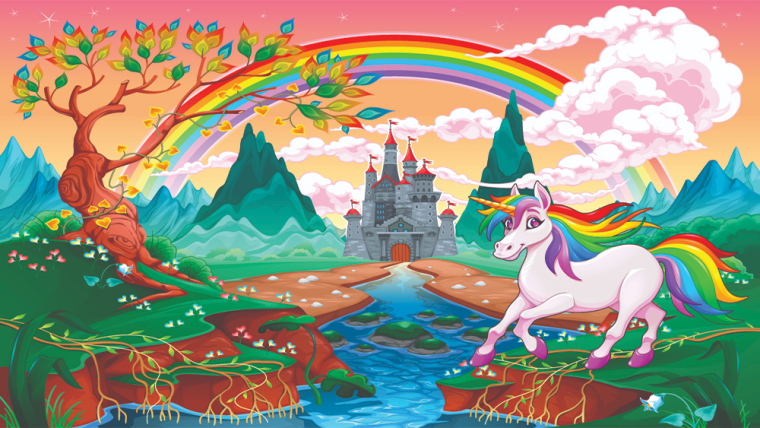 By Gareth Vaughan
Wouldn't it be great if the country's banks used the up to $28 billion of cheap funding they're eligible for courtesy of the Reserve Bank's Funding for Lending Programme to actually make New Zealand a better place?
Before you dismiss me as being away in some fictional world full of fairies, rainbows and unicorns, please hear me out.
In December the Reserve Bank made the Funding for Lending Programme, or FLP, available to banks. Through FLP banks have access to billions of dollars worth of three-year funding priced at the 0.25% Official Cash Rate over a two-year period. Banks can borrow the equivalent of up to 6% of their total outstanding loans. 
That means big banks such as ANZ, ASB, BNZ and Westpac can potentially borrow billions through the FLP at 0.25%.
The FLP is designed to provide additional stimulus in response to the COVID-19 pandemic, with the aim of reducing banks' funding costs - including the deposit rates they pay savers - and lowering the interest rates banks charge their borrowing customers. This, the argument goes, will encourage banks to continue creating credit by lending in an uncertain world and stimulating economic activity.
Banks largely have carte blanche to do what they like with the FLP money. A bank could, for example, borrow from the FLP and on-lend to property investors adding further fuel to a red hot housing market. Or a bank could use FLP money to pay down more expensive existing funding.
ASB's pledge
So far just three banks have accessed FLP money, tapping it for $1 billion, $100 million, and $40 million, respectively.
Whilst ASB's not one of the three, it has publicly outlined some of its plans for the cheap funding. On Wednesday CEO Vittoria Shortt told me ASB will be borrowing FLP money in 2021 and initially plans to focus it on loans for businesses trying to lower emissions, for construction of new energy efficient homes thus helping increase housing supply, and for supporting infrastructure especially in regional NZ.
Perhaps this is just good public relations from ASB and it will be impossible to track what the bank actually does with the FLP funding it accesses. But on the face of it the three areas highlighted by ASB sound like worthy places to spend public money, which is what FLP funding is. Albeit don't call it taxpayer money as the Government hasn't handed the Reserve Bank billions of dollars worth of tax revenue for it to lend to banks. Rather it's new money created by the central bank, which issues money on behalf of its government owner.
Notably the FLP comes at a time when the Government is under pressure to do something about the housing market and significantly step up NZ's response to climate change. On top of this, there are always worthy infrastructure projects around the traps seeking investment.
So what if the other major banks decided to join ASB and use FLP funding for the likes of housing construction, combating climate change and building infrastructure?
Given the banks get FLP funding for 0.25%, all the mysteries true bank funding costs can be wrapped in, such as converting overseas funding into the NZ dollar and bringing it back here, are unmasked. We know precisely what the banks are paying for this funding. 
Thus if banks choose to lend FLP money for specific types of borrowing, as ASB has indicated it will, their customers should be getting very low interest rates indeed. And here I reiterate this is public money the banks are receiving. 
However, you wouldn't guess this from the attitude adopted by the Reserve Bank. It won't name banks accessing FLP meaning it's up to the banks to out themselves.
 The Co-operative Bank CEO David Cunningham outed his bank as tapping FLP for $40 million. This, Cunningham says, is being used to fund a first home buyer mortgage offer with a one-year interest rate as low as 2.09%.
Kiwibank joined The Co-operative Bank when I asked yesterday with a spokeswoman saying; "Yes, we have used the FLP and expect to continue to use it, along with other funding sources, to support lending activity in 2021."
Whilst a spokesman confirmed ANZ's yet to access the FLP, spokesmen for BNZ and Westpac wouldn't say whether their banks have. Thus we have at least two of the country's big four banks unwilling to tell the public if they're sourcing public funding and if so, what they're doing with it. And this is hunky dory with their regulator.
This attitude does tend to pour cold water on my hopes our big banks might use cheap FLP funding to help make NZ a better place. Maybe I was lost among fairies, rainbows and unicorns for a moment there after all.
Or perhaps they're waiting to see what a Labour government with a big parliamentary majority will do about housing and climate change? Or maybe they're even worried about showing up the Government?
Auditor-General John Ryan estimates about $18 billion of the Government's so-called $62 billion COVID Fund has made it out the door to date. Of this, more than $15 billion has been spent on the hugely successful Wage Subsidy, helping limit unemployment, and the Small Business Cashflow Loan Scheme. Other spending has been on COVID relief payments, health, the Air NZ loan, help for the tourism sector, and the Business Finance Guarantee Scheme.
So even in these extraordinary times Finance Minister Grant Robertson and Prime Minister Jacinda Ardern have shown themselves to be small-c conservatives when it comes to government spending. 
Building back better?
In his first major speech of the year this week Robertson spoke of a "crisis in housing" and pledged "a rolling series of measures" focused on demand and supply. Noting Real Estate Institute of New Zealand figures show the national median house price rose 19% in 2020, Robertson said; "...now is the time for bold action. The market has moved quickly and rapidly in a way that is not sustainable. We have to confront some tough decisions, and we will do that."
Whether this iteration of the Ardern-Robertson government is able to successfully tackle housing affordability woes after ineffective attempts by successive previous governments remains to be seen. So far the signs aren't encouraging.
In coming months we'll also learn just how far the Government is prepared to go to tackle climate change, which according to Ardern is the nuclear free moment for her generation. Remember the Climate Change Commission estimates transitioning to a cleaner economy will cost $34 billion over the next 14 years with big changes required in the transport, agriculture, energy and waste sectors.
In his speech Robertson boasted of lower government debt than previously forecast.
"Projections at the time of the Pre-election update in September showed net debt falling from a peak of about 56% of GDP [Gross Domestic Product] in 2024 to 48% of GDP in 2034," Robertson said.
"New projections using Treasury's Fiscal Strategy model today show net debt now at 36.5% of GDP in 2034/35. That represents about $60 billion less debt at the end of the projection period than at the pre-election update."
Put another way that austerity mindset means billions of dollars less in spending by our currency issuing and self proclaimed progressive government at a time of record low interest rates. And when, in Robertson's own words, the Government wants to build back better from COVID. What will that mean for housing, infrastructure, climate change and child poverty?
Even if Robertson's action on housing really turns out to be bold, the Government could still use some help from big banks flush with cheap, public money. But perhaps I really am away with the fairies if I'm hoping the Government and banks could work together to tackle the issues that really matter for NZ. For now though I'll keep my fingers crossed.
(For what it's worth, interest.co.nz's best guess is Westpac is the bank that has tapped the FLP for $1 billion).
*This article was first published in our email for paying subscribers early on Friday morning. See here for more details and how to subscribe.