Westpac's head of NZ strategy Imre Speizer says the current rush to fix mortgages is likely to continue into next year, which will keep pressure on swap rates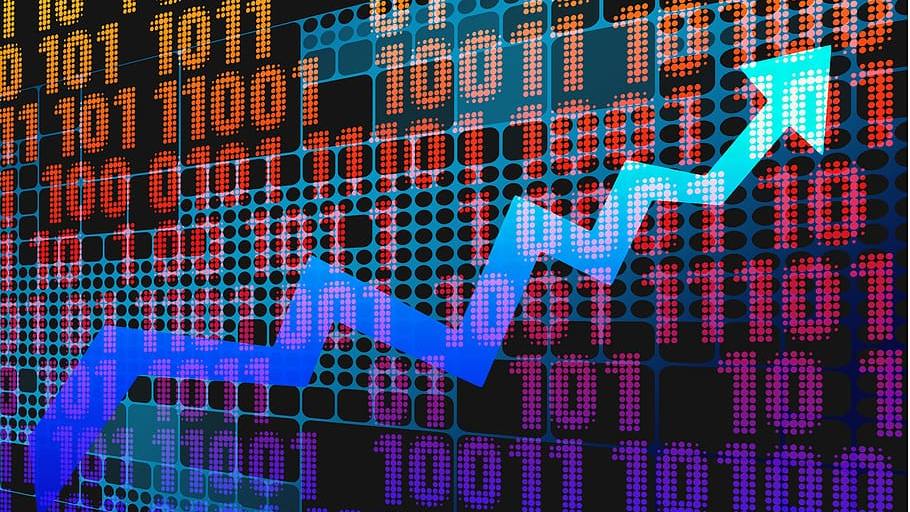 Westpac economists see further scope for more wholesale interest rate rises this year - despite the fact the rates have already increased a lot.
Very sharp gains in the wholesale rates have led to the banks beginning to strongly push up mortgage rates.
Kiwibank economists suggested this week that financial markets "have moved too far, too fast" and some of the shorter term rates will be "pulled down" again eventually. 
Westpac's head of NZ strategy Imre Speizer said in an Outlook for Borrowers update that Westpac economists had said early this year they expected that NZ interest rates would rise further, "and that view remains, despite the large increases which have already occurred".
Speizer said the main developments over the past three months had been the Reserve Bank's start to the Official Cash Rate tightening cycle on October 6 and surprisingly strong NZ inflation and labour data. This had caused swap rates to rise significantly, with the 5 year rate rising by 105 basis points over this period.
He says market pricing for the RBNZ's OCR is now well above that for the major central banks, which is likely to support the NZ dollar for some time.
"NZ's outlier status among developed country central banks has attracted much attention, domestically and globally. However, market pricing doesn't look too unfair relative to Westpac's upgraded OCR forecast.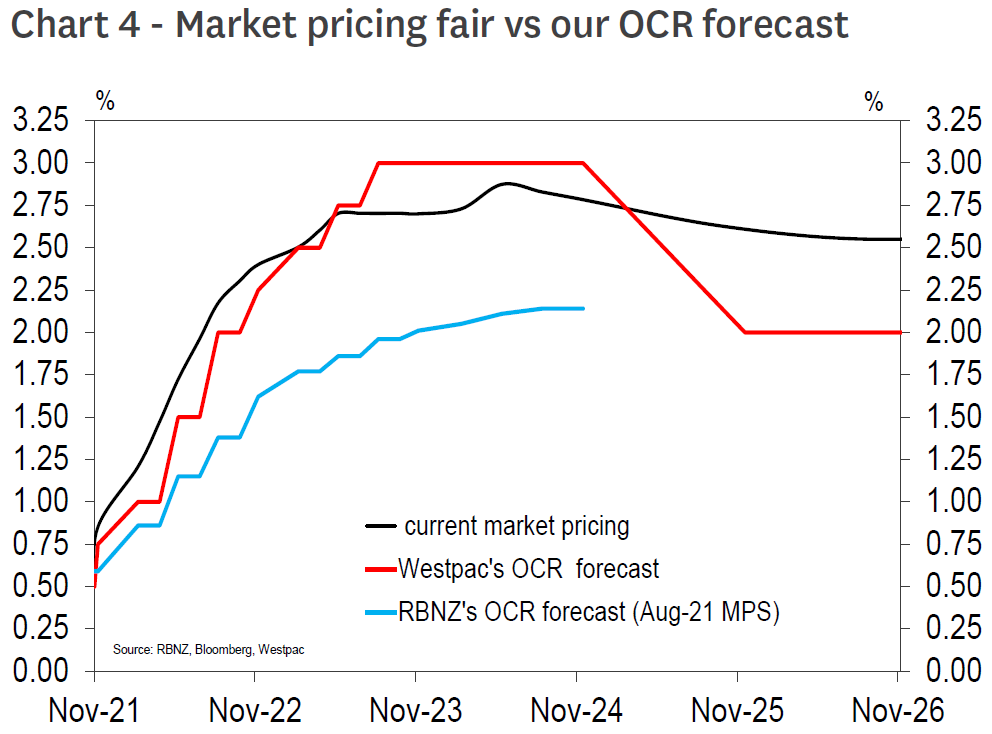 "...Rates at the very short end (next 12 months) have overshot our forecast, but rates between 1yr and 4yrs have scope to rise.
"Looking further ahead, there is potential for swap rates to rise further, although they are probably near a peak."
Speizer says that historically, following the first OCR hike, 5yr swap rates have continued to rise in three of the six tightening cycles since the OCR was introduced in 1999.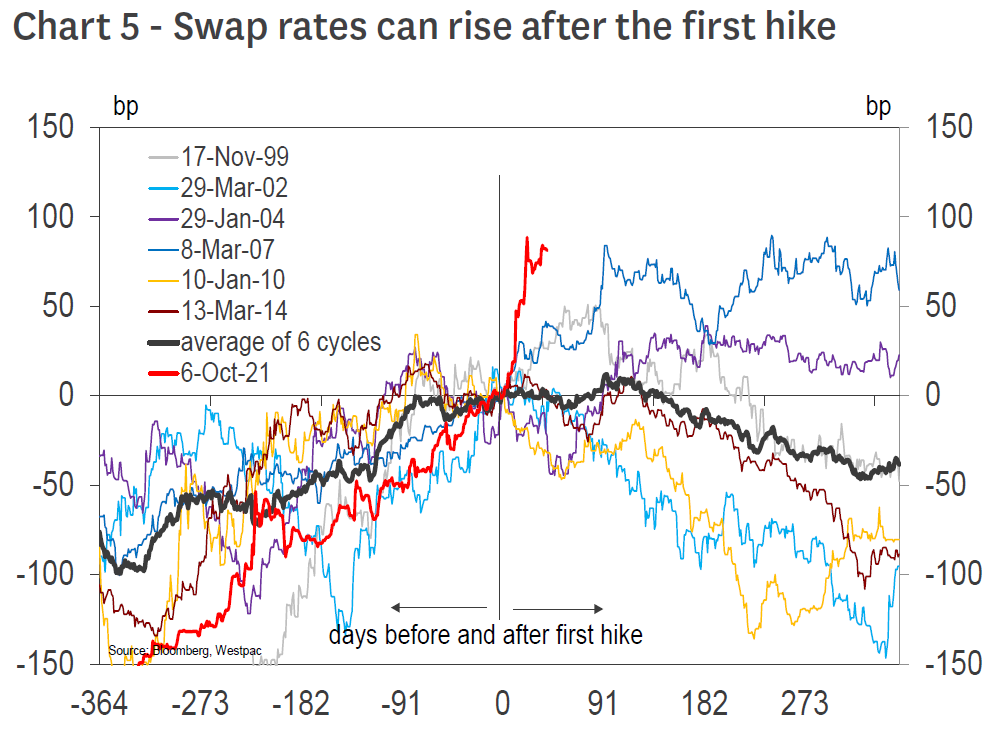 "In the current cycle, the rise in the 5yr has been eye-catching - the fastest on record. This at least warns that most of the gains in this cycle have probably already occurred."
As to why further gains in rates should be expected given what's already happened, Speizer explains: "First, mortgage fixing, which is a major source of paying flow in the swaps market, is likely to continue into next year.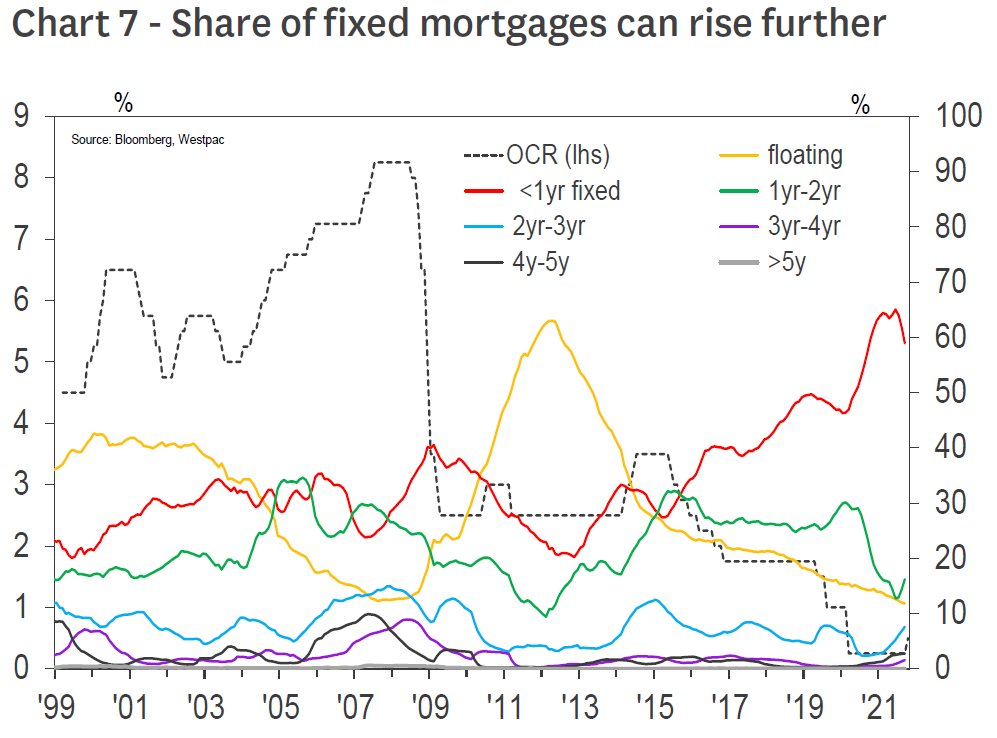 "The proportion of mortgages on fixed terms between 2yr and 5yr has started to rise, but as at the end of September (the latest RBNZ data available) it is well below the peak levels reached in 2007 and 2008.
"Based on the volume of fixing done over the past few months, there are at least a few months of significant swap paying ahead.
"Second, offshore yields, particularly in the US, could drag NZ swap rates higher. US traded inflation (for the next 10 years) has recently risen to a record high of 2.74%, with market sentiment skewed to the upside."