Former RBNZ chairman Arthur Grimes says the Reserve Bank should tighten monetary policy gradually and continue this tightening till house prices return to 'a much more affordable level'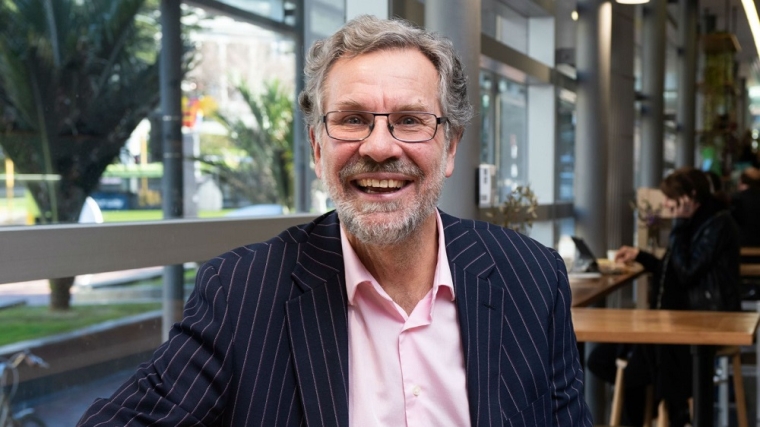 A former Reserve Bank chairman Arthur Grimes is urging the central bank to tighten monetary policy and keep tightening it till house prices get more affordable.
The advice by Grimes comes as part of his participation in the NZ Institute of Economic Research's 'Shadow Board' through which an invited panel of economists, academics and business leaders state their views on what the Reserve Bank should do ahead of one of its Monetary Policy Reviews. The RBNZ's latest one of these is on Wednesday (February 24).
Grimes, a Senior Fellow at Motu Research and Professor in the Chair of Wellbeing and Public Policy at Victoria University, has previously stated strong views on how much the RBNZ eased its monetary policy after the Covid crisis struck last year and was especially critical of the 2018 law change requiring the RBNZ's Monetary Policy Committee to target "maximum sustainable employment" as well as inflation.
Now in the latest 'Shadow Board' release from the NZIER Grimes goes quite a bit further.
"The RBNZ should tighten gradually," he said.
"The RBNZ loosened monetary policy too much through 2020, causing soaring house prices (as well as other asset prices) which is very damaging for disadvantaged New Zealanders and for the next generation.
"The blame really goes back to government for ill-advisedly (i.e. on the extremely poor quality advice of Treasury and their advisors) changing the Reserve Bank Act to include a dual mandate.
"The tightening should continue until such time as house prices return to a much more affordable level provided the goods market does not enter deflation."
A notable feature of the latest NZIER Shadow Board release is the diversity of views about what the RBNZ should do next, something that been apparent among previews of this week's RBNZ decision from economists as well.
BNZ head of research Stephen Toplis, who is also on the Shadow Board, said based on current information, monetary conditions "should be tightened" but there remains a risk that the current [fairly positive economic] environment is unsustainable.
"It is probably time to announce a tapering of the LSAP [Large Scale Asset Purchase - aka quantitative easing] programme with some reference to future upside for the [OCR] cash rate.
"Assuming no shock it would be appropriate for the LSAP programme to have concluded within the next year and the cash rate should be progressively raised."
And Viv Hall of Victoria University thinks similarly in terms of the year ahead.
"There has been some recent positive news on the inflation, labour market and GDP growth rate fronts, but some of this is unlikely to be of a sustained nature and very considerable economic and COVID-19 uncertainties remain.
"For this upcoming meeting, monetary policy should therefore remain the same. For the coming year RBNZ should consider some formal tightening of monetary policy. This should take the form of further reductions in large scale asset purchases (LSAPs)/quantitative easing. It would be premature to start raising the OCR, given the potentially unhelpful effects on the exchange rate."
In terms of the business perspective, NZ country manager for MYOB Ingrid Cronin-Knight says while the housing market and a stronger than expected bounce back in the economy are increasing inflationary pressures, many small and medium-size enterprises are still feeling the prolonged effects of Covid-19 disruption, particularly now in accessing and maintaining stock levels of supplies, ongoing cash reserves and access to working capital.
"The latest Level 3 lockdown will no doubt fuel uncertainty for businesses of all sizes, and apply direct costs without revenue to retail and domestic hospitality, while the knock-on effects of a prolonged slump in international tourism is being felt in the regions.
"Barring another significant community outbreak of Covid-19, 2021 will be fairly finely balanced between the need to maintain current levels of economic growth, minimising some uncertainty with the rollout of an effective vaccine, and - if the post-Covid upswing begins to impact the economy – managing growing inflation spurred by a strong housing market and balancing the offset of subsequent rising inequality, increasing consumer confidence and, potentially, the chance of opening of at least one significant international travel bubble."
Boffa Miskell CEO Kerry Gupwell says lockdowns remain a "constant worry" in terms of the potential impact.
"The economy has recovered better than anyone expected, the improvement in unemployment also surprised and the housing market keeps defying so called logic. I think the RBNZ need to hold the course at the moment. The housing market is a hot topic but I am not sure demand-side tinkering is the answer."
Business NZ CEO Kirk Hope says despite recent key economic data being more positive than expected e.g. employment/commodity prices and some potential inflationary pressures (principally housing-related), "there is no justification for moving the OCR either up or down at this stage".
"Further stimulus measures are not warranted under current circumstances.
"While the NZ economy has bounced back far better than expected there is still significant uncertainty internationally regarding Covid-19 and also the extent that the roll-out of vaccinations will allow the border to be reopened.
"Any significant changes to monetary policy settings need to be approached with a degree of caution as inflationary pressures are likely to be finely balanced."
Westpac chief economist Dominick Stephens believes monetary policy settings "are about right", and don't need to change this week.
"The medium-term outlook for inflation is low, but current settings are probably sufficient to secure a return to [the target rate of] 2% over time.
"The balance of odds favours a gradual tightening later this year, starting with a reduction in the LSAP and confirmation that the FLP [Funding for Lending programme] will not be extended. However, there are huge uncertainties on both sides of this forecast."
Kiwibank chief economist Jarrod Kerr notes that the RBNZ has already announced a tightening in the loan to value ratio (LVR) rules.
"Supply, or fiscal policy, is the issue. Clearly, the global pandemic still poses a significant risk to the economy. Although the downside risks are evaporating. Inflation and unemployment are unlikely to be comfortably near the RBNZ's targets for some time yet. The heat in the housing market should be considered via a macro-prudential lens. Although targeting demand is not going to solve the shortage of affordable dwellings."