NZD stable against USD, down 0.4% against AUD; AUD recovered some of last week's losses, up 0.5% against the USD; GBP up against USD and NZD on possibility of Brexit triggering this week and plans for a Scottish independence vote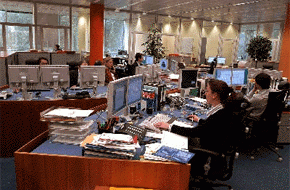 Not surprisingly, markets have been subdued ahead of major events scheduled later in the week. Equity markets are little changed, US yields nudged higher, while oil has stabilised following last week's heavy losses.
It all has the feeling of washing around ahead of Thursday's FOMC meeting, where the Fed is expected to hike rates, a look at President Trump's initial Budget, as well as the BoJ and BoE not that any change is expected from the latter two.
The USD pushed a little lower initially, but recovered overnight to be back where it started the week.
The USD's evolution overnight was a mirror of the EUR. EUR/USD initially pushed higher, at one point piercing through 1.0700 as the market contemplated what lies ahead for the ECB's QE program and deposit rate. It was up from below 1.0500 earlier in the month. But the EUR rally was curtailed by comments by Belgian central bank head, Jan Smets, suggesting that last week's policy statement 'does not in itself signal a coming change in the monetary-policy stance'. It puts a dampener on any ECB exit strategy talk for now. There was nothing specific for markets from Draghi's speech overnight as he discussed innovation and entrepreneurship. Tomorrow's Dutch election is not expected to trouble markets. The single currency opens this morning around 1.0660, close to its 100-day moving average.
After trading a very tight range overnight, USD/JPY is about flat at around 114.80. The pair has essentially held last week's gains, as US Treasury yields pushed higher.
There has been more chatter about the UK triggering Article 50 sometime this week. Also the Scottish First Minister, Nicola Sturgeon, said she plans to start legal proceedings for another Scottish independence vote. UK PM Theresa May, who can grant a referendum or not, was quick to rule it out. None of this bothered the GBP, which found support overnight. GBP/USD rose 0.5%, to around 1.2230. NZD/GBP dipped 0.4% and currently sits around 0.5660.
The Swedish Krona tops the currency leader board, gaining 0.7% amid expectation of stronger inflation figures tomorrow. The Norwegian Krone was a close second, up 0.6% against the USD, as oil prices stabilised overnight. Brent crude is broadly flat at around $US51.45/bbl, after falling circa 8% last week.
The AUD continues its recovery from the commodity-induced hit last week. After dipping just below 0.7500 last week, AUD/USD is up 0.5% on the day, to open this morning around 0.7580.
The NZD was little changed overnight, consolidating after last week's losses. A small bounce in the NZX WMP dairy futures yesterday likely helped steady the NZD, but it couldn't follow its peers like the AUD higher overnight. Our fair value estimates and elevated risk appetite still favour the NZD higher, but it will first need to navigate Thursday's GDP data that we expect to be weaker than market expectations. NZD/USD currently sits around 0.6930, while NZD/AUD is down 0.4% at about 0.9140.
Get our daily currency email by signing up here:
---
BNZ Markets research is available here.