Key equity markets are higher; NZD pushed up towards the 0.68 mark overnight where it met some resistance; AUD is flat to slightly lower; US 10-year treasury rates have traded in a 2.82-2.86% range and are flat versus the level at the NZ close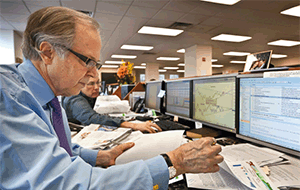 Trading conditions remain lighter than usual following the US holiday, with only modest movements in currency and bond markets against a backdrop of stronger equity markets.
Key equity markets are higher, with the S&P500 currently up 0.6%, seemingly unperturbed by the upcoming tariffs that will be imposed on China.  A US trade representative confirmed that 25% tariffs on $34b of Chinese goods are scheduled to take effect at 12:01am in Washington.  And yesterday we heard that China will impose tariffs on $34b of US goods at the same time.  Another $16bn of goods will see tariffs later in the month, taking the total to $50b.  The consensus view is that these will have minimal impact on the economy, and the big question is what comes next?  Trump has previously threatened to add a 10% tariff on $200b on Chinese imports if China retaliates so the market will be interested in whether this threat is followed through.  If that's the case, then we could expect to see a more significant risk-off market reaction.
This morning saw the release of the minutes from the June FOMC meeting, which had little impact on the market.  Fed officials noted the "very strong" economy ", with some participants raising concern that running the economy too hot for too long could eventually lead to a significant economic downturn.  These comments were balanced out by most participants noting "uncertainty and risks associated with trade policy had intensified and were concerned that such uncertainty and risks eventually could have negative effects on business sentiment and investment spending."
In economic news, Germany factory orders broke a 4-month losing streak, coming in much higher than expected in May, supporting the view that weaker euro-area growth earlier this year was a temporary speed bump.  In the US, the non-manufacturing ISM index was stronger than expected, although the important employment component slipped, while ADP employment growth was slightly weaker than expected.
Apart from a 0.5% gain in Norway's Krone, the other major currencies are all currently plus or minus 0.2% from the previous day's close.  The NZD pushed up towards the 0.68 mark overnight where it met some resistance, and it currently sits slightly higher for the day at 0.6780.  The AUD is flat to slightly lower, which sees NZD/AUD at 0.9190 after reaching an overnight high just under 0.92.  The NZD is also flat to modestly high on the other crosses.
BoE Governor Carney gave a more positive view on the economy that left the door open for a possible rate hike next month.  He said that "Domestically, the incoming data have given me greater confidence that the softness of UK activity in the first quarter was largely due to the weather, not the economic climate".  While no specifics on the timing of a rate hike was provided, he suggested that "an ongoing tightening of monetary policy over the next few years would be appropriate".  Market pricing for an August rate hike moved up from a 74% chance to 82% and GBP was supported.  However, Brexit headlines eroded that gain after Bloomberg reported that Chancellor Merkel's government is unconvinced by UK PM May's latest attempt at a compromise arrangement for customs after Brexit, seeing it as unworkable.  Furthermore, UK Brexit Secretary Davis and trade secretary Fox have been reported as fighting May's Brexit plan ahead of the cabinet meeting that kicks off tonight.  After reaching a high of 1.3275, GBP is now down at 1.3210, and NZD/GBP has pushed up to 0.5130.
US 10-year treasury rates have traded in a 2.82-2.86% range and are flat versus the level at the NZ close.  A flattening bias is evident, with the 2-year rate 3bps higher.  NZ rates barely changed yesterday.
Tonight the highlight of the economic calendar is the US employment report, expected to show ongoing strength in the labour market with another nudge higher in annual wage inflation.  Market attention will be focused on the outcome of the UK government Cabinet meeting and at this stage it looks like a real bun-fight, with a split government on the appropriate way forward regarding a Brexit plan to present to the EU.  We'll also be watching Trump's twitter stream to see his reaction to China's retaliatory tariffs after the US tariffs are imposed.
---
Get our daily currency email by signing up here:
---
BNZ Markets research is available here.