GBP is near the top of the leaderboard; NZD was in a drift-down mode for much of Monday but ended the day flat at 0.6630 on USD weakness; UST yields have drifted lower and the curve shows a slight flattening bias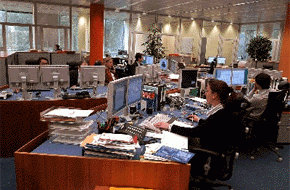 A quiet start to a quiet week sees only modest changes in currencies, with the NZD flat around 0.6630.  GBP has shown a rare outperformance, albeit up less than 0.3%.  US equities are modestly higher, while UST rates have drifted lower.
A brief report today, with no economic data releases, little news over the past 24 hours, and summer-trading conditions continuing.  Unless you follow Venezuela, currency movements have been modest.  The Venezuelan Bolivar was devalued by 95%, showing that there are worse basket cases than Turkey.  It's sobering reading about how socialist President Maduro is destroying the country.  "I want the country to recover and I have the formula. Trust me", he says.
Overnight, the USD was already drifting lower and that continued after reports that President Trump had complained about Fed interest rate hikes at a fundraiser at the end of last week.  He said, whether jokingly or not, that he was advised Powell was a "cheap-money" Chair and yet he quickly starting raising interest rates.   This follows Trump's interview with CNBC last month where he commented he was "not thrilled" with rate increases, breaking with the tradition of Presidents avoiding direct comments on monetary policy that put into question the Fed's independence.
The NZD was in a drift-down mode for much of Monday and reached an overnight low of 0.6611 and a turnaround in the USD's performance sees it closer to 0.6630 this morning.  The AUD has had a marginally better performance and is near its highs for the day around 0.7325, taking NZD/AUD down towards 0.9050.  The NZD has also slightly underperformed CAD. PM Trudeau "looks forward" to joining NAFTA talks "very shortly".
GBP is near the top of the leaderboard, with a 0.3% gain to 1.2785, helped by the lack of Brexit news.  The generally softer USD also sees modest gains for EUR and JPY.
US Treasury yields have drifted lower and the curve shows a slight flattening bias.  The 10-year rate is down 4bps to 2.82%.  Short positioning in Treasuries is at a record level according to CFTC data, suggesting that the path of least resistance for yields is to the downside ,with the risk of a short-squeeze.  In a speech, Atlanta Fed President Bostic outlined the case for further gradual increases in the Fed Funds rate back to a neutral level. He said "we worry about the flatness of yield curve" and he wouldn't vote for anything that knowingly inverts the curve.  Interviewed after the speech he indicated he still favoured three rate hikes for all of 2018.  That puts him at the dovish end of the spectrum of FOMC members.  Current market pricing shows a near-80% chance of two further hikes this year, taking the number of hikes to four for 2018.
NZ rates barely moved yesterday, with swap rates down about 1bp across the curve and the overnight move in Treasuries likely to impart a further downward bias today in what looks to be another quiet day ahead.  RBA Governor Lowe will be talking again and the message is unlikely to be any different from last week, with rates on hold until further notice.  The GDT dairy auction is expected to show flat pricing again.
---
Get our daily currency email by signing up here:
---
BNZ Markets research is available here.