Jenée Tibshraeny's take on the revelation Treasury and the RBNZ a year ago warned Robertson he may need to act to prevent money printing increasing inequality
By Jenée Tibshraeny
Finance Minister Grant Robertson will on Tuesday unveil the 2021 Budget Policy Statement - the Government's over-arching goals that will guide the Budget - having fallen short of meeting a commitment made ahead of Budget 2020.
Robertson, in a speech to BusinessNZ members on April 15, said he saw the COVID-19 recovery as an "opportunity to reset our economy".
"We must also not allow inequality to take hold in our recovery," he said.
"We need to take this opportunity to improve the prospects of all New Zealanders and tackle those long-standing divisions."
Labour accordingly took the vaguer, "build back better" slogan to the October election.
While the Government should be credited for playing an instrumental role in keeping many of us healthy and employed (two vital things), Robertson has not tackled New Zealand's "long-standing division".
In fact, the split between the 'haves' and 'have nots' is worse than it was a year ago.
This failure, in my view, stems from the fact the Government didn't consider the repercussions of the Reserve Bank (RBNZ) putting its foot on the gas, lowering interest rates by cutting the Official Cash Rate (OCR), digitally printing money and making cheap funding available to banks to boost inflation and employment.
'Significant' trade-offs
A document released under the Official Information Act shows Treasury and the RBNZ in late-January 2020 explicitly warned Robertson "unconventional monetary policy" (which hadn't yet been used at this point) could increase inequality, so a response by the Government was warranted.   
They said the impact of quantitative easing (QE) or large-scale asset purchases "may increase wealth inequality by more than conventional monetary policy [like changing the OCR] by raising asset prices more directly".
Treasury and the RBNZ categorised this as a "significant" trade-off, even though they noted "a stable macroeconomy supports those at the edge of the labour market".
They were also clear the RBNZ isn't required to directly consider the distributional impacts of monetary policy. In other words, its job isn't to make sure the benefits of it lowering interest rates are evenly spread across society from a fairness perspective.
Treasury and the RBNZ told Robertson: "The Bank for International Settlements (BIS) notes that some externalities can only be addressed by other policy areas, particularly fiscal [government] policy.
"The BIS recommends central banks have a clear mandate, and communicate clearly and transparently about the use of UMP [unconventional monetary policy] tools and their expected benefits, so that other policy-makers can effectively respond to externalities."
The Government hasn't responded to those side-effects.
High living costs hitting the poor the hardest
The RBNZ has lowered property owners' weekly mortgage repayments and inflated the values of their properties. It's also bolstered the portfolios of those who own shares.
But it hasn't done anything to put more money in renters' pockets. Nor has it (yet) taken other regulatory action to support this group. 
Sure, it did the wage subsidy, but that helped asset owners as well as non-asset owners. It also increased benefits by $25/week to $251/week for an adult - below what was recommended by the Welfare Expert Advisory Group.
Statistics New Zealand's Household Living-Costs Price Index shows annual inflation was almost three times higher for beneficiaries than it was for all households in the year to December, partly due to higher rents.
This graph shows the index's annual percentage change.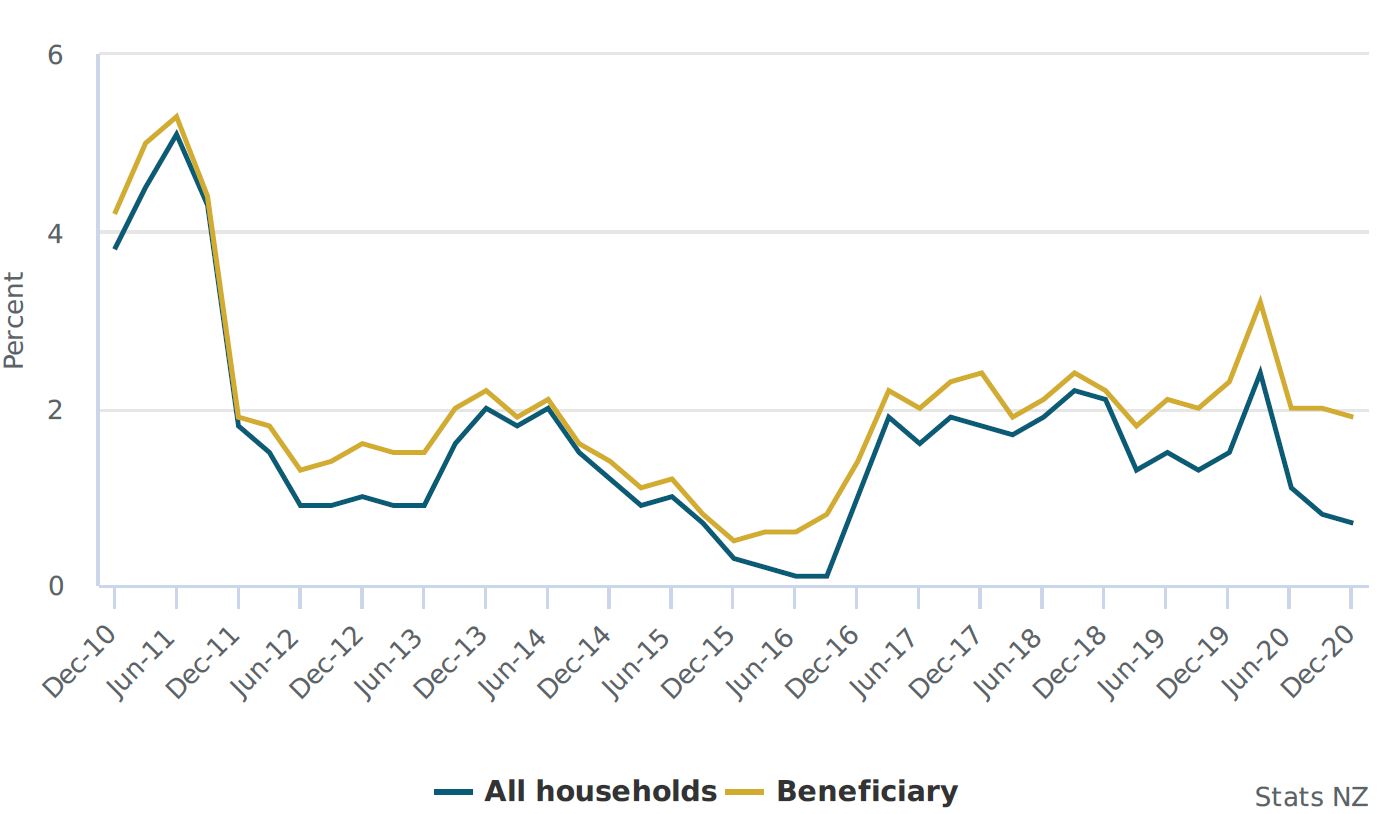 The below graph adds other groups to the mix. Note how wide the spread has become:

Remit change idea floated
Treasury and the RBNZ in January 2020 said Robertson could consider tweaking the Monetary Policy Committee's (MPC) remit to broaden what it needs to have regard for, second to inflation and employment.
Coming under pressure over sky-rocketing house prices, Robertson in November proposed doing this.
The RBNZ hit back, saying it would rather be made to consider house prices through the way it regulates banks, than through the way it conducts monetary policy.
RBNZ Governor Adrian Orr reiterated what Treasury and the RBNZ said in their January 2020 briefing - "Broadening the focus of the MPC risks undermining the effectiveness of monetary policy".
Robertson will make a call on whether to change any RBNZ remits later this month.
New institutional arrangements required
Coming back to Treasury and the RBNZ's January 2020 advice, they went even further, saying there were "gaps" in the institutional arrangements for unconventional monetary policy".
They said it was "unclear how the MPC would consider the externalities associated with unconventional monetary policy".
They said there was scope for "enhanced" coordination between the RBNZ and government as "conventional monetary policy nears its limits". In other words, as the OCR can't be cut much more before reaching zero.
"Using new tools, especially tools with externalities that may not be well understood, creates reputational risks for the Reserve Bank," Treasury and the RBNZ warned.
They said they would report back to Robertson on "institutional arrangements" by July 2020.
The RBNZ on Friday told interest.co.nz this work was "still underway". It said it would address some of the issues outlined in the paper on "having fit-for-purpose institutional arrangements to ensure suitable operational independence for monetary policy".
Wilful ignorance
Coming back to Robertson, he in June 2020 told interest.co.nz the impact of QE on asset prices was "still to be told".
Asked how he was factoring the RBNZ's monetary response into his policymaking, he said: "It's not really the way that I am thinking about it. Our fiscal response has been designed to respond to the crisis and its effects.
"The monetary policy response: I think if you put those questions to Mr Orr, he wouldn't necessarily argue that's what the effect of the form of QE he's been using would be. But all of those issues, particularly in terms of how it will roll out in the housing market, are still to come."
Interest.co.nz has repeatedly been raising the issue of the distributional impacts of loose monetary policy with politicians, as per the video at the top of the story. Also, see analysis here, here, here and here.
Where does all of this leave us?
The situation is complex. Robertson spent much of 2020 making seismic decisions in an uncertain environment. Instilling confidence in people was key. Providing stability was a safer way of doing so than being "transformational".
Once the pandemic was better understood and controlled, along came the election. In an era of 'governance by opinion poll', Labour didn't see this as the time to rock the boat.
In September, I shared my opinion: "If it's too difficult politically to pivot the economy in a more sustainable direction now, it'll be near impossible once people settle into the new norm and the stimulus being provided further entrenches wealth created from assets."
A lot of entrenching has been done. With people simply doing what they're incentivised to do - flock to property and leverage up - setting the economy on a more sustainable and productive path now is more difficult.
The Government continues to choose to create this environment. It also continues to be rewarded by voters. 
But life for the 'have nots' is grim.
Life for the 'haves' could get grim if the 'have nots' - many of whom are educated and can mobilise online - have no disposable income left to stimulate the economy, flock to Australia once they can, or find a home in fringe movements that cause civil unrest.  
It would take nerve for Robertson to tell the business audience he's due to address on Tuesday what he told a similar crowd in April: that we can't allow inequality to take hold in our recovery.