The big four banks may have chosen to protect their margins at the expense of borrowers, but Bernard Hickey asks if that is such a bad thing in the short term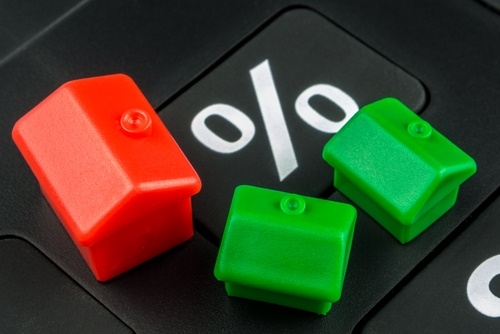 By Bernard Hickey
This week's Parliamentary bunfight over whether the big four banks should have passed on all of the surprise cut in the Official Cash Rate has again thrown a spotlight on just how competitive (or not) our banking system is.
The banks argue they fight tooth and nail for market share and don't cooperate to generate super-profits, and at certain points over the last decade that has been true.
That was certainly the expectation (or at least the hope) of Bill English when he was confronted by Labour's accusation in Parliament that the Government was going soft on the banks and its suggestion the banks should be regulated.
"What the banks will listen to is customers shopping around," English said. "That will have a great deal more influence on their behaviour than politicians making statements they cannot follow through on," he said.
That was certainly the case from 2002 until 2010 when Kiwibank was on the warpath, pushing for market share with discounted mortgage rates and an aggressive approach to lending growth. Kiwibank challenged the big four with the support of its Labour Government shareholder and happily went for growth with pricing that was better than Australian-owned rivals. That sort of growth required the Government, through New Zealand Post, to stump up fresh capital and forgo dividends.
It worked to squeeze the net interest margins for retail banks down by 74 basis points to a low of 1.98% between Kiwibank's launch in 2002 and the March quarter of 2009. Collectively, that cost the big four Australian-owned banks hundreds of millions in lost profits over those seven years. That money was effectively transferred into lower interest rates for borrowers.
But those heady days of taking on the big four with big hairy discounts are long gone. New Zealand Post's deteriorating financial position and the Government's own reluctance to stump up more capital has seen Kiwibank pull its head in and focus on becoming just as much of a profit and dividend machine as its rivals. Last year it paid NZ$46 million in dividends and is set produce a profit this year of over NZ$127 million.
Since Kiwibank backed off, the banks have rediscovered ways to nudge their net interest margins back up to around 2.2%. Deposit rates have been cut more than mortgage rates and this week's collective move to pass on just 10 to 20 basis points of the Reserve Bank's rate drove the point home.
But don't take my word for it. Ratings agency Standard and Poor's, which is paid by the banks to dig into the banks' accounts to assess their profitability and safety, said last month the big four banks could easily cope with the dairy downturn and an Auckland housing slump because they were so profitable.
"Given the oligopolistic nature of the system and absence of overcapacity, we do not foresee that banks would be taking on undue risks, even though some margin pressures may be looming on the horizon," S&P said.
It also published a helpful chart showing the New Zealand banks' net interest margins and profitability ratios were higher than those in Australia, Canada, Singapore and Sweden.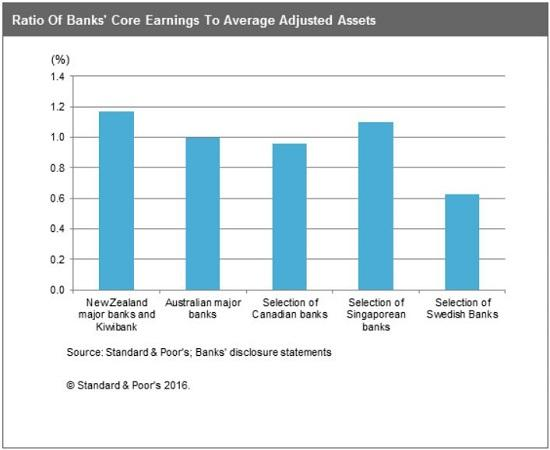 Those looming margin pressures referred to by S&P were dealt with rather deftly over the last week as first ANZ, then Westpac and BNZ, all decided to pass on just 10 basis points of cuts to their floating mortgage customers. They justified their move by pointing to increased funding costs on their foreign borrowings because of global financial turmoil. Only ASB bucked the trend, although it still chose to pass on just 20 basis points of the 25 basis point cut.
The Reserve Bank itself said last Thursday that these extra funding cost pressures were only mild and that it expected the cut to be passed on in full. The big four simply ignored the central bank and took actions to protect their margins.
The other factor that was no doubt looming in the big banks' mirrors was significant losses coming from their loans to dairy farmers. The Reserve Bank said this week that stress tests done by the banks showed they could have to book dairy loan losses of up to NZ$4 billion over the next four years in the worst case scenario. In effect, the banks decided to stock up with some extra profits from their home mortgage loans to offset the coming losses from the dairy loans.
The end result is that the Reserve Bank's surprise rate cut wasn't as potent as it hoped and the Government's hopes for some quick relief for dairy farmers were frustrated. Even less of the official cut was passed on to farmers. Governor Graeme Wheeler may well have to cut his official rate more than he originally expected to get the economy humming enough to generate the inflation he wants. The rate cut did, however, give him some of the exchange rate relief he wanted, and even bigger cuts would do even more. That's great news for exporters.
The ultimate irony of this whole proof of the oligopoly theory is that the banks have actually helped the Reserve Bank avoid one of its feared side-effects of the rate cut -- yet more fuel on the Auckland (and regional) property price fires. Both fixed and floating mortgage rates have yet to fall much after the official rate cut.
The Reserve Bank is expected to cut once or twice more this year, so some of that will be passed on. But the banks' increased focus on protecting their margins and profits will reduce the octane levels of that fuel, and help reassure savers of their safety in the event of more severe downturn. It will also mean exporters may see more of the exchange rate depreciation they need if the Reserve Bank is forced to cut even deeper than it originally planned.
A very competitive banking sector is ultimately good for consumers, but in the short term a well-functioning oligopoly can help the Reserve Bank and the Government achieve its aims. 
---
A version of this article was also published in the Herald on Sunday. It is here with permission.