Brian Fallow looks at the breakdown of bipartisan consensus on trade policy and what this means, or might mean, for the sale of residential properties to overseas buyers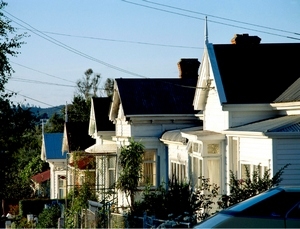 By Brian Fallow*
The days of bipartisan consensus on trade policy, when it was thought politics should end at the water's edge, are gone.
The crucial issue, says Labour's trade spokesman David Parker, is to secure the right of a future Government to ban the sale of existing residential properties to overseas buyers, "other than our closest neighbours like Australia where we have a close relationship and reciprocal rights."
It is part of its suite of policies to address the housing crisis.
"We say if you have the right to live here, you have the right to buy here, but not otherwise. In this world of rapidly increasing wealth inequality we do not want 1 percenters from overseas to be able to outbid New Zealanders for our homes or farms," Parker says.
National's trade spokesman Todd McClay, the current minister, says such a ban would force New Zealand to renegotiate many hard-won trade agreements. "We would be likely to lose some trade access as a result of renegotiations, which would harm New Zealand companies and Kiwi jobs."
Underpinning the arcane arguments about national treatment and most favoured nation clauses in trade agreements lies a fundamental ideological difference.
The neoliberal view is that trade and access to international capital are essential national interests for New Zealand. We have limited negotiating coin when it comes to combating entrenched agricultural protectionism and if conceding the right for foreign investors to buy residential property or farm land is what that takes, so be it.
The opposing view is that the land beneath our feet is not just another asset class. It is where we live. Governments need to preserve the ability to regulate the housing market. We are at risk of becoming, in John Key's phrase, tenants in our own country. And at a pace determined by such external factors as whether Beijing is minded to tighten or loosen capital controls.
A most favoured nation clause
Parker says that under the free trade agreement negotiated by the last Labour Government any future New Zealand Government could ban the sale of houses or farm land to Chinese investors, and China had reciprocal rights.
But the China FTA also has a most favoured nation clause which requires New Zealand to treat China no less favourably than it does other countries in any subsequent agreements.
Both the Korean FTA and the Trans Pacific Partnership (TPP) agreement do that, in effect ratcheting up Chinese rights too.
South Korea's FTA with Australia, concluded a year before ours, allows Australia to ban the sale of their homes to Koreans, Parker says. "Even more absurd is the fact that South Korea can ban house sales to New Zealanders under that FTA, though New Zealand can't do the reverse."
Nevertheless McClay describes the idea that Korea will be interested in reopening what is quite a recent agreement as fanciful, especially as the Trump Administration wants to renegotiate the US-Korea FTA.
Parker says the most pressing issue is to "fix" the TPP.
Officials meet again in Japan on Thursday and Friday to try to hammer out a deal to put to ministers of the remaining 11 TPP countries on the sidelines of an Apec ministerial meeting Vietnam in November.
The existing text does have a carveout of sorts for New Zealand attached to the investment chapter: "New Zealand reserves the right to adopt or maintain any taxation measure with respect to the sale, purchase or transfer of residential property."
But the possibility of imposing a stamp duty on foreign buyers does not afford enough protection, Parker believes. Many would simply pay it.
"It is our last chance to stand up for New Zealanders' right to decide who can buy a house here."
Several TPP countries want to suspend or freeze provisions in the agreement which the United States insisted on, given that the US has pulled out of the agreement, until and unless it relents. That is likely to include provisions fostering the interests of Big Pharma, which public health advocates have long opposed.
Auckland University law professor Jane Kelsey says New Zealand, Australia and Japan have been strongly pushing that none of the market access schedules in the agreement can be reopened.  "For Labour it is the schedule to the investment chapter that is the issue."
'Constitutionally improper'
The Government, in a departure from past practice during pre-election caretaker government periods, has taken an "it's none of your business" approach to opposition parties' concerns about the TPP talks even though there is at least a non-trivial chance of a change of government.
It has not make its mandate to the trade officials public but it is a fair bet that it does not seek to insert a right to ban foreign purchases of residential property, of the kind that Australia has preserved.
National's refusal to even consult with opposition parties is constitutionally improper, Parker says. Kelsey and Greens trade spokesman Barry Coates agree.
They might have a point, McClay says, if anything was going to be decided before the election.
But there will likely need to be another round of officials' talks next month. In any case it is for ministers to conclude an agreement and then for their governments to decide whether to ratify it.
Labour leader Jacinda Ardern in a video interview with The New Zealand Herald said she was prepared to be bloody-minded over TPP.
But Kelsey says Labour's only firm position is an objection to a single, very specific provision in the entire 30-chapter deal – forgoing the right to discriminate against foreign purchasers of residential property.
"Does Labour really intend to agree to the TPPA-11 if that minor matter is changed, as it has been in a leaked copy I have of New Zealand's proposed schedule to the now-suspended Trade in Services Agreement negotiations?"
The Greens have more fundamental problems with the TPP agreement, in particular the investor state dispute settlement (ISDS) provisions which allow foreign investors to sue a government in an international tribunal, seeking compensation if they have suffered expropriation, direct or indirect. The fact that something a government does has an adverse effect on the economic value of the investment does not of itself establish that indirect expropriation has occurred.
The Greens say that so long as the ISDS provisions remain in place, TPP-11 undermines New Zealand's ability to protect the environment and national sovereignty. The provisions were included largely at the insistence of the United States, and now that it has withdrawn from the pact, they should be dropped.
Coates says exporters can buy political risk insurance, if they consider they need it. "It's not expensive."
Parker says, "We had an ISDS provision in the China FTA. We don't see ISDS as necessary when dealing with countries with a decent legal system. And we are uncomfortable with the idea that foreign investors have more rights than New Zealand ones. But the most important issue for us is land."
'Risk of throwing out the trade baby with the sovereignty bathwater'
That issue of land regulation is preventing Labour from supporting the broader trade-enhancing aspects of TPP, says NZIER trade economist John Ballingall.
"We can't go back and change history and there is little value in lamenting a decision by New Zealand negotiators or politicians that was made presumably as part of an overall negotiating package," Ballingall says.
"There is a very real risk of throwing out the trade baby with the sovereignty bathwater here."
McClay was asked by Radio NZ's Guyon Espiner last week what is the good bit about allowing people who don't live in New Zealand to buy houses here.
All he could come up with was that New Zealand is an open economy.
The reality is that openness to foreign money in the property market is good for people who currently own some and are potential sellers, and correspondingly bad for local people who aspire to ownership and are potential buyers.
In the end the politics of it is as simple, and as vexing, as that.
---------------------------------
*Brian Fallow is a former long serving economics editor at The NZ Herald. This is the last article in an election year issues-based analytical series on economic policies he has written for interest.co.nz.

His first article is here. 
His second article is here. 
His third article is here.
His fourth article is here.
His fifth article is here.
His sixth article is here.
His seventh article is here.
His eighth article is here.
His ninth article is here.
His tenth article is here.
His eleventh is here.
His twelfth is here.
His thirteenth is here.