Not only are wholesale rates rising, but banks are coming out of a period where their mortgage margins have been suppressed. Expect the new round of rate hikes to do some catch-up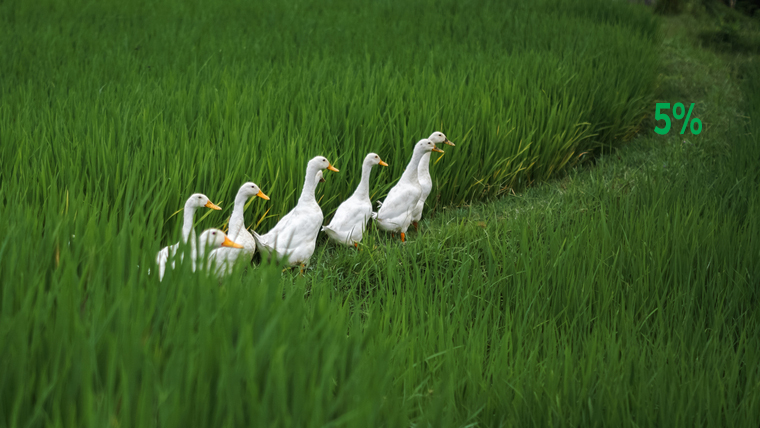 Following ASB's lead, there will now be a flurry of mortgage rate increases over the next few days.
Westpac is the next bank to move and it has basically matching ASB.
SBS Bank has also raised rates across its whole rate card, but maintaining a rate advantage of the new movers even if their advantage is slim against those majors who haven't yet moved.
We know of other majors who will move early next week.
Update I: But not everyone is raising rates. TSB has cut -5 bps from all its fixed rates from one to five years.
Update II: Kiwibank has raised both its two and three year rates, by +15 bps and +16 bps respectively. BNZ has raised theirs too by +14 bps and +20 bps.
As you can see from the interactive charts below, wholesale two year rates are now back to levels last seen in 2019. At that time, mortgage rates were about +70 bps higher. The reason is that banks have allowed their margin to atrophy since then. Margins are now unusually low from an historical perspective.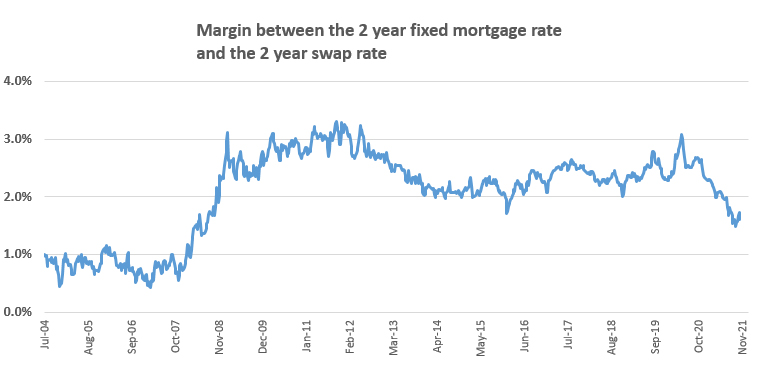 Any move by banks to reset their margins back to about 250 bps which is the average they have been for the past four years will tend to supercharge the wholesale rate rises. Adding +70 bps in margin when wholesale rates are rising makes the prospect of 5% rates that much closer, let alone the 4% level most are currently expecting.
One useful way to make sense of these changed home loan rates is to use our full-function mortgage calculator which is also below. (Term deposit rates can be assessed using this calculator).
And if you already have a fixed term mortgage that is not up for renewal at this time, our break fee calculator may help you assess your options. But break fees should be minimal in a rising market.
Here is the updated snapshot of the lowest advertised fixed-term mortgage rates on offer from the key retail banks at the moment.
Fixed, below 80% LVR
6 mths
  1 yr  
18 mth
 2 yrs 
 3 yrs 
4 yrs
 5 yrs 

as at October 18, 2021

%
%
%
%
%
%
%
 
 
 
 
 
 
 
 
ANZ
3.55
2.79
3.09
3.25
3.49

4.59

4.89

3.55
2.99


+0.14

3.29


+0.20

3.45


+0.20

3.69


+0.14

3.99
4.29
3.55

2.99




+0.14

3.29


+0.20

3.45




+0.20

3.69


+0.14

3.99
3.99
3.55
2.95
 
3.30


+0.15

3.65


+0.16

3.89
4.19
3.55


+0.26

2.99


+0.14

3.25


+0.16

3.45


+0.20

3.69


+0.20

3.99
4.29
 
 
 
 
 
 
 
 
Bank of China 
3.45
2.45
2.65
2.85
3.19
3.65
3.95
China Construction Bank
2.65
2.65
2.65
2.85
3.25
3.55
3.99
Co-operative Bank

(*FHB only)

2.85
2.65*
3.09
3.25
3.49
3.99
4.29
Heartland Bank
 
2.35
 
2.60
2.90
 
 
HSBC
2.89
2.69
2.89
3.09
3.29
3.59
3.84
ICBC 
2.85
2.45
2.65
2.85
3.15
3.65
3.95
  
2.89


+0.10

2.75


+0.20

2.99


+0.14

3.15


+0.20

3.45


+0.20

3.95


+0.30

3.95


+0.24

 

2.89
2.74


-0.05

3.09


-0.05

3.24


-0.05

3.44


-0.05

3.94


-0.05

3.94


-0.05
Comprehensive Mortgage Calculator