BNZ economists say the Government is 'dead set' on curtailing soaring house prices and will do what it takes - 'it will almost certainly win in the end'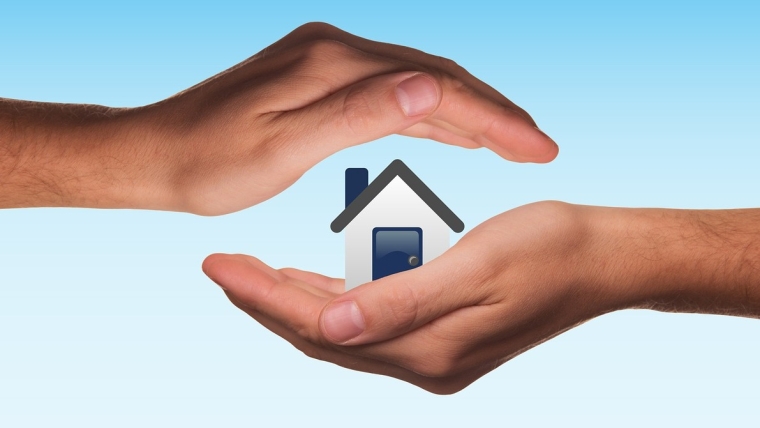 BNZ economists say the Government is "dead set" on curtailing soaring house prices and "will almost certainly win in the end".
In a detailed commentary on the housing changes announced by the Government this week, BNZ's head of research Stephen Toplis says the Government had been saying for some time it wanted to curtail rising prices - but prices just kept soaring.
"So, it should come as no surprise that their patience has now been exhausted and a full attack on prices is now under way."
Toplis says whether or not the measures announced this week have the desired impact or not "is neither here nor there".
"The fact of the matter is the Government will do what it takes. If this set of policies fails then more will be introduced until such time that house price inflation abates (or even prices fall). The Government is, in large part, staking its credibility on this and cannot be seen to fail."
Other economists have also raised the possibility of falling prices.
The Government has, Toplis says, now "fully exposed its intention" to moderate house price inflation.
"It will almost certainly win in the end. We have been saying this for some time now, and will repeat our warning, that investing in houses is not a one way bet." 
'House price inflation zero - at best'
He says the government will not be happy unless house price growth falls below income growth.
"...So it is reasonable to assume house price inflation will fall to near zero, at best, in the not too distant future." 
The risk, he says, is that no government, or central bank, has ever been able to fine tune an asset market - so the balance of risk is that a decent correction in prices occurs.
"For all but new purchasers this matters little as it will simply reverse some of the exceptional capital gain we have seen over the recent past. The possibility of a substantial correction is multiplied if we are right with our potential [housing] oversupply diagnosis and if the recently announced measures have a substantial negative impact on sentiment. House prices would come under significant pressure if everyone headed for the exit at the same time."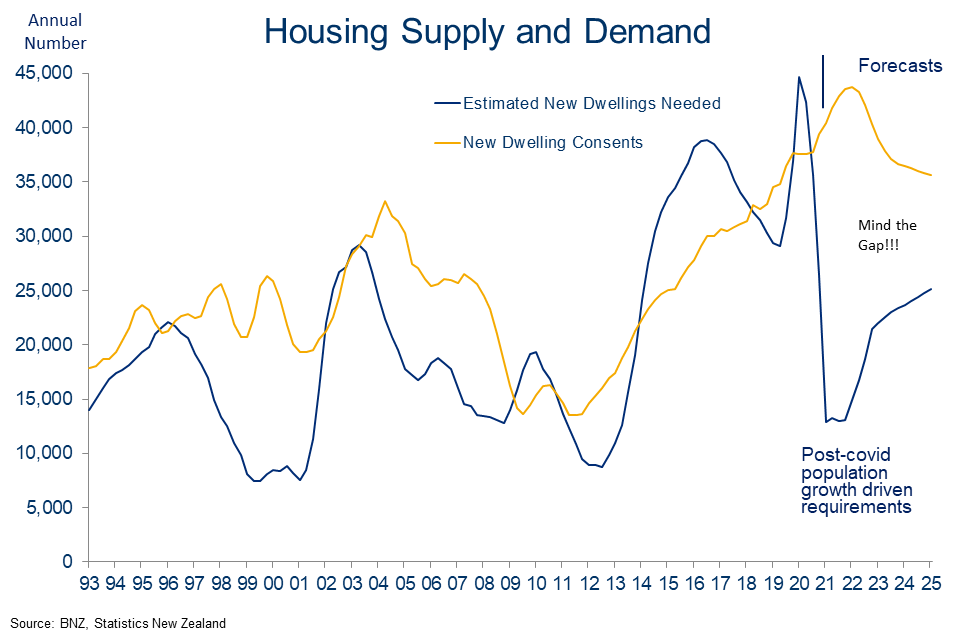 On that potential oversupply of houses, Toplis says in the period prior to the arrival of Covid-19, growth in new houses was not keeping up with population growth so an already stretched market was becoming more stretched.
"But over the last twelve months we have been building far more houses than are needed to cope with the population's expansion. Indeed, right here and now, we are probably building one new dwelling for every one person increase in population. This is clearly not sustainable."
Toplis says the BNZ economists' forecasts suggest the country will continue to build more houses than we need to cope with population growth for some time.
"Consequently, we will be chewing into that housing shortage rapidly even without the measures the government has just announced.
"Our forecast profile suggests that to reach some form of equilibrium, either residential construction needs to be weaker than we expect or population growth much stronger. And the natural clearing mechanism for the market would be a drop in prices." 
'Purely for capital gain'
In terms of the likely falling returns to investors following the introduction of these Government measures, Toplis says many investors have been investing purely for the purposes of capital gain.
"That capital gain will now be reduced to the extent the bright-line test might apply and the net cost of providing accommodation will rise given the reduced deductibility of interest rate costs. All other things being equal, this will initially push up rents and/or reduce the supply of rental accommodation. 
"What happens to the rents and the costs of construction feeds directly into the CPI [inflation].
"We think that in this respect inflation will probably be higher and, hence, heighten the possibility that the Reserve Bank might tighten monetary policy. However, house price inflation is a major driver of the Reserve Bank's private consumption forecasts. If house prices are lower than they otherwise would be, the RBNZ's models will produce lower GDP growth and lower pressure on capacity than previously and, hence, less need for tighter policy.  
"Financial markets seem to have focused on the latter by pricing in later rate hikes and a consequentially lower NZD. Balance of risk says this is the right thing to do but we still caution that the economy's inflationary pulse, both domestically and internationally, is growing and we still think the next move in rates will be up, potentially sooner and more aggressively than many believe.
"This won't help the housing market either."